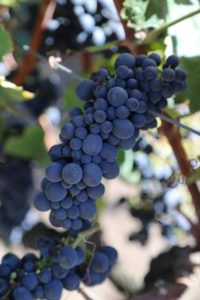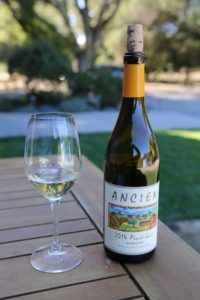 Ancien Wines is a boutique producer (under or around 5,000 cases a year) based in Napa's Coombsville sub appellation. They have been producing high quality Pinot noirs and Chardonnay since their first vintage in 1992 (a tiny 100+ production of a Pinot Noir from four rows in Carneros).
They currently produce a wide variety of Pinot Noirs; several are sourced from the cooler growing regions in the southern part of Napa Valley, the Santa Rita Hills in Santa Barbara County, several from Sonoma County and one from Oregon (perhaps a nod to when Ancien wine maker Ken Bernards lived in Oregon – he has a degree in Chemistry from Oregon State University). These are all premium locations for sourcing "cooler climate" varieties.
Ken also divides his time consulting for local wineries as well as in Chile (which explains why their harvest interns tend to be Chilean or from Argentina). We know several Napa winemakers who do this; it is a great chance to work with two harvests each year. Including Ken and his wife Teresa, only several employees work here full time.
The name Ancien means "Ancient One" and is a tribute to those in the Mediterranean who thousands of years ago started making wine – as well as an homage to the earth and the always changing seasons.
NOTE: In 2019, the Haynes Vineyard sold to Memphis based Gaylon Lawrence Jr., a principal investor in one of the country's largest agricultural businesses, The Lawrence Group (based in Arkansas). As a result, Ancien Wines no longer makes their wines here or hosts visitors on site.

Lawrence owns property in Florida, Illinois, Missouri, Arkansas and Mississippi and also is diversified into banking services. In Napa Valley, Gaylon owns Burgess Cellars, Heitz Cellar, Stony Hill Winery, Brendel Cellars and several other vineyard and winery related holdings.

Gaylon plans to create a new brand/winery focusing on the Haynes Vineyard. We will add a new review to the Napa Wine Project focusing on their new brand – but it may not be until 2024 or even further out depending on their progress.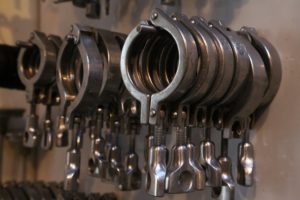 Both Ken and Teresa have significant of experience with Burgundian varieties including Chardonnay and Pinot Noir; they both used to work at Domain Chandon (Ken in a fun position as an experimental winemaker and Teresa as a Lab Director).
In what is one of Napa Valley's most unique wine making stories, in 1999 Ken arranged to bring back grapes from Morey-St-Denis, in Burgundy, France to the Napa Valley. He picked the Pinot Noir grapes super early in the morning, kept them very cold and trucked them down to Lyon in a refrigerated cargo container and put them on a plane back to California. He had to be granted an agricultural one-time exemption to do this – a process that took almost 4 months to secure all the necessary paperwork and permits. All the wine making for these grapes was then done in Napa. Production was only 45 cases – and Ken has only made this wine one time. Cleverly they called it Par Avion. This is certainly, a prized collector's item if you can ever find one of these coveted bottles!
While each of their individual wines are bottled with a unique label, one knows immediately when seeing an Ancien label. Updated labels were introduced in 2013. Ken was introduced to artist Jim Hubert's work while viewing an art show at Alexis Baking Company (ABC) in the city of Napa. Jim died in 2015 but his paintings live on, vivid and colorful expressions used on the labels for all of the Ancien wines.
Each of their wines are made in small lots – some only available to wine club members. Some of their wines have been served at the White House and have been available at the French Laundry in Yountville.
Select Wines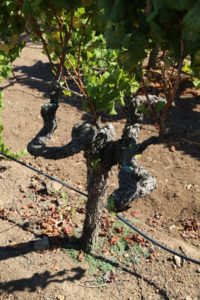 The 2014 Ancien Old Block Chardonnay is sourced from the old Chardonnay vines from the Haynes Vineyard. A truly rare wine based on the age of these vines. Was whole cluster fermented, spent 17 months in barrel with 1/2 new French oak and 1/2 used – and sat on the lees (sparingly stirred) until right before bottling. Shows bright aromatics with notes of tangerine, citrus blossom and honeysuckle on the bouquet. A perceptible sweetness of fruit is immediately noticed on the palate – and the richness of the flavor. Creamy and rounded on the palate, the wine shows flavors of peach, apricot, hints of lemon and apple. An intense and beautiful Chardonnay.
The 2015 Ancien Coombsville Musque Chardonnay is sourced from only two rows in the Haynes Vineyard; the production of this wine was only 52 cases. These two rows were planted based on very specific criteria – taking cuttings from the original old vine Chardonnay – selecting based on the vines that showed the most "musque" qualities in the fruit (often very floral aromatics). Pretty aromatics are immediately noticed – including white pineapple, banana and hints of honey. A very aromatic Chardonnay that evolves dramatically as it continues to breath. Shows notes of citrus blossom and a minerality nuance. Shows plenty of depth – along with a rich mouth feel – somewhat creamy and rounded on the palate. Rich in flavor (including stone fruit)- it lingers for some time both in fruit and desert type spices.
The 2014 Ancien Russian River Jouissance Pinot Noir was fermented about 1/4 whole cluster. The wine shows delicate aromas and delicate flavors. Shows aromas of red cherry, strawberry and as the wine breathes, a touch of mocha. Superbly balanced on the palate (with good acidity) it shows flavors of red cherry and blue berry complemented by a desert spice nuance – similar to cinnamon (perhaps from the partial whole cluster/stems during the fermentation). Drinks very well young. Finishes with slightly dusty, drying tannins. The fruit from this wine was sourced from a 2-acre "backyard vineyard" that hasn't been named – so they created the name Jouissance, which in French means "giving of pleasure" – referring to the wine, not perhaps anything else you might be thinking of when hearing this phrase.
Visits/Tastings: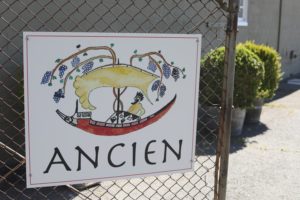 Since the sale of the Haynes Vineyard Ancien moved their tasting experiences, by appointment to the Vinoce tasting room while they produce their wines at a well-established winery on the Napa side of the Carneros District.
This tasting room is in the old Sawyer-Tannery Building in Napa's Tannery Bend District, a very historic part of the city of Napa along the Napa River. The Sawyer Tannery building dates from the 1880s; this was once the largest tannery west of the Mississippi and where Nappa Leather originated from. Napa's leather industry began along this part of the Napa River in 1869 and is in a part of town named after both a bend in the Napa River and the old leather tannery.
The tasting room is located directly across from the Napa River, with the Vine Trail (bike and pedestrian pathway) paralleling the river and located just below their parking lot. One could bike or walk here from just south of downtown Napa. While there is no dock on the river directly in front of the tasting room, the Napa Valley Yacht Club maintains a dock within a short walk of the tasting room and allows guests boats to make a docking request and pay ahead of time via their website. One could visit the tasting room coming from boat on the Napa River.
And during good weather, outdoor seating is also available overlooking the Napa River.
Former Home We keep these notes and photos for historical reference.
While there are older vineyards in Coombsville still commercially producing, the Haynes Vineyard (not to be confused with the also historic Hayne Vineyard in St. Helena) is probably the most well-known vineyard in the appellation. The property was under the same family ownership from 1885 until 2019 (the Haynes). The family purchased the property from Nathan Coombs in 1885 for $3,135 in gold coins (a copy of the original deed of sale is at the winery).
The Haynes Vineyard was originally planted in 1966; well-known winemaker Andre Tchelistcheff (of Beaulieu Vineyard fame) walked the property and provided vineyard consultation as did Louis M. Martini. Andre also helped design the winery on the property. Some of the existing Chardonnay vines date back to 1966 making these some of the oldest vines of this variety in the entire state of California. We know of no other vines of this variety older in Napa Valley. The Pinot Noir was sourced from cuttings from the Three Palms Vineyard (in Calistoga) – this famous vineyard actually grew Pinot Noir in its early days but now is known for its exceptional Merlot. We have heard that the old Pinot Noir vines have since been pulled out after the ownership change and replanted to more Pinot Noir (same clone as the previous vines).
The vineyard is in a cooler part of Coombsville – they tried to grow Cabernet Sauvignon here but ultimately found it was too cold for this variety. What is interesting to note is that some of their nearby neighbors successfully grow Cabernet Sauvignon – despite the close proximity, those properties are significantly warmer than the Haynes Vineyard. Including Ancien, a number of premium producers source fruit from this vineyard.
Vineyard manager, Fernando Delgado has lived on site since 1970. Ken was originally hired by the Haynes to make their wine in 1997 – but as it turns out, he found the ideal home for the Ancien Wines for some 20+ years before the sale of the property.
One of Napa's smallest fully functioning winery caves is tunneled a short way into a hill directly behind the winery building.
A visit to what was called Whitford Cellars (where Ancien produced their wine for some 20 years) was like going back to "old Napa" and certainly felt very off the beaten path, but in reality, was only about 10 minutes from downtown Napa. Visits were peaceful with no 'Napa flash' and were always an opportunity to learn about the property's diverse and rich vineyard history.
Tastings were highly personable, relaxing and never rushed. Weather permitting, an outside tasting was conducted next to the winery or under the oak trees overlooking the vineyard.
During tastings guests were shown soil samples from the various vineyards they source from, including white volcanic ash from the property surrounding the winery. It is interesting to note that the rock, color and composition of each of these soils differs dramatically between each vineyard. And these soils certainly play an important role in the character of their wines.
The founders of Whitford Cellars, Dunc (has since passed on) and Pat Haynes are no longer making their own wines; until they sold this property to The Lawrence Group their efforts were focused on farming and selling grapes to premium producers. As a side note of local interest; Dunc's mother Irene was the author and photographer of Ghost Wineries of Napa Valley.
—
For more information or to join one of their wine clubs, visit: www.ancienwines.com
Ken comes on at 15:07 and departs at 29:45