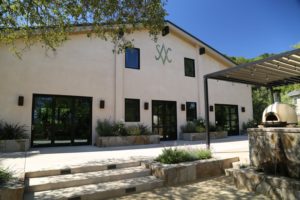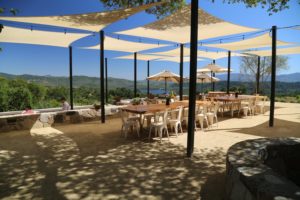 Amizetta Estate Winery is located in the eastern hills of St. Helena about a 18-20 minute drive from the Silverado Trail. Look for their blue winery sign at the junction of Silverado Trail and Howell Mountain Road. All visits are by appointment. Allow ample time to drive here as the roads are narrow and speed limits low. This secluded winery sits at an elevation of about 1000 feet and has great views of Lake Hennessy in the distance (which you can also see from Greenfield road leading down from their property.
Founder Spencer Clark (who we originally met with years ago during our first visit to the property) is a guitarist for a Rock and Roll Band called Noble Rott which tours nationally. He continues to perform, compose and record music. The winery is named for Spencer's wife Amizetta. Both grew up in farming families in Texas. As with music, Spencer was attracted to the artistic side of wine making – especially the renewal that happens each year in the vineyards and the chance to craft something new every year based on that particular vintage.
Spencer and Amizetta purchased the property in 1979 and soon planted vines on these steep hillsides, in part from cuttings taken from Napa's well-known Martha's Vineyard. Following the vineyard development, a small winery was constructed with the advice of family friend, Justin Meyer (founder of Silver Oak Cellars). Their first commercial release was in 1983 and the winery was built in 1985.
There is a saying that vintner Georges De LaTour (founder of Beaulieu Vineyard) may have used. The three ways you could lose money were through slow horses, fast women and owning hillside vineyards. We don't know about the first two but how times of changed in regard to hillside vineyards. They are still costly to manage and maintain and are among some of Napa Valley's most expensive vineyard real estate – but there is a reason for that. And it's not about the views – although that certainly doesn't hurt!
As with other hillside vineyards in Napa Valley, production is extremely small – usually in the range of 1 to 2 tons per acre. The berries are small in size and very concentrated in flavor. Despite the already low natural vigor of the vines, vineyard workers usually drop some fruit with the idea to bring only the ripest most concentrated grapes into the winery. A cut out of the hillside directly behind the winery provides the perfect visual of the "soils" these grapes struggle to grow in. There is very little topsoil and beneath this are layers and layers of rock.
Today Spencer and Amizetta continue to be involved with the winery they founded but have since stepped back from the day-to-day operations. Sometimes it can be difficult to pass a winery from the first generation to the second generation, especially so when you have four children. Fortunately, three of their children have formal education in wine making and are actively involved in the business. And this is an ideal arrangement as each brother handles each of what are probably the three most important duties in running a winery (vineyard management, wine making and business operations). Edward is the winemaker; Patrick is the President and Spencer Jr. helps manage the vineyards.
When you stand in the vineyards and look at the view in front of you, it can be difficult to believe you are close to the heart of the Napa Valley. It takes a bit of effort to spot homes in the distance as in all directions this landscape is either vineyards, Lake Hennessy or the natural forested slopes. Views from their terrace are a bottle it up type of beauty, especially on an early summer's late afternoon day with gentle breezes blowing up cooler air from Lake Hennessy. It's a place one doesn't want to leave, especially when combined with good friends, family and a bottle of Amizetta Cab in your glass.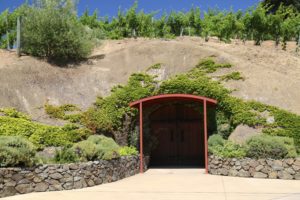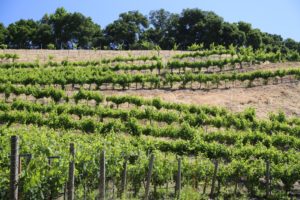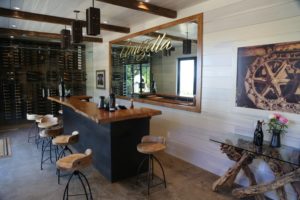 The location and slope of these vineyards are extremely rare in Napa Valley today; their property predates Napa County's soil erosion ordinances which require an Erosion Control Plan permit for general earth moving activities on slopes over 5%. Incredibly some of their vineyards are on slopes in the 60% slope range. These vineyards are heavily terraced with steep slopes and a significant distance between each of the rows.
When the family more recently was determining what vehicle to purchase to be able to drive some of these slopes; they were presented with an "extreme" golf cart – the seller indicated quite a few wineries had already purchased this vehicle for their steep slopes and he didn't' anticipate any problem with this vehicle tackling Amizetta's vineyards. They test drove it on the steepest slopes of the property and the seller said something like "I've never seen this happen before" after the vehicle proved inadequate for climbing the vineyards. They purchased the vehicle anyways and now sometimes use it to show visitors the "safer" vineyard terrain.
The total property is 40 acres of which 30 acres are planted to vine. Because of the terracing, the number of vines here are much less per square acre than what it would be on similar sized land on the valley floor.
A small cave was tunneled into the hillside near the winery building; during the drilling the original plans for the cave called for a U shape. But they soon hit an abundance of water while drilling and were unable to drill further. This is one of the smaller wine caves you will see in the Napa Valley. As Spencer told us during our first visit "when you want water for a winery you cannot find it – when you don't it is everywhere!". Eventually plans call for drilling a larger cave into the same hillside as the existing cave.
The winery is also small, but it does not need to be big. Custom square 8-ton tanks line one side of the wall. The tops of these tanks can be removed during fermentation as they prefer to break up the cap manually. This is done instead of pumping over juice which as the cap dries out; they noticed over time the pump overs seemed to only moisten part of the cap. Each tank is equipped with its own pump – this saves quite a bit of manual labor and allows them to remotely control each tank at any time for pump overs via an app. They have found that because they can set pump overs to run anytime shorter pump overs set to run more often work best for their wine making style.
For a number of years, they sold some of their grapes to other local wineries, however today they use all the fruit for themselves. While the majority of their wine used to be distributed – today it is mainly sold direct to consumer. The exception to this is a second wine bottled under the Tradition label. At the time of this review, total production of Amizetta wines are about 3000 cases.
In late 2022 we heard that Amizetta purchased a 100+ acre property next to Wragg Canyon Road in eastern Napa County. Wragg Canyon Road leads to the Pleasure Cove Marina along one of Lake Berryessa's shorelines. We visited this vineyard site in late 2022 and we observed soils were already being prepared for future plantings of vines.
Select Wines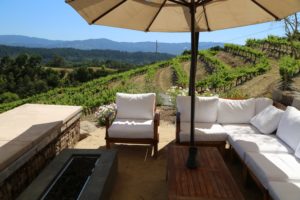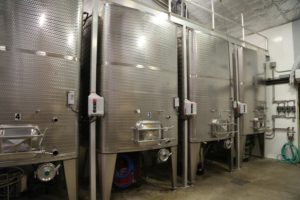 The 2013 Amizetta Napa Valley Cabernet Sauvignon is inky dark in the glass; it shows a powerful nose with ripe blackberry, mocha and a bitter dark chocolate component. The palate is all about the fruit – rich, generous and ripe. For a young wine the tannins are already very well integrated with notes of cocoa powder on the finish. This wine drinks well young and by itself.
Only 192 cases of the 2013 Amizetta Reserve were produced; this wine represents the pinnacle of their wine making and vineyard. The grapes are sourced from the highest part of their vineyard at about 1,100 feet and this wine sees all new French Oak. This wine is dark in color with weighty viscosity in the glass. It shows bright lively aromas on the bouquet. A noticeable sweetness of fruit shows along with notes of vanilla, cassis and as the wine breathes a coffee/mocha note. The bouquet is powerful; so, to is the palate. Dense, and layered this wine shows noticeable somewhat chalky and chewy tannins that anchor a very long finish (along with plenty of fruit and notes of toasted caramel).
A visit and tasting here are certainly one of the more intimate experiences you will have in Napa Valley, not to mention combining the excellent wine with the stellar views. If the weather does not allow for a tasting outside – your tasting will be in the contemporary tasting room which connects directly to the winery. Note the elevated wooden counter inside the tasting room – with the three brothers ranging in height from 6'3″ to 6'8″ – their bar seating might make one feel a bit short.
Napa Valley Rentals
And if you are looking for equally intimate places to stay during your time in the valley, Amizetta offers several rental properties including the gorgeous Amizetta Farmhouse (located just north of Yountville), the much smaller Amizetta Church Street location (appropriately planted with a tiny front yard vineyard and incidentally located several houses away from the first house that iconic winemaker Mike Grgich purchased after he moved to Napa Valley) and the Amizetta Vineyard Cottage (located on their vineyard property).
Amizetta Farmhouse

Church Street Home, St. Helena

Napa Yard
Patrick Clark is one of several partners in Napa Yard, located in downtown Napa across from The Culinary Institute of America at Copia. Napa Yard opened in 2022 and is scheduled to operate for 3 years. This space features an outdoor restaurant among gardens (showcasing a farm to table approach). It also features a beer garden, a wine tasting area and is used as an event space accommodating groups up to 2,000 people. The space usually hosts live music on the weekends. The shipping containers on site have been repurposed and we were originally in the parking lot at Oracle Park in San Francisco. The overflow Oxbow Public Market parking lot is located directly next to Napa Yard.
We will keep a close eye on this space and will update accordingly.
For more information, to schedule a visit, to purchase wine or to join their wine club, visit: www.amizetta.com
Exterior

Cave/Winery