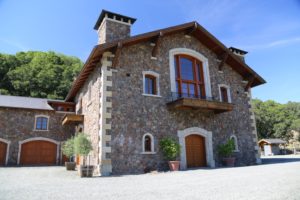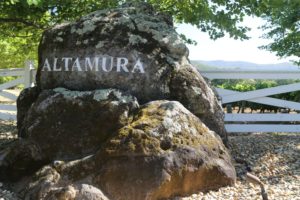 Altamura Winery is located about 20 minutes east of the city of Napa in Wooden Valley and was established in 1985 with an initial focus on Chardonnay. This is about the furthest winery you will find from the city of Napa that still has a Napa address and is one of the more easterly located wineries within Napa County. However, with that said, despite being in the country, the drive from the city of Napa is usually not a long one.
This was not the first location for Altamura Winery – originally it was located on the Silverado Trail on 70 acres on the site of what is now Darioush Winery until the Altamura family sold this property in 1997.
It is the only winery located in this particular part of the Napa Valley, although there are other vineyards in the general area besides what is planted on their sprawling 400 acres. The drive here is through wooded oaks and the nearby roads are quite windy. While merely 9 miles from the town of Napa, a visit to Wooden Valley is certainly not the "wine strip" you find on Highway 29. The roads here are little traveled, cattle graze the hills, and natural vegetation by far outnumbers vineyards.
Napa attracts people from all over the world due to its fine wine and excellent cuisine. It seems like it is becoming rarer when we find a vintner who actually grew up in Napa and has historical family ties to the valley. Such is the case with the Altamura's; owner & winemaker Frank Altamura has a long history of wine making in Napa and his wife Karen has had this property in her family since the mid 1850's.
Frank was born and raised in the Napa Valley. He began working in the vineyards with his cousin right out of high school and later gained invaluable experience by working with some of the Napa notables who already had established careers in the 1970's and 80's – vintners such as Randy Dunn, Ric Foreman, and Chuck Wagner. His first winery viticulture job was working for Sterling Vineyards in 1976.
Having grown up in Napa Valley but trying to plant vineyards in an area with few existing vineyards, Frank found himself identifying soil types on his property similar in nature to those found in some of Napa's high end terroir regions – i.e., Howell Mountain, the Rutherford Bench, Mt. Veeder, etc. Once the soils were identified this allowed him to tailor the particular rootstalks and clones to each soil type.
The outside of their winery is all stone, quarried from the many rocks that "grow" on the property. Plans may eventually include a new tasting room right next to Wooden Valley Road. The actual winery is located about 1/2 mile in on a gravel road which winds its way past the vineyards. Your tasting here will be in a small room next to the cave. Altamura concentrates on Sangiovese and their flagship wine, a Cabernet Sauvignon – both of which have been well received by some of the best-known wine critics. Their vineyards are entirely dry farmed other than a small block of Sangiovese.
Select Wines/Winemaking
Altamura has made extensive use of a new French oak aging program and their wines often will stay in barrel up to an additional year or beyond the barrel aging program of most wineries. Their annual production is about 6000 cases. Besides their two main wines they also make a very nice Sauvignon Blanc which is available only at the winery and from their website. Compared to traditional Sauvignon Blancs, this wine is very un-traditional. It sees 18 months of oak which contributes to the oak in the nose, but the actual wine does not have that "over oaked" taste.
For Nebbiolo lovers – Altamura makes a delicious wine of this variety. It is very smooth yet complex and goes well with most foods. Typically, they do not open this wine unless you specifically request it, as it is made in such a low production. Most people have never heard of this variety unless you are a serious wine enthusiast or have visited Italy; there are just a handful of Napa area wineries producing it. All their wines are straight varieties, i.e.., no blending. Their Cabernet Sauvignon tends to be a robust wine, with concentrated flavors, strong and structured tannins and a very long finish.
Here is a variety you just do not see in Napa County: Negroamaro. This red wine grape is native to the southern part of Italy – in Puglia and Salento. Altamura has about an acre planted of these vines which typically produces about 100 cases of wine. In Italy this variety is often part of a red blend; in Napa the Altamura's make a 100% varietal. This is a good food wine, balanced with good acidity – a recent vintage we tried had silky smooth tannins that were well integrated.
The 2015 Altamura Napa Valley Sauvignon Blanc is deep gold in color; the bouquet simultaneously shows both tropical and citrus aromatics. The aromatics are sweet and include notes of ripe mango, mouthwatering summertime fresh peach, apricot, honeycomb and caramel. Smells like dessert! Rounded but not viscous in texture, offers flavors of red delicious apple, mandarin and notes of honey. Lingers with a raciness of spice and fruit but with acidity that keeps one salivating. But the palate is not tart – this is definitely not a greener' showing of this variety – but rather embraces ripeness and the Napa sunshine with presumably a longer hang time before being harvested.
The 2016 Altamura Napa Valley Cabernet Sauvignon is deep ruby in color – immediately shows a spiciness on the bouquet upon opening with aromas of dried sage, white pepper, dark olive and basil. The fruit is dark – plum with subtle hints of vanilla in the background which become more Graham Cracker-esque as the wine continues to open. The palate is fairly ripe with a sweetness of fruit and flavors of blackberry, black licorice and espresso. The tannins are still somewhat tightly woven (tasted 4 years after vintage date); they are certainly noticeable but are not coarse in their textural grip. Juicy. A ripe tartness lingers on the finish including red cherry and currant. Was aged for 34 months in 70% new French oak barrels for 34 months before being bottled.
Ciccio Restaurant, Yountville
Frank & Karen Altamura and their two sons, Frank and Giancarlo own the very popular walk-in only (no reservations taken) small Ciccio Restaurant in North Yountville or "NoHo" if you are a local. Located just north of the famous French Laundry restaurant and next to one of Yountville's former and falling down institutions, Pancha's of Yountville – a rough and tumble establishment that contrasts greatly with the contemporary luxurious zing of Yountville today.
Ciccio features a variety of pizzas as well as Italian entrees cooked in their wood-fire oven. In addition, locally sourced ingredients are used in their dishes including some trucked over from their own Wooden Valley located ranch & vineyards. Only their Cabernet Sauvignon is distributed in retail outlets – their other wines are not distributed however Ciccio is one place where you can try them without visiting the winery. And Ciccio has developed a reputation since opening for producing some of the valley's best Negronis!
What is now Ciccio's used to be the Tonascia Market which operated until the end of 1983 by the Tonascia family after originally established in 1916 by two brothers, Joseph and Silvio Tonascia. Over the years the market sold a variety of items including according to an add dated July 28, 1960, in the Napa Journal, meats, produce, beer, ammunition and dairy products. At one point a gas pump was located in front of the market. By the time it closed this was Napa County's oldest continuously operating grocery. It was reborn in 1984 as Yountville Market.
Visits are private to the winery and ranch – if Frank is hosting the tour, you will be driven around in his old army vehicle, a Dodge which was built in 1943. It doesn't get older "Napa Valley" than a visit here! For more information click through to their website: www.altamura.com
Winery

Vineyards

Altamura visit starts at about 21:30 in the video.