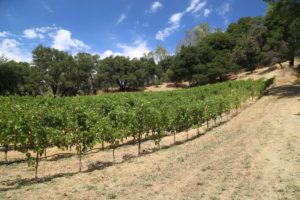 Alta Napa Valley. This is not the first Alta Napa Valley – in 1878 winemaker Colin T. McEachran built a small stone winery at the bottom of Schramsberg Way near Calistoga calling it Alta Vineyards & Cellar. In the early 1980s, the 40+ acre Alta Vineyard was resurrected and operated by Benjamin Falk (former vineyard manager for Cain Cellars) and his wife Rose. They produced Alta Cellar wines for a number of years. Another business with a similar name, Alta Napa Winery and Distillery, founded in 1895 was located at the corner of Pearl and West Street in downtown Napa.
Alta Napa Valley vintner Fred Oliai (no relation to the previous Alta Napa Valley endeavors) comes from a diverse background, born in Iran (one of several Napa vintners with Iranian heritage including Darioush Khaledi of Darioush Winery, Fred Razi of Razi Winery, Tony Peju of Peju Vineyards, Shahin Shahabi of Stonehedge Winery and consulting winemaker Kian Tavakoli), he grew up in Kentucky, graduated from the University of Louisville with a degree in Fermentation Science and worked in Research and Development for several large distilleries. He later moved to Colorado and worked for Breckenridge Brewery. While living in Colorado he also spent time working at the National Renewable Energy Laboratory working on cellulosic ethanol production (producing ethanol from non-food sources to create biofuel).
Changing career paths, in 1997 he moved to the San Francisco Bay Area working with software and studied computer science at UC Berkeley through their extension program. And he also studied Enology and Viticulture through the UC Davis extension program.
The first Alta Napa Valley wine was produced in 2009.
Alta Vineyard
This gorgeous piece of property is 91 acres of which only twelve acres are planted to vines – both Cabernet Sauvignon and Merlot. Some Sangiovese was originally growing on site, but these vines have since been grafted over to Cabernet Sauvignon. The oldest vines date from 1993. As with other nearby vineyard neighbors, this is a vineyard with a fantastic view. Located at an elevation of about 1,700 feet the views to the east are dramatic and varied – ranging from being able to see some of the snow-capped Sierra Nevada mountains in the winter and spring, to the Suisun Bay with windmills far in the distance (a gap in the mountains that is responsible for cooling afternoon breezes) and to the south, parts of the Oakland skyline. Part of Alta Vineyard borders the 2,300-acre Walt Ranch.
After Fred purchased this vineyard, he talked to one of the workers who was doing some landscaping on his property – he asked him where all the rocks came from that were being used to build retaining walls. The worker indicated he had recently helped develop one of his neighbors' vineyards – just up the road in a very rocky location. Fred asked which property and the reply was Kongsgaard Winery. Fred eventually met winemaker John Kongsgaard, became friends and today John purchases Cabernet Sauvignon and Merlot from the Alta Vineyard for several of his own wines.
River's Edge Vineyard
Fred purchased this 22-acre parcel just north of the city of Napa in 2016. Driving by one day he spotted a for sale sign. Formerly the Hoffman Farm (probably the last remaining walnut orchard on the valley floor at the time), Fred is only the 4th owner – originally it was part of Mariano Vallejo's land grant; the most recent owners, John and Margaret Hoffman purchased the property in 1949 and both lived into their mid 90s before passing away. In addition to walnuts the property at various times was planted to cherries, French prunes and apples. Incidentally the Hartley Walnut, named after John Hartley, was developed nearby on a farm along Big Ranch Road in what is now the Oak Knoll District.
The property is roughly a square in shape and is bordered on two sides by the Silverado Trail and the Napa River. The site was planted to vines for the first time in 2018 and small blocks continued to be planted through 2020 and include Cabernet Sauvignon, Cabernet Franc, Merlot and Chardonnay.
Walnut trees can leave harmful to grape vine nematodes in the soils including lesion and ring nematodes. These nematodes live in the soil and live and feed on roots in the process damaging and inhibiting the vine's ability to access water and nutrients (root-knot). UC Davis began experimenting with nematode-resistant rootstock in 1993 eventually identifying a handful of resistant rootstocks which they labeled GRN. Fred along with his vineyard manager Mike Nunez elected to use both GRN1 (the most resistant) and GRN3 rootstock.
Ideally this vineyard site would be home to their own winery someday. And a winery was approved here in 2020 – once it is built, we will revisit and update this review. The winery will be at 2125 Silverado Trail.
Select Wines
The 2015 Alta Napa Valley, Revival Cabernet Sauvignon is 85% Cabernet Sauvignon, 7% Cabernet Franc, 5% Merlot and 3% Petit Verdot; the fruit sources are from Sugarloaf (a large and prominent vineyard site in the hills southeast of downtown Napa) and from the Stags Leap District. Offers bittersweet aromas of licorice, black currant, cassis and ripe plum along with saddle leather and some darker baking spices. Very approachable in its youth and very balanced. Has a savory component on the palate. Easy drinking – finishes with dusty well integrated tannins. Lovely texture.
Oso Malo in Spanish means 'bad bear' – bears do frequent the Alta Vineyard Atlas Peak property. The 2015 Alta Napa Valley, Oso Malo Cabernet Sauvignon is 92% Cabernet Sauvignon from the Alta Vineyard and 6% Petite Verdot and 2% Merlot. The wine is very dark ruby in the glass; the bouquet offers darker fruit aromatics including plum and blackberry. Slightly briary. The bouquet is mostly about the fruit rather than too many secondary characteristics from any oak. As the wine opens, a subtle hint of toasted cedar and baking spices show. Offers an intensity of dark fruit flavors on the palate but without heavy structure. Firm, grainy, slightly gravelly tannins linger for some time along with a kiss of mocha.
The Quatreaux Red Wine, a play on Bordeaux is a co-fermented blend of four red Bordeaux varietals.
Fred attributes his winemaking to a variety of sources – his time working in distilleries in Kentucky, working in breweries in Colorado, the University of California Davis extension program, John Kongsgaard (who has influenced his style of winemaking), reading a number of winemaking related books and simply, learning by doing.
After a distributor mentioned the original label design was not eye catching enough; Fred set about to create a more intriguing label design. He has certainly done that; the Alta wines have one of the more creative labels in the Napa Valley. Fred found his inspiration on Pinterest – he discovered an image of a bear tattoo on the arm of a Russian man and promptly pinned that to his Pinterest account. The tattoo was an outline of a bear. Fred sent the photo to his visual artist who took creative liberty customizing an image. Two images are used, the bear for the Oso Malo, the flagship Cabernet Sauvignon and an owl for the other wines. Every label also contains a small circular Druid symbol – (Awen) a circular shape with three circles representing the belt of Orion and meaning 'spirit energy' or 'balance'.
Alta continues to sell the majority of their fruit while simultaneously purchasing from select vineyards up and down the Napa Valley. Once their production comes on board from the River's Edge Vineyard, most of their wine will be from their own vineyards. Current production is around 2,700 cases with plans to eventually reach around 3,500 cases. The wines are mostly sold through distribution including selectively in Arizona, Oregon and Washington. For more information, to join their small but growing wine club or to to schedule a visit to the winery, visit: www.altawinery.com