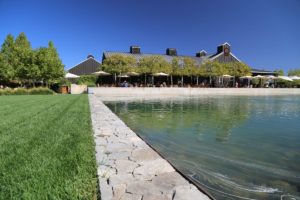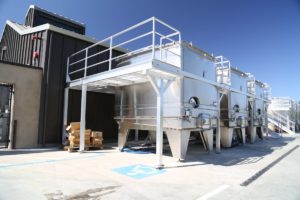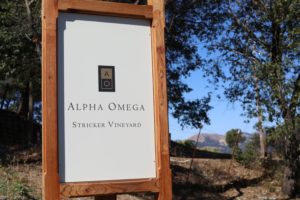 Alpha Omega Winery is located along the sometimes called "wine strip", a section of Napa Valley between Yountville and St. Helena along Highway 29 featuring a number of prominent and iconic Napa Valley wineries. Despite opening for tastings back in July 2006, Alpha Omega is still the new kid on the block in a winery neighborhood of well-established producers. But they have quickly built their reputation on both producing excellent wines from exceptional vineyards and offering a wide range of tasting experiences in an inviting setting.
The winery was founded by Robin and Michelle Baggett (numerous investors are also involved); Robin has deep roots on California's Central Coast – growing up in Salinas and later playing baseball while at California Polytechnic State University (Cal Poly) in San Luis Obispo. In fact, the baseball field at Cal Poly is named Baggett Stadium in his honor. Later he enjoyed a successful career in law and while living in San Luis Obispo, began acquiring property in the region. In 1998, he and his business partners began Tolosa Winery (in Edna Valley).
In 2005 Robin began to look at expanding his winery operations to Napa Valley. He soon purchased (along with other investors and partners) what was the site of Esquisse winery and prior to Esquisse, Quail Ridge Winery had operated a tasting room here for a number of years until closing their doors in 2002.
Alpha Omega has been very smart about their growth. By this we mean, their initial focus was on their wines and production facilities while later concentrating on the cosmetic appeal of the property including modernizing their tasting room and introducing a number of tasting experiences. Visitors to the winery in the first year or two would not recognize the winery today – the development of the property has been remarkable compared to when it was just a dated small hospitality center. A number of buildings were constructed for both winemaking, hospitality and offices including a separate barrel room; besides barrel storage, private tastings are sometimes held here.
In what might be a growing trend among certain Napa wineries, Alpha Omega now provides mandatory valet parking on busy weekends. Without trees to provide shade for parking, the winery has smartly built covered parking spots for both their employees and visitors with the roofs of these structures lined with solar cells.
When it comes to hospitality in the valley it is important to create a relaxing ambiance for guests; the use of water in this regard can be an integral component but unfortunately not enough Napa wineries are able to do so for a variety of reasons. Arguably the center piece of an outdoor tasting at Alpha Omega is their beautiful reflecting pool with its five fountains. Weather permitting, a covered patio overlooking this reflecting pool is an ideal place to enjoy a tasting.
In addition to their walk-in tastings, private tastings are offered by reservation including their premier tasting, the Taste of To Kalon. This tasting, features multiple library vintages and a current release from what is arguably Napa's Valley's most famous vineyard, To Kalon, located in Oakville along Highway 29 slightly south of the winery.
Winemaking/Select Wines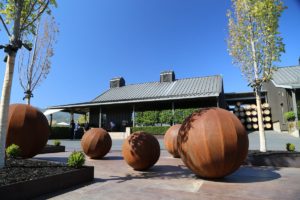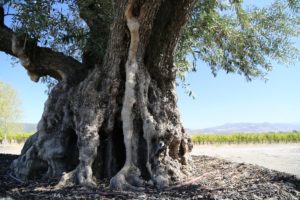 Texture is an especially important part of wine making; Alpha Omega practices a number of wine-making techniques to achieve desired texture in their wines. Remarkably Alpha Omega ferments much of its red wine production in barrel (this is a very labor and hands-on intensive way of making wine on any sort of scale) with the idea being to soften the wines and enhance the mouth feel to make them more approachable in their youth yet retain the hallmarks of being able to age. Post fermentation, the wines typically sit on the skins for a certain amount of time and no punch downs occur during this extended maceration. Again, this is partly done to enhance the mouth feel along with extracting more color.
The wines are fermented using non inoculated yeast (indigenous) and are bottled unfined and unfiltered. And Alpha Omega employs an in-house barrel cooper (extremely rare among Napa wineries).
In addition to a production that is mostly focused on red wines, Alpha Omega also produces several white wines including a Sauvignon Blanc from their estate, the 1155 Vineyard (named after the address of the winery) located in front of the winery next to Highway 29. This vineyard is planted entirely to this variety despite the fact that Rutherford is known primarily for growing select Bordeaux red varieties. But with established vines and their deep roots in the heavy clay soils of this site, this variety does very well during the warmer summer months in this part of the valley.
The 2020 Alpha Omega Chardonnay Napa Valley is medium gold in color; if California sunshine was associated with a smell, it would be the aromatics of this wine. The bouquet offers scents of honeysuckle, melon, honeycomb and some stone fruit influences including white peach and nectarine. Some additional non-fruited notes show deeper in the bouquet including caramel and toffee. One of this wine's hallmark characteristics is its texture – its creamy with an almost saline textural feel. It offers flavors of apricot, peach, pear, mandarin, red apple, hazelnut and a note of lingering vanilla. A noticeable richness of flavor continues to persist on the long finish. This wine was fermented in 75% oak barrels and 25% in stainless steel tank. It was aged for 18 months in French oak of which 30% were new barrels and 70% were in once used barrels.
The 2007 Alpha Omega Rosé is an unusual blend that includes Cabernet Sauvignon, Merlot, Petit Verdot and Cabernet Franc. There are not too many rosé wines like this in Napa Valley. It is noticeably dark pink with floral aromas of dried rose petals and red cherry. Perhaps somewhat surprising, the palate offers very concentrated flavors compared to the often-lighter style rosé wines that we are used to drinking. Flavors of wild strawberry and raspberry are anchored by delicate tannins. Alpha Omega no longer produces this wine but continues to bottle a Rosé Reserve.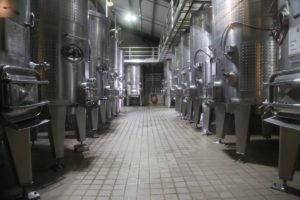 In addition to vineyards under their ownership, Alpha Omega sources from a remarkable number of other vineyards throughout Napa Valley. And every year their Napa Valley Cabernet Sauvignon is an expression of both numerous vineyards and sub appellations. The 2019 Alpha Omega Napa Valley Cabernet Sauvignon is 94% Cabernet Sauvignon 3% Malbec and 2% Petit Verdot. This wine is deep ruby in color; the bouquet offers initial aromas of chocolate, mocha and espresso, but as it breathes it begins to show more fruit characteristics. This includes ripe blackberry and boysenberry along with violets. Deeper in the bouquet are scents of Graham cracker, sweet tobacco spice, dust and a hint of dried herbs. The palate is juicy and mouth filling with flavors of dark plum and blackberry. It shows slightly spicy on the finish with some darker and savory tones including pepper. One feels a light lingering dryness, earthy notes and fine grained tannins. This wine was 50% barrel fermented and 50% stainless steel tank fermented. It was aged for 21 months in 40% new French oak barrels.
Alpha Omega purchase grapes from several Andy Beckstoffer owned vineyards including from Dr. Crane Vineyard in St. Helena. This is one of the Beckstoffer Vineyards six Heritage sites in Napa Valley – a collection of some of their most historically significant and premium vineyards. This particular vineyard was originally planted in 1858 by Napa pioneer Dr. George Belden Crane. This site was a campsite for Chinese workers when the California Pacific Railroad was being built and later was home of St. Helena's tiny Chinatown in the 1920s. Alpha Omega is among a select number of wineries that has access to this coveted fruit.
The 2016 Alpha Omega Dr. Crane Vineyard Cabernet Sauvignon is noticeably dark in the glass; it offers an intriguing very aromatically diverse bouquet which keeps revealing more aromas as it continues to open. Shows dark fruit and dark spices including notes of tobacco, toasted cedar, black olive and black licorice. Powerful and generously layered across the length of the palate with flavors of blackberry and boysenberry this is a juicy and ripe showing with big firm tannins which persist for some time. A memorable wine.
The 2019 Alpha Omega Cabernet Sauvignon Cordes Vineyard Atlas Peak is 100% varietal. Stagecoach Vineyard is one of the neighboring sites. Its color is deep ruby with an amaranthine rim in the glass; one can smell both a ripeness and a freshness in this bouquet in its youth. It offers sweetly fruited aromatics of blackberry, boysenberry, Santa Rosa plum along with notes of old cedar box and dried herbs. The well-layered palate offers primarily darker fruits and lingers with both a wood spice and notes of crushed peppercorn. The tannins outpace the fruit on the finish and showcase a long-lasting grip. They offer a dense, gravelly and pixelated textural feel. This wine has plenty of years ahead of it still. This wine was 80% barrel fermented and 20% stainless steel tank fermented. It was aged 20 months in French oak of which 55% was new and 45% were in once-used barrels.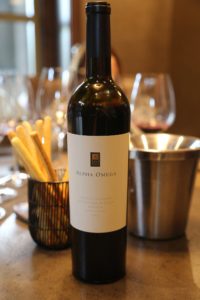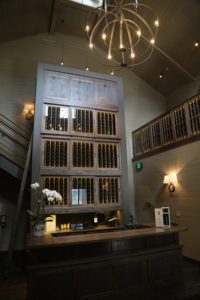 Alpha Omega's flagship bottling is Era, a wine created from a barrel selection of the best lots of red wine from a single vintage, regardless of vineyard sources. This wine is always led by Cabernet Sauvignon. Sometimes it is 100% varietal.
The 2019 Alpha Omega Era is a blend of 88% Cabernet Sauvignon, 5% Cabernet Franc, 4% Petit Verdot and 3% Malbec. It is dark in color with some amaranthine hues; the bouquet needs some time to fully express itself. We noted its aromatics as being similar to a train gathering speed over time. As it opens in the glass it reveals scents of forest floor, some brambly notes, dried herbs, dark plum, blackberry and dark chocolate. The palate offers flavors of blackberry and plum. This wine lingers savory with woodsy spices, crushed peppercorn and a dark and drying finish. The tannins are dense with a gravelly texture and persist with both fruit on a long finish. It was 90% barrel fermented and 10% stainless steel tank fermented followed by 20 months of aging in 70% new French oak and 30% once used barrels.
The 2016 Alpha Omega Era (100% varietal) is dark in the glass showing plenty of fruit on the bouquet along with darker spices, dark chocolate, cedar box and a hint of sage. Somewhat savory in its aromatic appeal, it shows aromas of bacon fat. On the palate, the fruit keeps coming. Persistent in its concentration with flavors of blackberry and blueberry. An opulent showing with a richness that continues across the palate. Anchored by long lasting tannins featuring plenty of weight and grip on the finish. This is a very age worthy wine and should be in the collection of any serious Napaphile.
In prior years Alpha Omega produced a late harvest Sauternes style Sauvignon Blanc/Sémillon blend that appealed to dessert wine enthusiasts. There are only a select few wineries in Napa Valley that produce a wine like this; Alpha Omega's 2004 vintage is excellent. One has to be selective with Sauternes style wines – sometimes they have an annoying roughness on the finish which in our opinion is a defect (however in our experience, most people do not even notice this). This wine does not have this and is all about the fruit and the balance. As it is a young wine it is light golden/yellow in color; age this and it will eventually turn amber darker-golden in the bottle. This wine is extremely well balanced which keeps it from being cloyingly sweet (good acid). Offers appealing stone fruit aromas including apricot and peach with minor hints of coffee. Similar flavors follow on the palate along with pineapple, lemon and honeycomb.
—
We are always intrigued with winery wastewater systems, having looked at several in Napa Valley closely over the years; a couple to reference which we have written about are Reid Family and Aonair. While not glamorous sounding like winemaking often is portrayed as, a wineries' wastewater system is an incredibly important part of any operation. In 2009, Alpha Omega installed New Zealand based, Lyve System. This system processes all their visitor center and winery wastewater into reusable clean water. After the water passes through the Lyve System it is then transferred to a wastewater reservoir on property. Alpha Omega uses this water for drip irrigating their estate vineyard and landscaping. And they were one of the first wineries in Napa Valley to implement this particular system.
Total production has grown significantly over the years and is currently around 15,000 cases per year. For more information on their tasting offerings, the winery or to join their wine club, visit www.aowinery.com
Alpha Omega, Exterior & Grounds

Alpha Omega, Winemaking

Alpha Omega, Interior, Hospitality

Alpha Omega, the early days

Alpha Omega Collective, downtown Napa tasting room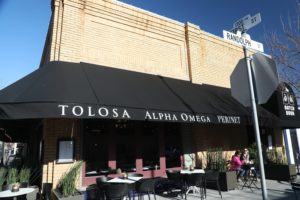 In 2018, Robin and Michelle unveiled the Alpha Omega Collective, the parent company for both Alpha Omega Winery, Tolosa Winery, Perinet Winery and most recently, Two Squared (wines offered at a lower price point, crafted at Alpha Omega's winery and designed to be ready to drink in their youth). On March 11, 2019, Alpha Omega Collective tasting room opened in downtown Napa at 1245 1st Street almost directly across from the Archer Hotel. This replaced the former occupant, Capp Heritage Tasting Room.
Wines from Alpha Omega, Tolosa Vineyard (in San Luis Obispo County) and Perinet (in the Priorat region in Spain) are available for tasting and purchase. This brick building is called the Migliavacca Building named after Giacomo Migliavacca, a prominent vintner who started Migliavacca Wine Co in the city of Napa in 1866. Giacamo's last name is carved in stone on the upper exterior of the building with the date of the building listed as 1916.
Guests can choose from several flights or create their own flight. Each flight contains at least one wine from one of the Alpha Omega Collective owned wineries. And wines can also be enjoyed by the glass. Depending on the day, the tasting is open daily from 1-7pm or 2-9pm (these hours may change seasonally). A room adjacent to the main tasting space was converted to additional table seating for guests in late 2022. Framed digital images hanging on the wall relating to each of the three wineries constantly rotate.
Weather permitting, tastings can be enjoyed at one of several small tables directly outside the tasting room on the Randolph Street side.
A commercial kitchen is also on site and small bites (made from locally sourced ingredients) can be paired with the wines. For more information about this collective, visit: www.alphaomegacollectivenapa.com
Alpha Omega Collective Tasting Room, Paso Robles
In mid 2022 Alpha Omega began preparing to move into a corner space located at 739 12th Street in Paso Robles, previously occupied for nearly 10 years by Siegel's Jewelry. The Alpha Omega Collective Tasting Room opened in January 2023. This space is located on the first floor of a prominent building directly across from the Downtown City Park. Similar to their other collective tasting spaces, wines from all three of their wineries are available for tasting and purchase. Several flights are offered, each of which can be paired with a cheese and charcuterie plate.
This is the heart of downtown Paso Robles and is ideal for pedestrians with nearby restaurants, several hotels and numerous tasting rooms within a short walk, including two with strong Napa Valley connections: Serial Wines (John Anthony) and Justin Vineyards (same ownership as Lewis Cellars).
Alpha Omega Collective Tasting Room, Healdsburg
In mid 2022 Alpha Omega began preparing to occupy the space at 241 Healdsburg Avenue, about half a block from the southwest corner of the Healdsburg Plaza. This tasting room opened on June 30, 2023. The space features wines from both Alpha Omega, Tolosa Winery and Perinet. Like their tasting rooms in downtown Napa and in Paso Robles, the interior of this space was designed by Napa based Shawback Design; its look and feel is both contemporary and simultaneously elegant. Parking is curbside around the plaza or along nearby side streets.
This space has a history of wineries using it for tasting rooms including the prior tenant, Murphy Goode. It has also been used by Siduri. We first visit many years ago when this space was used by La Crema to host visitors for tastings. The same family has owned the building since the 1930s; its original use was as a mortuary.
Weather permitting, the most coveted seats are in front of the large open windows overlooking Healdsburg Avenue, passing pedestrians and cars. Reservations are recommended on Fridays and Saturdays but if staff is able to accommodate walk-ins, they will. And the rest of the week walk-ins are encouraged. During our most recent visit we noticed the appealing soundtrack – one minute something from Journey was playing followed by Creedence Clearwater Revival.
While wines from all three producers are represented here the focus is on wines from Tolosa Winery in particular including some of their Sonoma County Pinot Noir bottlings.
Tolosa Winery, Edna Valley

Robin's first winery is Tolosa Winery (established in 1998) in San Luis Obispo's Edna Valley – only about a 10–12-minute drive from downtown San Luis Obispo. Unlike the focus at Alpha Omega on Bordeaux varieties, the focus at Tolosa is on Burgundian varieties including Pinot Noir and Chardonnay.
Robin first purchased property in the Edna Valley in the late 1970s with hopes of running a cattle ranch. Ultimately it turned out this land would be more productive growing grapes. The site is also home to Phase 2 Cellars, a custom crush winery with 80,000 square feet of space and a dedicated winemaking and cellar team. Phase 2 Cellars began in 1998 as Courtside Cellars and changed its name to Phase 2 Cellars in 2012.
The 2022 Tolosa Rosé of Pinot Noir. Our initial thought after looking at this wine in the glass was that it was Sauvignon Blanc. But upon closer inspection we noticed a light salmon pink hue to the wine – definitely not Sauvignon Blanc. If we were to categorize a bouquet as smelling elegant, this wine would be an ideal candidate. It offers scents of raspberry, wild strawberry, a kaffir lime zest, and a flinty character. The palate is balanced between flavor, acidity and texture. The mouth feel is lightly rounded with flavors of raspberry, lychee, lemon juice and a minerality character. It is very flavorful. The acid is bright but not tart. This wine was both fermented and then aged for 5 months in stainless steel tanks.
The 2019 Tolosa Edna Valley Chardonnay went through full malolactic fermentation and spent 8 months aging in 100% brand new French oak barrels. This wine is dark gold in color; our first impression of the bouquet was that it smells like warm butter but there are many more aromatic layers here including of crème Brule, ripe mango, pineapple, apricot and honeycomb. Or we can simply describe its aromatics as like cozying up to a warm fire on a winter evening with dessert baking in the nearby kitchen. Its texture is lightly creamy complementing an intensity of fruit flavors including ripe melon, pineapple, apricot and yellow peach. There is a persistent 'sweetness' of fruit across the palate which is nicely balanced by its lively acidity. Lingers with a ripe citrus note and a note of vanilla deep in the finish.
The 2019 Tolosa Pacific Wind Pinot Noir (Edna Ranch Vineyard) is medium ruby in color; this wine is a crowd favorite with expressive aromatics focused more on fruit rather than accompanying spices. It offers scents of raspberry along with hints of white pepper, mint, tea leaves and tonka bean. This extremely balanced bottling reveals flavors of pomegranate, red cherry and raspberry with a light kiss of darker spices on the finish. Its texture is truly seamless with a soft, supple and lightly creamy mouth feel. Good acidity. It was aged 9 months in both 1 and 2-year-old French oak barrels.
The 2019 Tolosa Apex Vineyard Pinot Noir Santa Lucia Highlands is medium ruby in color; the bouquet offers a union of both fruit and darker spices including some savory characteristics. Unlike the same vintage of the Pacific Wind Pinot Noir, this wine needs more time to open. It shows notes of white pepper, raspberry and pomegranate. This wine offers a rounded texture with flavors of red plum, rhubarb and red cherry. Thee finish lingers with a richness of fruit and a light note of darker spices. This bottling was aged 9 months in French oak barrels of which 25% were new oak.
The 2021 Tolosa Russian River Valley Pinot Noir is bottled under their AVA Series. This wine was sourced from vineyards located west of Windsor in Sonoma County. It is pale to medium ruby in color; the diverse bouquet offers aromatics of raspberry and other red berries, tea leaf, red currant, violets, red vine licorice and subtle hint of mint leaf. As the wine fully evolves, it reveals lighter scents of chocolate and caramel, however, the sweetness of fruit is the primary aromatic characteristic here. It's texture is supple and almost creamy-like with flavors of raspberry, cherry cola, menthol and a white pepper note, more noticeable on the finish.
The 2021 Tolosa Gunsalus Vineyard (near Graton in Sonoma County) is medium to dark ruby in the glass with some purple hues to it's color; the bouquet offers aromas of dried rose petals, raspberry, black licorice, chocolate and a note of highly attractive darker spices including of light pipe tobacco and a hint of pepper. The palate offers primarily higher toned red fruits including cranberry, currant and pomegranate along with blueberry. The tannins show their grip more on the front of the palate than the back. This wine's highly energetic "verve" is especially noticeable on the finish.
The 2018 Tolosa El Coro Vineyard (Petaluma Gap in Sonoma County) is medium ruby in color; the bouquet shows some floral notes including of rose petals, red licorice and black tea leaf. This is a riper aromatic expression than some of their other Pinot Noir bottlings. This wine's texture is so smooth and supple that the best word we can used to describe it's textural feel is harmonious. The palate offers flavors of dark raspberry, white pepper and red cherries. The acidity is noticeably bright and fresh but not tart. This easy drinking wine is enjoyable by itself. El Coro in Spanish means the chorus.
A number of experiences are offered for visitors including barrel tastings, a tour + tasting or a vineyard tour + tasting. Tastings are held either indoors at the primary tasting bar, the Barrel Loft (showcasing the single vineyard wines) or reserved exclusively for wine club members, in the Heritage Room. Weather permitting tastings are also outside in their large, shaded patio overlooking the winery operations.
Due to their very close proximity to the San Luis Obispo Airport, an outdoor tasting might feature a low flying commercial airline taking off or landing. Walk-ins are appreciated but reservations are recommended, especially for busier weekends. For more information, visit: www.tolosawinery.com
Tolosa Winery, San Luis Obispo

Baggett Stadium, Cal Poly

Perinet Winery, Priorat Spain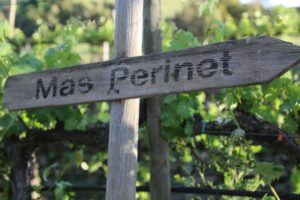 In 2017 Robin and Michelle acquired a sizable interest in Perinet Winery in Priorat, Spain. The winery is located about a 90-minute drive from the Barcelona–El Prat Airport (BCN) with the roads hugging the coastline before turning inland to the steep rocky landscape of the Priorat region.
Located as the crow flies within a fairly short distance from the Balearic Sea (part of the Mediterranean Sea) the region is influenced by the nearby water including a diurnal drop in temperature between day and night as well as receiving fog. Winters tend to be cold and summers hot and dry. The region also features plenty of microclimates. The most prominent red grapes grown in the region are Garnacha Tinta (Grenache) and Cariñena (Carignan). The earliest records of vineyards in the region date back to the 12th century.
Perinet Winery owns four separate vineyard sites; their largest vineyard, Mas d'en Xes much of which is located in a natural amphitheater like setting above the Siurana River and home to the winery, the nearby Mas Vell vineyard which features the highest of their vineyard sites (up to 1350 feet), Pendents – located south of the winery and featuring at times dizzying vineyard plantings (up to 30 degree slope) and plenty of breezes coming from the ocean and Balcon located approximately in the center of the Priorat and the latest acquisition to their vineyard portfolio. Perinet Winery grows the following red varieties: Grenache, Carignan, Cabernet Sauvignon, Merlot and Syrah.
The Perinet Pendents 2016 is 100% varietal Carignan with 80% of the wine fermented in barrel and 20% in stainless steel. This wine is very dark red with purple tinges on the rim in the glass – shows pretty baking spices on the bouquet along with toasted oak and hints of dark chocolate – all framed nicely with plenty of fruit including blackberry and plum notes. Layered in flavor, this is a robust wine with muscular chewy tannins persisting for some time.
The 1194 is a tiny production wine designed to showcase both Grenache and Carignan. Named in honor of the Charterhouse of Scala Dei founded in 1194 – Scala Dei was the first Carthusian monastery built on the Iberian Peninsula and records show these monks were the first to introduce vineyards and wine making to the Priorat. The 2016 Perinet 1194 is is a blend of 62% Grenache, 31% Carignan and 7% Syrah and was aged for 18 months in all new French oak. Presents pretty aromatics including dried rose petal, black licorice, earth notes and hints of desert spices along with a slight savory note. Plenty of fruit shows both on the bouquet and the palate; this wine is dense, opulent and layered featuring robust long lasting chewy and somewhat earthy tannins.
The 2017 Perinet 1194 is a blend of 60% Grenache, 37% Carignan and 3% Syrah. This wine spent 18 months aging in larger barrel 100% new French oak. It is deep ruby and opaque in color; the bouquet is immediately sweetly fruited with a diversity of both ripe fruit and dessert spices. These include aromas of blackberry, boysenberry, plum and blackberry jam – reminded us of some of the jams we used to purchase at the Apple Farm restaurant in San Luis Obispo during our years of college at Cal Poly. As the bouquet breathes further it reveals aromas of bittersweet chocolate, Graham cracker, cardamom and clove. We don't always describe aromatics as delicious, rather saving this broad based descriptor for a general flavor description but in the case of this wine the bouquet simply smells delicious. One might surmise the palate showcases riper fruit characteristics after smelling the bouquet, but that is not the case. The palate features bright acid especially on the mouth watering finish accompanied by flavors of plum, blackberry, dark raspberry and dried tobacco leaf. The the finish is savory with a mix of flavor, lively acidity and dark spices. The tannins offers a moderate grip. We thought of pairing this with the amazing Thai gai yang (BBQ chicken).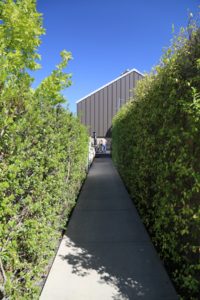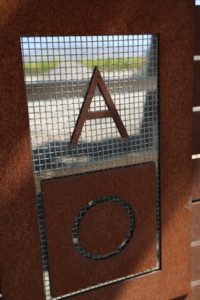 Poboleda, the closest village is located only about a 10 minute drive from Perinet Winery. Like other villages in Spain, the streets are narrow. Park your car in the open-air dirt parking lot at the entrance to town and make the short walk down. The town features several cafes and restaurants including Hostal-restaurant i Apartaments Populetus, a small 3-star hotel (where we stayed) and restaurant with clean and comfortable rooms with breakfast included along with ear plugs (perhaps to block out the aggressive church bells that ring several times an hour). Oh, and the nearby Happy's Bar is a great place to catch up with some of the village elders for local gossip (conversations in Spanish or perhaps some broken English if you are lucky).
Perinet Winery has quickly become a leader in tourism in the region focusing on winery visits and related experiences rather than selling wines through traditional distribution channels. The winery has also created the Ruta del Priorat Antic – a handy guide to both wineries, restaurants, lodging and select sites of historical interest in the region. All visits to the winery are by appointment; visits can be reserved online including a Classic Winery Tour & Tasting – for a more in-depth visit, choose the Essence of Priorat experience. Visits include a tour of the winery as well as a stop in the barrel room – built against the hillside below the winery. Total production is around 6,000 cases. More recently Perinet switched from a diesel generator powering operations to solar cells covering the roof of the winery. Perinet is also a member of The Porto Protocol Foundation.
For more information or to make an appointment, visit: www.perinetwinery.com
Perinet Winery & Cellar

Perinet Vineyards

Poboleda Village

Perinet