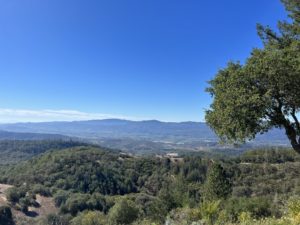 Almacerro. Owner, Frank Scherkenbach was raised in rural Wisconsin and has been attracted to agriculture since he was a child. He became a patent trial lawyer (now divides his time between Boston and Napa Valley) but never lost his interest in farming. Prior to starting Almacerro, he helped farm mint in Wisconsin for Scurek Farms; their largest client was Wrigley Spearmint Gum. And he learned how to operate their distillery subjecting mint leaves to steam, producing droplets containing mint oil which then can be separated from water.
Frank first visited Napa Valley in 1981 while in his first semester at Stanford University. Like many others, he was touched by the valley's visual beauty, the lifestyle, the people and in particular, the union between agriculture and the use of technology. Some of his earliest memories of Napa Valley are of visiting Pine Ridge in the early 1980s and meeting founder Gary Andrus when he was tasting his wines in a small space next to the side of a hill on his property (before the cave had even been drilled) and being impressed by Petite Sirah from old vines at Stags' Leap Winery.
Frank has long been attracted to Howell Mountain. When searching for property here he approached several landowners, but they weren't ready to sell. Eventually he was introduced by his real estate agent to winemaker Bill Smith and his wife Joan. In 2016, Frank purchased 41.6 acres from the Smiths, proprietors at that time of W.H. Smith Wines; in part, the Smiths produced wines from their Howell Mountain property until they sold. Bill planted the property to approximately 7 acres of vineyards including an experimental block of Pinot Noir. In 2021 the vineyard footprint was expanded by 4.5 acres; several types of rootstocks were planted and in 2022 were grafted to multiple varieties and clones. Today there are 11 acres of vines, primarily Cabernet Sauvignon including the oldest vines of this variety which date back to 1997, along with smaller amounts of Cabernet Franc, Merlot, Petit Verdot and a small block of Sauvignon Blanc planted on a cooler lower north facing slope.
The Smiths called the property Piedra Hill Vineyard (piedra, translated from Spanish to English means the rocks). And when one walks the vineyard one can clearly see why they chose this highly descriptive name. The site is extremely rocky and features several soil types including reddish iron-rich soils which dominate parts of Howell Mountain along with several outcroppings of compressed white volcanic ash (tuff). The soils are nutrient deficient with low water holding capacities. The property is at an elevation of between 1,720 and 1,820 feet and features a number of hills and gentle exposures. Due to the location and elevation, they sometimes have issues with frost.
This is one of the most remote vineyard sites on Howell Mountain and is located in the far southeast corner of the appellation. Neighboring properties are large and forested; one part of the Almacerro property borders Las Posadas State Forest (popular with bikers and hikers). And due to its rugged forested surrounding terrain, a number of animals often wander through including deer, coyote, bear, and mountain lion. The bears in particular forage in late summer on apples hanging from a single tree located at the edge of the vineyard. The name Almacerro is Spanish for, Soul of the Mountain.
A 3,500 square foot wine cave was tunneled into one of the hills on the property in 2003. During the Smith's ownership it housed their own wines in addition to several custom crush clients. The space continues to be used for several small custom crush clients. Everything here is done with an intimate perspective; keeping free run wine separate from pressed wine, using small-lot tanks ranging in size from only 2 to 5 tons and rather than pumping grapes into tanks for fermentation, they are gently and slowly gravity fed into the top of the tanks. Solar panels provide all the electricity needed to operate the cellar.
The label incorporates a strong sense of place. Its principal image depicts Frank's favorite view on the property – that of a solo pine tree towering above all the nearby vegetation, framed by Mt. Diablo in the background. And according to Frank, based on his personal observations, if one knows exactly where to look, this single pine tree can be seen from the parking lot in front of Gary's Wine in south St. Helena on a clear day. The label took nearly two years to design; Frank hired Thomas Hipschen, a banknote picture engraver for the United States Mint who is personally responsible for hand-engraving more than 130 U.S. postage and revenue stamps along with engraving the images of the U.S. Presidents on the $50, $20 and $1 bills along with Benjamin Franklin on the $100 bill. Frank provided him with a series of images which Tom then hand-engraved into a metal plate.
When Frank engineered the vineyard extension, he made sure to plant around a small grove of madrone trees and a stately oak tree. This oak tree forms the image that appears on the top of the wine capsule for all their bottles.
Frank interviewed several winemakers as a new brand he wanted a well-established winemaker. He was going to hire Francoise Peschon but then she strongly recommended he talk to a young winemaker she had worked with at Arkenstone Vineyards, Matilda Scott. Matilda, University of Adelaide Masters of Viticulture and Oenology graduate, began her career in Napa Valley in 2013 at Arkenstone as a harvest intern from Australia. Ultimately, with Francoise's urging, Frank hired both ladies, Matilda as Almacerro's primary winemaker and Francoise as the consulting winemaker. And Mike Wolf is the vineyard manager; he and Francoise work on a number of premium projects in the valley together.
Rancho La Jota History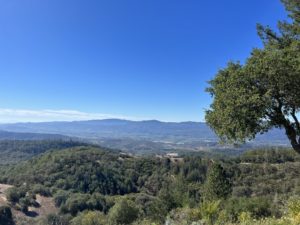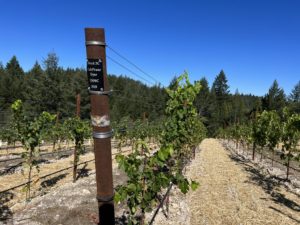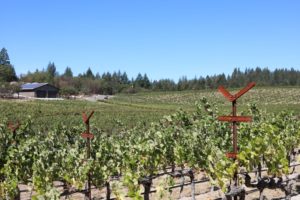 This is one of the more historical parts of Napa Valley; the first Euro-American permanent settler in Napa Valley was George C Yount (namesake for Yountville) who moved to the valley in 1836. In 1843, Mr. Yount was granted a roughly square shaped 4,454-acre Mexican land grant called Rancho La Jota (including what is now present-day Almacerro) by the Mexican governor at the time, Mr. Manuel Micheltorena. Mr. Yount intended to build a sawmill here making use of the heavily forested landscape (there is still plenty of forest surrounding the patchwork of vineyards) and did so in 1847, somewhere on the grounds of present-day Pacific Union College.
A later resident on Rancho La Jota was German born (1837), Frederick Hess who originally sailed to New York with his parents in 1854 (his father tragically died on route) and then after a year in the big apple, sailed to San Francisco with his mother. For a time, he earned money by selling newspapers on the streets. He worked for the San Francisco Demokrat newspaper until he soon purchased it in 1856 at only 18 years of age. He was also the founder of the Alameda Encinal newspaper. Sometime in the late 1880s he purchased 327 acres within the original Rancho La Jota land grant. An article in the September 26, 1895, issue of the Napa Journal mentioned Hess already had a ranch; this is one of the earliest mentions we have found to date of his property.
Another article from October 1, 1897, issue of the St. Helena Star indicates that Mr. Hess had recently discovered a natural spring on his property with up to 1,000 gallons of water flowing daily. The same article referenced he had already made 5,000 gallons of wine this year from his Howell Mountain vineyard and was in the process of clearing another 26 acres of land to plant to vines in the spring of 1898. He built a stone winery in 1898, quarrying rocks from the property and named the cellar, La Jota; his property was referred to as the Hess Ranch and the family home as Pine Crest. A wine produced from his Howell Mountain vineyards was awarded a bronze medal for its entry in the 1900 Paris Exposition.
Frederick's son William studied viticulture in college and worked with vineyards in both Napa and Sonoma counties. He was the manager of the Viticulture Commissions' exhibit in the World's Fair in Chicago in 1893. The property was still in possession of the Hess family in the 1950s; about the middle of the decade, Frederick's grandson William T Hess developed plans to sub divide his grandfather's original property into 5-to-20-acre parcels as part of a private gated community.
Which brings us closer to the present. Bill Smith moved to Bakersfield, California from Illinois when he was 2 years of age. Later in life he became involved in oil and gas exploration, taking a job at Buttes Gas and Oil (based in Oakland). He founded Montara Petroleum with several partners and began looking for additional land investments, while exploring Napa Valley and Howell Mountain he located the old stone La Jota Winery.
Bill (died in 2017) & his wife Joan purchased La Jota winery and property (40 acres) in 1974 and oversaw the planting by hand (with help from his family), putting in 2 acres of vines. His first commercial vintage from this property under the La Jota Winery label was in 1982. Bill credits, one of his neighbors, prominent winemaker Randy Dunn as being an initial early influence during his formative winemaking years. In the early 1990s Bill let winemaker Helen Turley borrow some production space within La Jota Winery (the sister of Turley Winery owner Larry Turley). The roots of W.H. Smith and their Pinot Noir began here.
Bill was the winemaker for La Jota until he sold the winery to Markham in 2001 (La Jota is now owned by Jackson Family Estates). Bill and Joan discovered what is now the nearby Almacerro Estate (not part of Rancho La Jota) when deciding to explore some of the nearby Las Posadas Forest on foot. The only access at the time was several rugged dirt roads. They walked onto the heavily forested property but never actually visited its southern most section which offers remarkable views of Napa Valley from St. Helena to the south including San Pablo Bay and Mt. Diablo. At the time the property was 100 acres; that was too much land for them, so it was divided into a 60 acre and an approximately 40-acre parcel. The Smith's purchased 40 acres in 1986 with the intent of building a small cabin, but then discovered the panoramic vistas, and with some foresight, pivoted and built a much larger home and planted vineyards.
They also imported old olive trees from Corning, CA – not for production but to add to the visual ambiance of the property. And Joan's old greenhouse still stands; this was originally used for growing orchids.
Bill was one of the founding members of the Howell Mountain Appellation along with Mike Beatty, Randy Dunn, Bob Brakesman and Mike Lamborn. Howell Mountain Appellation was approved in 1983; Napa Valley as an appellation had only been created two years prior. Howell Mountain was the first sub-appellation within Napa Valley; now there are 16, the most recent being Coombsville, approved in December of 2011. For reference the first American Viticulture Area in the country was in Augusta, Missouri, with approval granted on June 20, 1980.
Select Wines
Two red wines are produced from the estate each year, a proprietary red blend and a Cabernet Sauvignon. There is no formula for producing these wines; they are vintage driven, nuanced and distinctive bottlings with significant effort spent each year on a number of blending sessions before reaching the desired final blend. And even 1/2 a percent can make a noticeable difference in the wine's character. While these are mountain wines with plenty of complexity and built to age, they are also already balanced in their youth.
The first vintage produced from Almacerro was in 2017, but their first release was the 2018 vintage.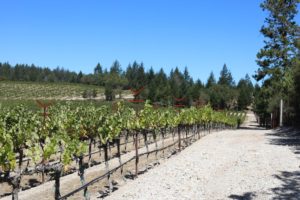 The 2019 Almacerro Proprietary Red is a blend of 37.5% Merlot, 35% Cabernet Sauvignon and 27.5% Cabernet Franc. This bottling is dark ruby in the glass; the aromatics are diverse, ranging from floral (violets) to dried herbs and sage along with hints of white pepper. This wine smells fresh and youthful. Upon tasting this wine, we immediately wrote one word, seamless; if we were to use a musical analogy, its cadence is harmonious without any sharp edges. On the palate it offers flavors of plum and cherry, anchored by comfortable tannins which texturally are rounded, dusty and somewhat chalky in their feel. Similar to the bouquet, this wine shows a lovely freshness, driven by its acidity. It lingers with a hint of dried tobacco leaf. Due to its varietal composition, this wine tends to show a softer texture than the estate Cabernet Sauvignon.
The 2019 Almacerro Cabernet Sauvignon is 93.5% Cabernet Sauvignon, 6% Merlot and 0.5% Cabernet Franc. This wine was fermented in 95% stainless steel tanks with 5% in oak puncheons. It is dark ruby in color; the bouquet is immediately elegant, offering floral notes including of violets. The aromatics continue to evolve in the glass, further opening to scents of red cherry and currant. And finally, it transitions into sweetly fruited notes including of cherry and black fig. This wine is bright and balanced from the entry through to the mouthwatering finish. The texture is one of this bottling's hallmark characteristics, certainly noticeable but in balance; this bottling lingers with persistent, gravelly and dusty tannins.
The 2018 Almacerro Cabernet Sauvignon is dark ruby in the glass and almost opaque; it is 95% Cabernet Sauvignon, 4.5% Cabernet Franc and 0.5% Merlot and was fermented 90% in stainless steel and 10% in oak puncheons and aged in 80% new French oak. The bouquet offers dark fruit aromatics including of plum, blackberry and cassis. It is youthful and energetic across the palate, like a teenager, still trying to find its 'place' as it ages. The tannins are firm and well-structured with a noticeable density and showcase a long-lasting gravelly, dry and earthy character. The 2018 is like a big brother to a younger sister (the 2019) and has all the characteristics in its youth to be extremely age worthy. We noticed more vintage variations between the 2018 and the 2019, than similarities.
—
Total production for the red wines is less than 500 cases per year. Their red wines are released four years post vintage (typically a year longer than the release programs of many wineries). The proprietary red wine is released in the spring and the Cabernet Sauvignon is released in the fall to list members. The wines are sold direct to consumer with plans for very limited distribution in both Napa Valley and parts of Massachusetts. For more information and to sign up for their list membership, please visit: www.almacerro.com