AJ Pearce Wines is a partnership between Jarred Pearce and Andrew James Renda – two individuals who followed their respective passions and interest in learning more about wine to the Napa Valley.
Andrew was introduced to wine while working in restaurants in the Boston area. He eventually worked at wine shops before he and his girlfriend (now his wife) – sold mostly everything they owned, quite their respective jobs and drove across country to the Napa Valley (without any jobs lined up). Within several weeks Andrew had secured a position at Vintner's Collective as Director of Sales. While working there he was introduced to numerous small mostly Napa producers including Jarred who was his first hire in the tasting room.
Jarred came to Napa (from Modesto in California's Central Valley – about 2 hours from the city of Napa) at the young age of 21 specifically with the desire to further his education about wine. His first job was selling wine at Oakville Grocery. He was so interested in getting his foot in the door he agreed to a lower salary than what he was originally offered.
Through this job he met a number of Napa winemakers – often representing small producers who would stop by to chat and make arrangements to have their wine sold in the retail shop here. One such vintner was Richard Mansfield, the proprietor of Mansfield Winery. As Jarred got to know Richard, Richard encouraged him to start learning more about wine by taking classes and actually work a harvest. Richard told him three things – wine is art, wine is science and wine is agriculture. All three of these appealed to Jarred.
Soon he was enrolled at Napa Valley College taking as many wine related courses as he could handle – wine business, wine making and viticulture courses. He then worked at Piña Cellars in Rutherford – decided to get some International wine making experience and worked several harvests at the well-regarded Anthonij Rupert winery in South Africa. Additional experience came from two of Napa's most prominent winemakers while at Fantesca – Heidi Barret and Philippe Melka. Jarred was Cellar master at Fantesca and as a result worked on a number of small brands that both Heidi and Philippe's consult for.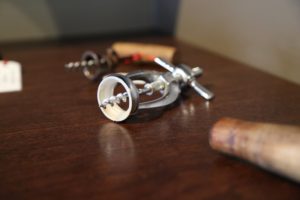 The focus of their wine making efforts are a Syrah and a Cabernet Sauvignon – sourcing from select single vineyards in Napa's Coombsville region. Their first vintage was a Syrah from the Pierret Vineyard. Interestingly enough, the owner of this vineyard sold and then bought a new vineyard which he renamed the Pierret Vineyard. AJ Pearce is now sourcing fruit from this same named vineyard but new vineyard source.
Jarred is the winemaker – he and Andrew were drawn to the Coombsville region for the high quality of fruit – the cooler climate then up valley and fruit that produces wines with excellent acidity. Their barrel aging program is significant – up to 42 months in some cases with 30+ months being the norm. Neutral oak comprises a majority of their barrel program – usually about a third new French oak is used. Their first release was merely 150 cases – with demand they have grown and are now up to approximately 850 cases per year.
Select Wines
The 2008 Las Cerezas Vineyard Syrah was a wine that was never supposed to be released under their brand – rather they had made it for a group from China. When this company went bankrupt AJ Pearce was left with the wine. The wine has not been hurt by bottle age. The bouquet is pretty – fruit forward with lively aromas of ripe fruit, baking spice, chocolate and mocha. Notes of black fig in the bouquet also carry onto the palate along with black currant. The dusty tightly grained tannins start mid palate and linger for some time. This is a well balanced wine with good acidity that is tasting very well with 7 years of age. Remnants of the potential sale to the group from China linger on the back of the bottle – a now meaningless UPC code that they originally placed by hand on every bottle.
The 2009 Maxwell's Cabernet Sauvignon was named after Andrew's son who was born this year. This wine was created due to an 'accident' in the winery. A Syrah was inadvertently blended with a Cabernet Sauvignon due to an oversight in not reading the labels already on each barrel. They did what any winemaker would do – tasted the new blend. Liking the blend they decided to keep it and bottle it as 80% Cabernet Sauvignon with 20% Syrah.
The wine is dark in the glass. The bouquet shows sweet perfume driven aromas with a plethora of spices including cardamom and plenty of red fruit (raspberry and red cherry). The palate is somewhat juicy, balanced and mouth watering – causing lingering salivation. The tannins are somewhat earthy but not overly robust in texture. This wine saw 34 months in oak.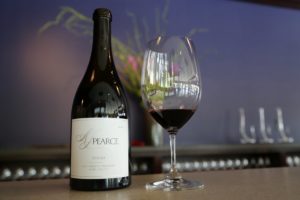 The 2010 Pierret Vineyard Cabernet Sauvignon remarkably saw 42 months in oak. During it's aging, the wine was racked once a year and sat on the gross lees. It smells pretty in the glass – surprisingly the oak is not a big part of the aroma. It shows a sweet note – cherry liqueur on the bouquet with a dry mocha dustiness. The palate is rich, layered and shows plenty of darker fruit flavors. The tannins are somewhat gritty and dusty – although smoothed by age. Nuances of toasted oak show on the finish.
—
Not satisfied with the quality of their 2011 wines based on challenging weather conditions at inopportune times during the growing season – they decided not to bottle any of these wines and did not release this vintage.
As of July 2015 AJ Pearce offers their wines in a tasting room called The Wine Thief which features small production Napa based vintners. This tasting room is located on the corner of First and McKinstry Streets directly across from Gott's Roadside Hamburgers and the Oxbow Public Market.
Wines are available for tasting by walk-in at the tasting counter, or from one of two automatic dispenser wine stations (by the taste, by the half glass or by the glass). Appointments can also be made to try the current release of their wines in one of the two private rooms on site. For more information visit: www.ajpearcewines.com