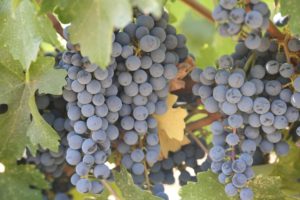 Aiken Wines was founded by long time Napa Valley winemaker Joel Aiken with his inaugural vintage in 2009. Joel grew up in Fresno and later nearby Clovis after his family moved to a 15-acre property in the country. The site was planted to an 8-acre peach orchard along with a similar sized vineyard. His father had the old Muscat vineyard removed but they kept the peach trees. Joel's first introduction to agriculture was during these formative years when he would help his brother manage the orchard and in the summer they would harvest the peaches. His parents never drank fine wine – Joel recalls the gallon jug wines they purchased in 4 packs for $1 per jug.
When deciding upon college Joel thought perhaps for convenience sake, he would stay close to home and attend Fresno State but his mother encouraged him to leave Fresno and study a bit further afield. Ultimately Joel enrolled at the University of California, Davis and completed his undergraduate degree in Biology. Weekend trips to the Napa Valley hooked him on wine and upon graduating he worked his first harvest in the Napa Valley at Inglenook Vineyards in 1980. He returned to UC Davis for his Master's thesis – as he recalls a number of his fellow students were involved in often esoteric Master's thesis's – his had immediate real wine world applications – comparing French and American oak barrels for the aging of Cabernet Sauvignon.
Tonnellerie Française had just opened their cooperage in Calistoga in 1980, the first French cooperage in the USA. This cooperage is now known as Nadalié USA. Prior to their opening, American oak barrels used in domestic winemaking were non-toasted whisky barrels. Tonnellerie Française took the unprecedented step to air-dry and toast American oak. Joel worked with them in trials to compare the taste of American versus French oak – and noted that they weren't able to tell the difference between the two oaks if both woods were treated exactly the same (air-dried and then toasted).
While working on his Master's, Beaulieu Vineyard took note of his interesting research and hired him as an enologist in 1982 (he recalls all the commuting back and forth from Davis for a period). Within three years at Beaulieu Vineyard Joel was promoted to winemaker (their youngest winemaker in history). During his time here, he played an instrumental role including overseeing the construction of the winery within the winery for the Georges DeLatour Reserve Winery at Beaulieu Vineyard, ran a Pinot Noir clonal research program in Carneros, oversaw the replanting of some of Beaulieu Vineyard vines in Rutherford, oversaw winemaking at Acacia and Provenance and was privileged to work with international wine consultant Michel Rolland and for a short while, "Mr. Beaulieu", André Tchelistcheff towards the end of Andre's life.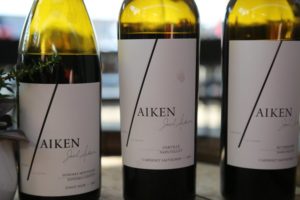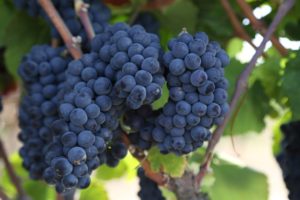 Joel recalls Andre visited Beaulieu Vineyard at age 89 in 1990, some 16 years after leaving a 36 year career there which began in 1938. The winemaking team was proudly showing him the winery and traditional winemaking practices (including older American oak barrels) that in part Andre setup back when he was working at Beaulieu Vineyard. Andre remarked, something like, "it has been 17 years since I have worked here, I have changed, why haven't you".
Ultimately Joel spent 28 years at Beaulieu Vineyard – from 1982 until retiring in 2009. But retirement is all relative, the day after he retired from Beaulieu Vineyard he took a consulting job – and by harvest of that same year he was already crushing fruit for his own wine.
Besides his direct winemaking contributions to the history of Napa Valley, Joel has contributed in other ways. He was on the board of the Napa Valley Vintners from 2000 through 2005 including time as their president and chaired the 2004 Premiere Napa Valley Wine Auction. He has also served as president of the Rutherford Dust Society (the appellation organization that promotes Rutherford wines) and in years past served on the board of the Carneros Wine Alliance.
Joel's winemaking philosophy is simple yet at the same time profound – start with great vineyard sites and do not conduct extensive winemaking in the winery to overpower the characteristics provided from the vineyard. And work with growers who have the same high regards to quality – and over time, learn how to manage each vineyard site on its own merit to express the maximum potential of the site without letting the winemaking take over.
Joel says his Pinot Noir often needs an extra year in bottle, often as much or more then his Cabernet Sauvignon – his wine is from mountain grown fruit in very rocky soils – some 900+ feet up on Sonoma Mountain. The 2014 Aiken Wines Sonoma Mountain Pinot Noir is from two clones – Pommard and Mariafeld (also known as UC Davis clone 23). Joel notes that the Pommard clone contributes a certain perfume quality to the wine whereas the Mariafeld brings both darkness of color, texture and tannins. Shows fairly dark in the glass for a wine of this variety – with a sweetness of fruit on the aromas, raspberry along with dessert spices including clove and an Asian 5-star spice nuance. Nice texture on the palate with spicy fruit (blackberry) showing on the finish along mocha and cocoa powder with earth accents. Good acidity. Well layered.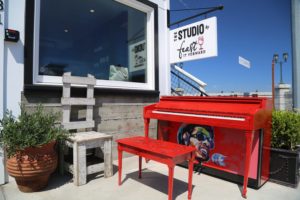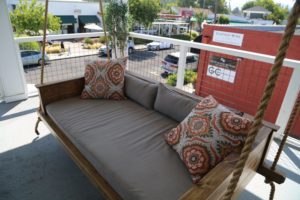 The 2014 Aiken Oakville Cabernet Sauvignon is 100% varietal from the well-regarded Oakville Ranch – a premiere site in the west facing rocky hillsides of the Mayacamas Mountains (in the neighborhood of Dalla Valle Vineyards and Stagecoach Vineyard). Compared to the Aiken Rutherford Cabernet Sauvignon, this wine tends to be more approachable in its youth. Lively and intense as a young wine, the aromas are pretty – accented by oak influenced spices including vanilla and mocha. On the palate the wine shows more red fruit then dark fruit with lively acidity. This wine walks a fine line between power and elegance. It is superbly balanced. The texture is immediately appealing – with supple and pretty tannins seamlessly integrated into the finish.
The 2014 Aiken Wines Rutherford Cabernet Sauvignon is 100% varietal from the acclaimed Morisoli Vineyard (located on Rutherford benchland – gravelly and dusty soils). This site produces wines of power – Joel ferments 3/4 of the wine in stainless steel tanks (to showcase the fruit more) and 1/4 in new French oak barrels (to help round and soften the robust tannins). The confluence of the differences in fermentation helps create a wine that highlights both the vineyard's gorgeous fruit along with structure. And for his Cabernet Sauvignon, he often conducts extended maceration for up to 80 days in a warm environment (80 degrees Fahrenheit). This wine saw an extended maceration of 71 days.
The wine is dark crimson in the glass – it shows an elegance of fruit with notes of toasted cedar, mocha and vanilla on the bouquet with a layered palate featuring mostly dark fruit including blackberry and cherry. The tannins certainly have personality; they are muscular, chewy and long lasting – featuring both oak and grape tannins. A lingering dark spice is also present. Very long finish. Giving this wine some air by letting it sit in the glass softens out the tannins considerably. This is a powerful wine both in fruit and structure – with all the hallmarks of being very age worthy.
Joel has worked with more then 50 vineyards in the Napa Valley – he told us that his best vineyard sites have always come from Rutherford – especially from the parts of this sub appellation which are located on old river gravel and alluvial fan sites. And for a career built on award winning Cabernet Sauvignon, one of Joel's favorite wines is Grenache. In 2018 he located 120+ year old Grenache vines growing near Fresno – and made a rosé from these grapes.
Joel heard about The Studio by Feast it Forward while attending Bottle Rock several years ago. He was walking to his car when he heard someone yell, "hey Joel". That someone was well-regarded sommelier, Christopher Sawyer, noted for his wine prowess and his facial chops (and who is the official sommelier for The Studio by Feast it Forward). Both men began to chat and Joel recalls Christopher saying something like, "you should be a part of the new Feast it Forward tasting room" – he eventually introduced Joel to Katie Hamilton Shaffer – the founder of The Studio by Feast it Forward. For a short while, Aiken Wines was one of up to 18 vintners represented at the The Studio by Feast it Forward tasting room in downtown Napa – located directly across from the Oxbow Public Market.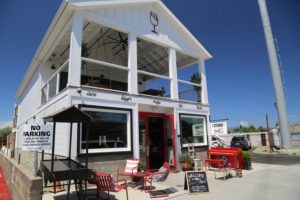 And it is interesting to note that towards the end of his career Joel's wines were represented in a young, urban and hip tasting space. He was the elder statesman here – one that guests and clients obviously look up to. While only two of the Aiken wines were available for tasting at any one time at the tasting room (including his most popular wine here, a rosé of Pinot Noir), private appointments can be made with Joel to taste through all of his current releases and or select library wines.
NOTE: Aiken Wines are no longer available at the Feast it Forward tasting room.
Every bottle of wine contains the statement, "the art of wine elevated" – referring to Joel's interest in working with hillside vineyards. His label is one of the cleanest looking labels we have come across in our journey of Napa wines – it is simply a black line angled to the right across the paper label – representing the slope of a hillside, with a parallel dotted line representing a topographic map. And astute wine enthusiasts will note that the latitude longitude is the same on each bottle regardless of the wine or vineyard site. These coordinates represent a winery on Howell Mountain where Joel initially was making the early vintages of Aiken Wines (and he never got around to changing the coordinates for each label).
Joel continues to provide wine consultation services (winery design, vineyard assessments, wine styles etc) – mainly to small producers.
Total production each year is tiny – usually in the range of 500 cases with each wine around 100 cases. The wine is very selectively distributed.
NOTE: Aiken Wines website is now offline as is the Aiken Wine Consulting website. We will archive this review soon unless we can determine wines are still being produced.