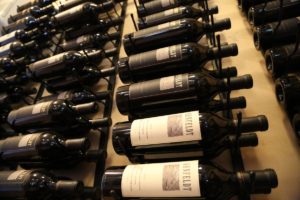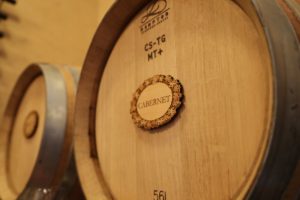 Ahnfeldt Wines was founded and was run by lawyer/vintner/farmer Bruce Ahnfeldt (his wife Celeste Carducci is also deeply involved in the local Napa wine scene). Bruce's roots are in agriculture having growing up in what was called the Santa Clara (the largest city in this part of the state is San Jose). During his childhood this valley was a prominent prune, apricot and cherry growing region and Bruce leased and farmed apricots for a few years. Now, of course nearly all this farm land is paved over – and is referred to as the Silicon Valley.
Bruce is a long time Napa resident having moved to the area in the 1980's. Soon thereafter he planted his first Cabernet Sauvignon vineyard and has since planted additional vineyards mostly in the southern part of the Valley – namely Coombsville region close to the town of Napa.
For 10 years Ahnfeldt Wines were tasted at Uncorked at Oxbow – located in a historic home that dates from 1900 (actually 3 small homes put together). This was a favorite among locals and visitors alike for its laid back feel, excellent wines and sometimes live music. The tasting room was founded by Bruce and Celeste Carducci and often one would find either Bruce or Celeste here pouring their wines. Unfortunately this tasting room closed in 2019 to make way for the Napa home of WALT Wines (one of the brands owned by Craig and Kathryn Hall of Napa's Hall Winery).
Bruce is a lawyer and has lived in the Napa Valley for 25+ years. Besides law, he has long held a love of agriculture having leased and farmed apricot orchards in the Silicon Valley back when the Silicon Valley was full of cherry, plum and apricot orchards.
Farming runs in the family; Bruce's son Garrett works for a local vineyard management company (founded by Bruce in 2003). Today they manage three south Napa Valley vineyards, all providing fruit for the Ahnfeldt wines. Garrett is also partners in g Wine Cellars a local boutique winery. Incidentally Garrett now offers his wines for tasting at the winery shared Wine Thief tasting room just down the street from the old Uncorked at Oxbow.
For many years the fruit from the vineyards was sold to mostly large Napa based wineries. Every year, a friend continued to encourage Bruce to make his own wine since he already had the high quality fruit and finally introduced him to the well-known winemaker Craig MacLean. MacLean was their inaugural winemaker with the 2002 vintage. Following Craig's time making their wine, consulting winemaker Paul Hobbs was hired in 2008 to make the Ahnfeldt wines along with Paul's team of winemakers and remained the consulting winemaker until the last vintage of Ahnfeldt in 2015.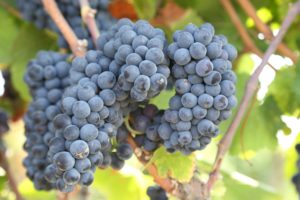 The first vintage of Ahnfeldt was a Merlot which soon earned an excellent 94 point rating from Wine Spectator. Not bad for an inaugural release! Today Ahnfeldt also produces two other labels including Carducci and Provocative. Note their creatively designed label – it is modeled after a statue that Bruce had commissioned in honor the first horse he ever owned.
The 2004 Ahnfeldt Cabernet Sauvignon is a medium bodied wine with excellent color, notes of cherry and cedar on the palate. It is very well balanced with smooth tannins that do not overpower. Being a lawyer, having a legal term as the name of one of their wines is very appropriate. Quid Pro Quo was supposed to be a one time vintage made for Premier Napa Valley, an annual trade tasting & fundraiser event held in the Napa area. However this wine was purchased by Dr. York, owner of the San Francisco 49ers football team and was such a hit at the auction, that its now an annual production.
The 2005 Ahnfeldt Merlot has excellent depth of flavor and concentration. It is a rather "large" Merlot and Cabernet Sauvignon lovers may find this wine appealing. The bouquet is well-layered with aromas of spices including vanilla and white pepper which leads to a rich rounded body that shows a ton of fruit including cherry, blackberry and raspberry. The finish displays broad structured balanced tannins. Good acidity with a pleasing mouth feel makes this an ideal wine to enjoy with food.
Celeste also owns and operates the 6-room historic McClelland-Priest Bed & Breakfast in a residential area just south of the main downtown part of Napa. She moved to the Napa Valley in the mid 1980s and purchased this old mansion at that time and converted it into an elegant B&B, opening for business in 1991. Each room called a suite has its own unique decor – one of the rooms is the Carducci Suite. As of our latest update to this review in 2019 Celeste sold this historic site.
Celeste has also been a fitness instructor at Napa Valley College for many years – teaching Kinesiology, Nutrition and Weight Management classes. In August 2017 she opened Napa Hot Yoga, located at 1660 Silverado Trail located a very short drive just north east of downtown Napa. Celeste is co-owner along with Bruce. The studio offers a variety of yoga and pilates classes including deep stretch and meditation classes.
For more information and or to join their wine club, visit: www.ahnfeldtwines.com
NOTE: this review has been identified as needing a **major** update. Also need to verify if wines are still being produced – most recent vintages listed on website are old.
McClelland Priest Bed & Breakfast

Napa Hot Yoga

Uncorked at Oxbow (we preserve these photographs here for historical sake)