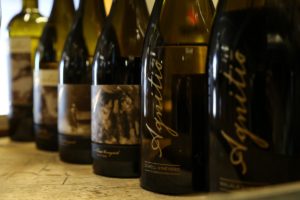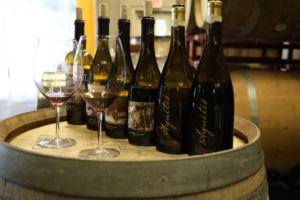 Agnitio Wines was founded with the release of their 2012 Chardonnay. Their focus is on Chardonnay and Pinot Noir from both Napa and Sonoma County. Other wines are made each year if there is an opportunity to source from a good vineyard. Winemaker Anthony Weytjens (no longer living in the Napa Valley and no longer involved in the winemaking for Agnitio) was instrumental in bringing this brand to market.
Anthony was born in Belgium and then raised in the Canary Islands (islands belonging to Spain off the coast of Morocco and the Western Sahara). His family was not in the wine business and he was never exposed to this industry while growing up. He decided to become a lawyer and moved to Barcelona where he studied law for four years.
But then he had an inspirational conversation with a winemaker which was the impetus for a life changing career move. He told his father he wanted to quit law and pursue wine making and that he wanted to immediately move to France to start his education. His father told him "you are crazy and you don't even speak French". This didn't deter Anthony – he moved to Bordeaux and studied the art and science of wine making ultimately earning a master's degree in wine making and viticulture from the University of Bordeaux.
His hands on experience came by working for Christian Moueix at his wine estates in both Pomerol and Saint-Émilion. In 2010 he was offered an intern position at Dominus in Yountville. Only one intern position is offered at Dominus each year and Anthony jumped at this rare opportunity. This brought him to Napa where in only a few years he has already accomplished much in the wine business. During his time at Dominus his roommate worked at HDV Vineyards (well regarded Chardonnay winery in Napa) and soon he was working harvest there.
A job was offered to him by Atlas Vineyard Management company as a sales manager. While no longer in production it gave him additional insights into the industry; he was able to meet with winemakers all over California and try different styles of wine. Atlas Vineyard Management manages over 1,600 acres of vines in their vineyard portfolio and employs more than 300 people.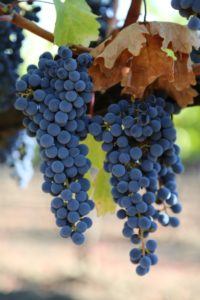 Anthony was humbled by the stories and work ethic from the vineyard workers at Atlas and he asked his boss if he could make some wine as a tribute to these employees. Getting the OK, he sourced a small amount of Chardonnay from the Trefethen Vineyard in Napa's Oak Knoll district. It was jointly decided to make this a much bigger project. The founders of Atlas Vineyard Management company, the Belli and Cybulski families then pooled their resources and ideas to create and built Agnitio Wines with Anthony as their winemaker.
With such a repertoire of vineyard sources, and owner relationships cultivated over the years, they are able to selectively choose fruit from a variety of premium vineyards.
In addition to creating premium wines, they decided to use these wines to give back to their employees and also give them recognition for the hard work they do; a different employee is featured on each wine label, individual employee stories are told – and a charity has been created called "Together We Grow". This receives proceeds from wine sales and funds vineyard and wine specific education for their workers and their families.
Each wine label is a photograph from a local photographer – these will be blown up to canvas sizes and auctioned off – bringing additional income to their charity. The name Agnitio was specifically chosen for a reason – in Latin it means recognition and knowledge.
Anthony creates wines that are balanced, with good acidity being an integral part of each wine – these are wines that are built to last. He uses new oak sparingly – based on each varietal and vineyard, as a complement to the wine, wanting to showcase the fruit characteristics. He whole cluster presses in a certain percentage of certain wines – preferring the age worthiness that some of the stem tannins bring as well as additional complexities on the palate. And what is also important is that Anthony is making a style of wines that he personally enjoys drinking.
The 2013 Savignon Blanc was sourced from two Napa Vineyards, with each source adding certain complexities to the wine – Oak Knoll (tropical nuances) and Coombsville (mineralties). Anthony uses "cigar barrels" for aging this wine – these are barrels that are noticeably longer than your standard sized French or American Oak barrel. The reason for this is it gives the wine additional surface area on oak for aging on the lees. Only the gross lees are racked off initially – after this, the wine sits on the lees with no batonnage.
The aromas show both tropical fruit and floral characteristics with a fresh scent of citrus blossom. The palate shows grapefruit, lemon and mineralities (graphite) anchored by a pleasing mouth feel that carries some weight – more rounded then some of the more "grassy" Sauvignon blancs we have tried. Nice acidity helps ensure a crisp finish.
The 2012 Napa Valley Chardonnay is Agnitio's first wine. It is 13.5% alcohol, saw 25% new French Oak and 40% went through malolactic fermentation. The wine is golden in the glass, the aromas are fresh with slight nuances of oak and honey. There is very good balance between the fruit flavors, oak and acidity. The finish is clean and crisp with just a touch of spice.
The following wines were not yet released at the time of this review and are all single vineyard, single varietals from Sonoma County. These will be in the bottle up to a year before being released.
The 2013 Durrel Vineyard Chardonnay was 50% fermented in concrete to add to the viscosity and overall mouth feel. This wine has a mouth feel that is rounded and soft, paired with good acidity and a richness of fruit that lasts for some time with lingering spices and just a touch of oak on the finish. Only a hint of mineralities show on the palate – Anthony anticipates this characteristic will develop more as this wine ages in bottle.
The 2013 Pinot Noir is from the Sun Chase Vineyard on the Sonoma Coast and was the youngest tasting wine of the non released wines we tried. The aromas are appealing, raspberry liqueur, blackberry, white pepper and green olive. This wine is built to age, with good structure and mouth watering acidity. The tannins are there, more on the back of the palate than the front – are fine grained, softer. This is a wine to hold on to for a couple of years.
The 2013 Walala Pinot Noir is from a unique ridge top site in Sonoma County – only about 6 miles from the ocean. This vineyard is 17 acres of Pinot Noir vines immediately surrounded by native forest land – 19,000 acres of it. Atlas Vineyard Management are co-owners of this vineyard. The wine is a blend of three Pinot Noir clones each bringing a differentiating characteristic to the wine from structure, acidity and mouth feel.
The wine is dark in the glass (for a Pinot Noir) and shows a very elegant bouquet – black cherry and ripe plum. The palate has a richness of fruit especially on the front. Dusty, perhaps a bit of oak tannins along with an herbal note show on the finish.
For more information visit: www.agnitiowines.com
NOTE: possibly no longer producing. We will keep an eye on this brand.