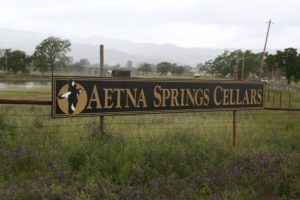 Aetna Springs Cellars is located in Pope Valley which is a neighboring much smaller valley east of the main Napa Valley on the backside of Howell Mountain. This is in an area that is much less developed than the Napa Valley and home to only a few physical wineries. However, there are many vineyards planted here, some owned by several well-known Napa Valley based wineries. Aetna Springs is run by the Kimsey-Watson families and released their first vintage in 1991. Note the image of the acorn woodpecker that appears on their label. This is a very common bird found on their property which makes a very distinct sound. A visit here is for serious wine enthusiasts who typically have tried their wine somewhere else.
As of press time their production is extremely limited coming in at about 500 cases. That is tiny! The winery facility is located beneath the owner's home and is slightly set back into the hillside so it retains a year round cool temperature and if you visit during parts of July and August you will see why this is important due to temperatures often reaching 100+. Six acres of vineyards are planted just below the winery to Cabernet Sauvignon and Syrah. These are the two varietals they focus on with a vintage of each released every year. In-laws also have vineyards in Rutherford and they have sourced fruit there in the past to make Chardonnay and Merlot.
They use a variety of oak barrels including French, Hungarian and American. The philosophy behind this is that each type of barrel helps bring an added complexity to the wine – and if you have ever tried the same wine aged in different barrels, you will know that the type of barrel used can have a dramatic affect on the actual wine. We tried the 2004 Syrah and the 2004 Cabernet Sauvignon. The Syrah has aromas that are deep and layered including chocolate and some cedar. The mouth feel is smooth, rounded and silky – with notes of cherry and blackberry on the palate.
The Cabernet Sauvignon also exhibits very soft, smooth and silky characteristics with some violets, herbs and earthiness on the nose which slowly dissipates as the wine opens up. This wine has great fruit on the palate including cherry, blackberry and hints of black licorice. If we had to choose one word to describe these two wines it would be soft and smooth…ok, two words then! These wines can easily be consumed by themselves but will pair very well with a variety of food. As as result they are mostly distributed in restaurants by the glass in very select markets. Incidentally their price to value ratio is among the best in the Napa area. Great prices, excellent hand crafted wine – not a bad combination!
NOTE: Cannot determine if they are still making wine. Will update/remove this review as we get more details. Website offline for at least 2 years.
NOTE: This review has been archived.
REASON: Stopped producing wine commercially