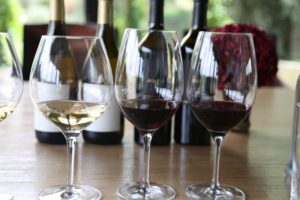 Aequitas Vineyards was founded by three partners, prominent lawyer David Boies (who also co-owns Hawk and Horse Vineyards in neighboring Lake County), Stephen Zack who served as President of the American Bar Association and Napa native, Amy Ash. Amy has been involved in local real estate for many years, is a licensed Real Estate Agent and also designs and remodels homes in the Napa area. Because her two partners are not often in Napa, her role is one of overseeing the brand, helping with securing vineyard sources and providing input into the direction of the business. This is not Amy's first experience in the wine world – she was closely involved with Ghost Horse Vineyards and was the General Manager of Anderson's Conn Valley Vineyards for four years (where we first met her).
The centerpiece of their wines is a vineyard on the lower slopes of Atlas Peak – the property is 22 acres of which 4.5 are planted to Cabernet Sauvignon, Petit Verdot and Cabernet Franc. The property has great views of the southern part of the Napa Valley and overlooks the golf course at Silverado Country club. This land was never planted to vines when they acquired it in 2009 – with Amy's suggestion, they planted both olive trees and vineyards the following year (they do make a small amount of olive oil from the trees on site). The vines are at an elevation of 800 feet.
With a strong legal background representing the ownership, they carefully chose the name Aequitas – which in Latin refers to justice or fairness.
Amy's connections in the wine world – were valuable when looking for a winemaker. Long time Napa winemaker Jason Moore was hired. As of our last update (and where we tasted the wines), production is at Brasswood Estate and visitors to the valley interested in trying the wines, can do so here (appointment only). Tours of the estate property can also be arranged.
Wines/Winemaking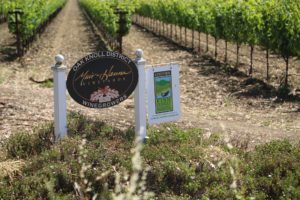 Their inaugural release was from 2014 with two red wines made mostly from their estate grapes (a Cabernet Sauvignon and a Cabernet Franc) and two Chardonnay's – one from the acclaimed Muir-Hannah vineyard in Oak Knoll (incidentally John Muir's great grandson is the owner of this vineyard and was one of the Chardonnay vineyards that was in Chateau Montelena's 1973 vintage that won the "Judgement of Paris") and the other from the Russian River appellation in neighboring Sonoma County.
Their first vintage was just under 700 cases in total – their Cabernet Sauvignon is their most produced wine.
The difference in their two Chardonnays to a great extent, reflects the various terrior differences of their two source vineyards. Their wine making style is similar for both wines – using 50% new French oak with about 40% of the wine going through malolactic fermentation. These wines were aged sur lies for 18 months. The 2014 Aequitas Vineyards Napa Valley Chardonnay shows a bright bouquet filled with various citrus aromas including tangerine, a lemon zest and citrus blossom – with a subtle kiss of caramel – more towards the background of the bouquet. Shows lively fruit, bright acidity and intense flavor with a desert spice note on the finish along with a slight tartness (green apple).
The 2014 Aequitas Vineyards Russian River Chardonnay shows aromas of pineapple, a minerality (wet rock) and a slight raciness to the bouquet along with initial hints of caramel and subtle toasted oak aromas. Quite complex. Rich yet balanced with good acidity at the same time. Generous across the palate with a very long finish.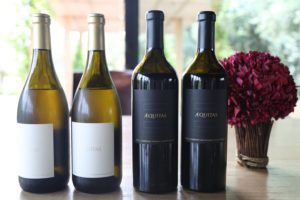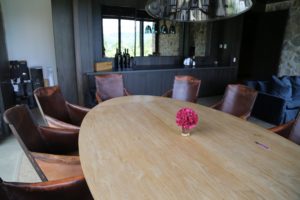 The 2014 Cabernet Franc (25% Merlot from Carneros) shows a smokiness, tobacco cedar box mix of aromas initially – as it breathes more fruit shows with aromas of blueberry. Great food wine with an underlying mouth watering component (excellent acidity). Lighter in style it also drinks well by itself. Lingering red cherry tartness with well-integrated soft tannins.
The 2014 Aequitas Vineyards Estate Cabernet Sauvignon is really dark in the glass – ruby red with purplish tinges on the rim. Shows very bright fruit aromatics – dark cherry and blackberry along with hints of black olive – ripe but still elegant in it's aromatic approach. The bouquet perhaps would lead you to think this is going to be a riper style of wine – still shows plenty of power, but the palate also shows restraint. Layers of dark fruit with fairly robust tannins anchoring a long finish.
—
Keep an eye on this producer, with a beautiful estate and partners who are committed to success, their contribution to the Napa wine world should be a long lasting one. To join their mailing list or request a tasting appointment, visit: www.aequitasvineyards.com
Hawk & Horse Winery, Lake County
Photos and visit coming by 2021.