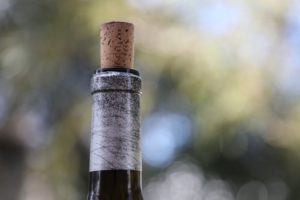 Adversity Cellars produced their inaugural vintage in 2019. The word adversity invites another accompanying word, overcome. And it's about overcoming adversity that is at the root of Russell and Heidi Bevan's wine brand relating to not only the types of vineyards they work with, but in one's own life and also relating to the world of making wine in Napa Valley.
We will highlight just a few of the significant adversities the valley has had to work through in about a 10-year span from 2014 through 2023. In 2014 an earthquake caused major damage in the city of Napa as well as to numerous winery operations located around the epicenter of the quake. Fires are an inherent part of California's landscape, but starting in 2017 through 2020, Napa Valley was subjected to a number of fire events which significantly altered the landscape. The resulting smoke created its own issues, and a number of wineries did not produce wines in 2017 and 2020 due to smoke taint problems. Having spent almost all our life in this part of California, we've never ever experienced such intense firestorms as during these few years. And like much of the world in 2020 and 2021, the valley dealt with the peculiarities responding to a global virus.
Similar to Bevan Cellars and his other projects, Russell is very particular about which vineyard sites he works with; Adversity Cellars focuses on primarily sourcing from mountain and low vigor sites in which vines have to struggle and overcome the adversity of their growing conditions. And he is equally as careful in the cellar where paying attention to details are among the most important overall aspects of winemaking. His godson told us one such supporting story. He began foot treading a small lot of grapes and Russell quickly noticed he was breaking too many berries and exposing the seeds (can impart a harshness into the wines) and had him stop.
Russell has a led a varied life – born in Ukiah, CA he earned his master's in philosophy from Gonzaga University, worked in Minneapolis selling dental equipment, wrote a syndicated column which was published in the Wine Spectator and then became a self-taught winemaker with his first vintage in 2005. He met his then wife Victoria at a dental convention in Des Moines. She introduced Russell to a number of wines early in their relationship – bringing home mostly Italian wines (which they would often try in a blind tasting). This piqued Russell's interest, and he began to explore wines from other regions including Bordeaux and Burgundy.
As he became more passionate about wine, in 1998 he began frequenting the online public wine forums on the Wine Spectator's website. Being a sponge and building his knowledge rather quickly, he soon became a sought-after resource on the internet for wine advice and bottle recommendations. After making their first trip to Napa Valley in 1996 Russell and Victoria returned numerous times, often hosting other wine enthusiasts for dinners or winemaker events.
As fortune would have it, Russell's company transferred him to the San Francisco Bay Area and he and Victoria purchased a small vineyard and a home in the Bennett Valley AVA near Santa Rosa. Russell continued to develop relationships with a number of vintners he had met over the years including Kal & Dorothy Showket owners of what was the Showket Vineyard at the time (later the vineyard was sold to Peter Michael Winery). During a party at the Showket's in early 2003, Kal casually asked Russell if he wanted to purchase some of his Cabernet Sauvignon. The answer was yes. Russell's first 'garage' wine was from the Showket Vineyard. Friends heled harvest the vineyard by hand and the grapes were carefully sorted into bins, categorized as ripe, over ripe and under ripe fruit (each of these lots was fermented separately).
When Russell presented Kal with a bottle of his home wine, Kal was duly impressed. Russell realized he was onto something good. And Kal soon hired him as the Showket winemaker, Russell's first winemaking job in the Napa Valley.
Select Wines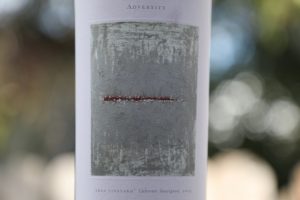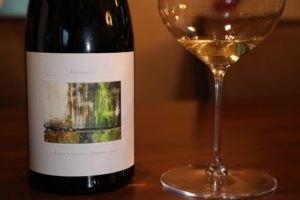 The 2020 Adversity Cellars Chardonnay is from the 5 Wells Vineyard near Sebastopol in Sonoma County. The grapes are growing in very sandy soils. Stylistically, Russell refers to this as his perfect blend of old world meets new world – however, there is plenty of California ripeness in this bottling. This wine is deep gold in color; the bouquet is generous with aromas of warm butter (shows more on the bouquet than as flavor), caramel, ripe Golden Delicious apple and honeycomb. The honeyed flavors are of ripe stone fruits including nectarine, apricot, peaches in light syrup along with a lingering brightness of citrus like flavors (more tangerine/mandarin like than lemon/lime) and acidity. This wine is a rich texturally and fruit driven expression of the variety. It is ok to simply refer to it as, 'liquid gold'.
Sage Ridge Vineyard is located above the shores of Lake Hennessey but is not located in Pritchard Hill. It is owned by Judy Jordan (Jordan Winery) and was formerly owned by Pat Kuleto (known for his restaurants including in San Francisco and his namesake winery). This hillside property is 602 acres of which about 60 are planted to grapevines. The site ranges in elevation from approximately 800 to 1500 feet. Adversity Cellars winemaking and logistical manager, Samuel Rubbelke spends time in this vineyard during harvest and told us that the Cabernet Sauvignon produces some of the tightest bunches and smallest berries of any of the vineyards Bevan works with. Bevan refers to this wine as primal. A number of premium producers have or continue to purchase grapes from Sage Ridge including Napa Valley based Modus Operandi and Montagu Cellars.
The 2019 Adversity Cellars Sage Ridge (blended with a small amount of Petit Verdot) is deep ruby with purplish tinges on the rim of the glass and is fairly opaque; the sweetly fruited aromatics include ripe blackberry, boysenberry, mulberry, fresh rose petals and violets. It also smells like blackberry jam; deeper in the bouquet are notes of clove, cardamom and dark chocolate. It is highly aromatic and a very ripe aromatic expression. This wine features mouth-filling opulent fruit including blackberry and boysenberry. The tannins are ripe and polished and linger with a subtle savory note with a hint of black pepper, dried tobacco and old cedar. Of the wines we tried, perhaps this bottling is best candidate for 'crowd pleaser'.
Adversity Cellars sources grapes from the Erba Vineyard on the far eastern reaches of the Atlas Peak appellation including Cabernet Sauvignon. Erba Vineyard is planted in a extremely rocky soils, the site can be windy, sometimes experiences shatter and is usually among the last of the vineyards Russell works with to be harvested.
The 2019 Adversity Cellars Erba Vineyard Cabernet Sauvignon is deep ruby/purple and nearly opaque to look at in the glass; the bouquet offers ripe and sweetly fruited aromatics of blackberry, boysenberry and mulberry. Ever smelled a ripe Santa Rosa plum developed by horticulturist Luther Burbank? Parts of this bouquet are reminiscent of that particular fruit. And there are a number of secondary aromatics including of mocha, espresso and a scent that is partially chocolate and partially old cedar box. The palate is juicy and filled with fruit including ripe plum, blackberry, boysenberry and dark licorice. The tannins offer a light to medium grip, linger slightly dusty along with a note of cedar wood. This wine finishes brightly with long-lasting fruit. Like with Sugarloaf Vineyard near the city of Napa, Russell denudes leaves on these vines to open up the canopy on the morning side of the vines to ensure maximum sun exposure during the cooler parts of the day.
The 2019 Adversity Cellars Erba Vineyard Syrah Napa Valley is the darkest in color of any of the Adversity wines – a dark and inky showing best described as amaranthine. This wine spends 36 months aging in oak barrels. The bouquet is dark and shows plenty of aromatic depth and character. It is a bit brooding and offers scents of grilled meats, a light touch of black pepper and black olive. But there is plenty more to describe here including aromas of ripe blackberry, plum, dark chocolate, old cedar box, Graham Cracker and dark fig. This wine is rich and dark fruit flavored including of plum, blackberry and boysenberry. Its intensity is clearly felt but without any accompanying heavy structural component. Rather the tannins are plush and rounded with a lingering light gravelly-like texture. The finish continues to persist for quite some time with both fruit, a woodsy spice and a warmth of alcohol.
As of our latest update to this review, Adversity Cellars also produces several other very limited production Cabernet Sauvignon wines including from Melanson Vineyard on Pritchard Hill, the Harbison Vineyard in Oakville and The Papas, a Cabernet Sauvignon dominated blend. In 2020, Adversity Cellars produced an appropriately named Cabernet Sauvignon called Catastrophe.
—
All their wine labels are unique works of abstract art by German born and based Christian Hetzel.
Total production each year varies but is often between 1,000 and 1,500 cases. The wines are primarily sold direct to consumer but have some limited distribution. For more information to purchase select current release bottlings, visit: www.adversitycellars.com