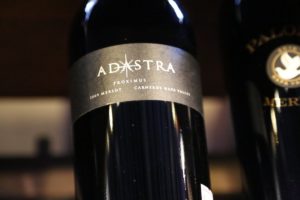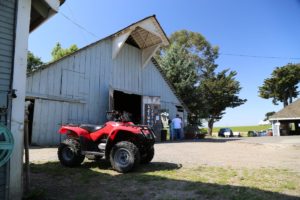 Adastra Winery is located in the heart of the Carneros district somewhat southwest of the city of Napa and is surrounded by rolling hills and beautiful vineyards. Their name comes from the Latin saying "Per aspera ad astra" which literally means "through striving to the stars." They produce less than 1500 cases each year which classifies them as a very small winery. They were founded in 1995 with the release of their first wine – merely 50 cases of a Merlot. Founder, Chris Thorpe is a retired Vallejo surgeon; he is also an amateur astronomer.
Prior to the ranch being owned by Chris – it was formerly owned by the Sandbach Family who appropriately named their land the Star Hill Ranch after the general shape of a star formed with some imagination when you take into account the five highest surrounding peaks – Mt. St. George in Napa, Mt Veeder (shared by both Napa and Sonoma) Mt. Tamalpais in Marin, Mt. Diablo in Contra Costa and an unnamed peak in Solano). This name certainly ties in very well with Chris's interest in stars and the constellations.
The Sandbachs raised quarter horses on site – one of their horses bred on the ranch was given as a gift to Ronald Reagan (named No Strings) – to generously and clearly imply this gift as one of "no strings attached"!
Focal POV on a hinge

All their vineyards are certified CCOF and are farmed organically. One item of note – many vineyards burn woody parts of the vines (usually in winter or early spring after the vines have been pruned) or when they rip out vineyards to put in new vineyards. Adastra is trying to cut back on these practices of creating burn smoke and additional pollution – so they are processing some of old vines using chipping machines – which will ultimately result in mulch material (a more environmentally friendly way of processing the vines).
The Adastra Carneros Estate used to be open to the public only 1x a year – during the April in Carneros event – a Saturday/Sunday event – a total of only 2 days a year! Discounts are usually provided on their wine during these two events. However, if you cannot make these two events, you can taste some of their wines at the Tasting Room at Napa Wine Company off of Highway 29 in Napa Valley (which is where their wines are made) or at their tasting room on the plaza in the town of Sonoma.
The tasting at their winery during the 2 days/year they are open is located in a historic old redwood barn (dates from the 1880's). It is truly a farm barn as it appears quite ancient and rustic and one of the side rooms contains many old farming implements. Because of their limited days per year when they are open, this is always one of the most popular stops during the Taste of Carneros events and should be visited early in the day before the barn gets too crowded. Of note is the Barn received a new roof in 2010.
Up for Croquet in the Carneros? Try playing some croquet at their garden court located just behind the main winery house or take a quick tour of their gardens behind the actual winery (during the few times they are open as part of the April in Carneros annual event).
Select Wines
Adastra specializes in four wines all grown from their Carneros Estate – Chardonnay, Merlot, Pinot noir and Syrah. In fact they make two distinct Pinots; the Regulus and the Proximus. The Proximus Pinot is made in very small quantities and as they say is "the best of the best"! Proximus in Latin means "closer" and Adastra uses that term to mean "closer to the stars".
We tried the 2005 Adastra Pinot Noir (less than 200 cases). This is premium, low production Pinot at its finest. Its a rich layered wine full of fruit including flavors of plum and red cherry with a tantalizing finish that shows notes of spice. Adastra also grows Pinot Noir fruit from vines that were originally sourced from Domaine de la Romanee-Conti Winery in France (considered to be one of the world's greatest wineries – with a rich heritage and a first vintage that dates back to 1232).
The 2013 Adastra Proximus Pinot Noir initially doesn't smell like a Pinot Noir – it needs time to open eventually revealing more Pinot Noir varietal characteristics including notes of raspberry and strawberry. It is a more robust Pinot Noir yet still balanced. Both oak and fruit tannins linger but complement the power of the fruit rather then detract from it.
The 2007 Adastra erlot is dark in the glass and shows lively aromas of baking spice including clove – there is a sweet note to the bouquet (cherry cola) with both darker fruit and a subtle browned sugar aroma especially as the wine continues to breathe. This is a well balanced wine that shows a firm grip of dense but not robust tannins. This wine was was obviously unfiltered as it throws some sediment in the glass.
Their Chardonnay is well regarded – winemaker Pam Starr uses indigenous yeasts in the fermentation (yeasts already growing on the grapes when they pick) and the lees are stirred during its aging – providing additional complexities both in flavor and structure.
All their wines are reasonably priced – our favorites are the Pinot Noirs. Note their sister label, Ed's Red. This was created by co-owner Edwin Richards as a very reasonably priced wine that delivers quality rather then mediocrity (for wines of this price point). The label is very noticeable; it is of a woolly mammoth.
—
Adastra opened a tasting room (open to the public) at the end of May 2016 at 5 East Napa Street in the town of Sonoma. This tasting room is called ADASTRA Wine & Art and sits directly on the main Sonoma square – on the south side of the square right next to the Highway 12 turn. The interior is clean with both bar and sit down tasting.
As a tribute to their Carneros estate, a separate walled off tasting area contains a number of mementos, historical photographs, and items that were found on the vineyard over the years. Since the estate property is private and you cannot actually visit their barn for private tastings, this how they are 'bringing' part of their old barn to Sonoma!
For more information, visit: www.adastrawines.com
Sonoma Tasting Room

Carneros (Napa side) Estate