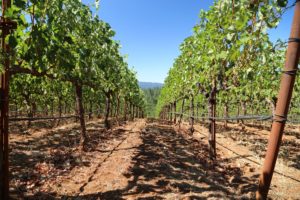 ADAMVS was founded by Denise and Stephen Adams with the purchase of 76 acres on Howell Mountain in 2008. Prior to their purchase, this was the home of White Cottage Ranch Winery. While this is their first Napa Valley winery, Denise and Stephen are not new to the wine industry. They have long been attracted to France; they were married in the Dordogne and honeymooned in Saint-Emilion – and their vacations invariably revolved around French wine regions.
In 2003 they purchased an old chateau in Saint-Émilion (Château Fonplégade) that was badly in need of restoration at the time (it still showed damage from World War II). They renovated and revitalized the estate and today farm the vineyards biodynamically. And in 2007 they purchased the smaller Château L'Enclos in Pomerol.
Stephen is originally from Minnesota; he holds degrees from Yale and Stanford and is an accomplished businessman with a long career spanning decades. His business interests include advertising, publishing (Adams Publishing Group) and the outdoors, Adams Outdoors which includes Camping World and Good Sam Club among numerous other businesses.
Denise has degrees from Kent State University and Connecticut University. She taught art for several years and later founded her own design company. She has overseen both their Château Fonplégade property and ADAMVS.
Their Howell Mountain property is planted to 28 acres of vines (some more recently planted and the oldest vines 25+ years old). The majority of the entire vineyard is planted to Cabernet Sauvignon with tiny plantings of Merlot and Cabernet Franc. Since their purchase they budded over two small separate blocks of Sauvignon Blanc. Harvest often runs up to six weeks based on the properties' diversity in soil, elevation and microclimates.
There are five prominent soil types here – among them, a clay loam, silt loam, grey volcanic ash and the red iron-rich volcanic soils that parts of Howell Mountain are known for. Samples of four soil types are displayed within the tasting room – and one can clearly see the dramatic differences based on color alone. The vineyard ranges in elevation from 1,600 to 2,000 feet. The vines are mostly dry farmed but can be watered if needed. And they are farmed organically and biodynamically (certified).
Sheep live on the property and are introduced into the vineyard at certain times of the year to graze on the cover crop. Bees and chickens are also raised on site.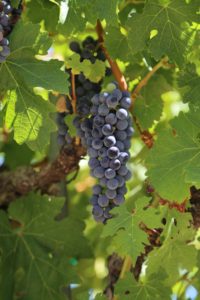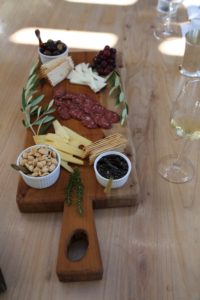 Noted winemaker Philippe Melka began working with the Adams since their first vintage in 2010. He was a good fit for the Adams – based on his background in Bordeaux and consulting work in the Napa Valley. His input was instrumental into the construction and wine making related details of their winery building (built to his specifications including feedback on desired tanks). Fermentation is conducted in small 4-ton open or closed top tanks with smaller lots fermented in barrel.
A very unique fermentation vessel used for the first time in 2015 at the winery is referred to as "La Perle". This was designed by Franck Jugelmann, assistant winemaker at Château Fonplégade. This teardrop shaped oak barrel created in partnership with Tonnellerie Quintessence was built to mimic the shape of a concrete egg. Based on its shape and size, it is conducive for small lot fermentation, and one does not need to punch-down the cap as the wine ferments (the concave shape ensures a mixing of the cap with the fermenting juice similar to what occurs in the concrete "egg" tanks). These barrels were made in France and then shipped to the winery. To date, this is the only winery in the Napa Valley we have seen utilizing this creative fermentation vessel.
An on premise only wine (because of such limited production) is their Sauvignon Blanc. The 2012 vintage was barrel aged for 15 months in 30% new French oak and then allowed to age in bottle for two years. It is a darker golden color in the glass. The bouquet is complex and evolves nicely as it is allowed to breath. It shows tropical nuances including honeysuckle, citrus blossom aromas and notes of melon (cantaloupe). As it opens further, it reveals hazelnut and toasted almond aromas. On the palate there is a richness of flavor nicely balanced by the wine's noticeable weight. A spicy note shows with some mineralities (graphite) and a hint of lemon zest that lingers for quite some time. Perhaps the only regret one might harbor with this wine, is that they don't make more of it.
The focus of the wine making is on three red wines: TÉRES, QUINTVS and ADAMVS. Their current releases tend to be a year or two behind most wineries' current releases as they prefer to age their wines up to two years in bottle before release. The labels feature a cross section of tree rings; each of the wines is distinguished based on a different color of one of the tree rings. All three wines are 100% varietal Cabernet Sauvignon.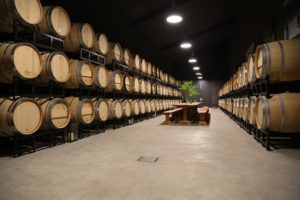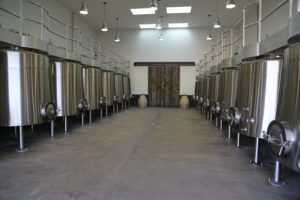 TÉRES is their most produced wine – usually around 1000 cases. The 2011 vintage features an elegant bouquet with aromas of blackberry and black currant. As the wine breathes a sweet note shows, then fades and is replaced by a darker spice/smoky nuance. The palate shows a mix of both red and dark fruit flavors – this is very balanced wine. Lingering notes of mocha and delicate chalky tannins anchor a pleasing finish. Good acidity.
QUINTVS means five in Latin and this wine features barrel selections from each of the five different soil types on the property. The 2011 Quintas is dark ruby in the glass; it shows powerful aromatics with elegant darker fruit aromas including spicy plum, hints of white pepper with an almost imperceptible subtle sage note. Rich flavors including blueberry and chewy earthy tannins anchor a long flavorful finish.
ADAMVS is a special wine; it is the pinnacle of the estate's wine making program; Philippe hand selects the best barrels each year which includes wine from the oldest vines on the property as well as from a special block. Only 100 cases of the 2011 vintage were produced. It is an elegant bouquet with both red and dark fruit framed by an earthy nuance, olive tapenade and hints of sweet, toasted cedar. The beautiful texture is immediately noticeable – with its plush mouth feel – a richness of flavor complemented by a softness of structure if you will. Well integrated slightly chalky tannins finish in harmony with the fruit. This is one of the finer Cabernet Sauvignon's we have tried in all of Napa from this particular vintage.
The innovative tasting room and wine library are the work of Kurt Melander, a San Francisco based architect (Melander Architects). This was his first winery project; his designs are creative, unique, inspirational and seamlessly blend both art and function into an intimate setting. Denise asked Kurt to initially walk the property to perhaps include some local natural elements into his designs. He discovered a cutting of a cypress log and ultimately incorporated that element into their tasting room which is simply called the "Cypress House". This open glass tasting room is surrounded by a freestanding log wall built of cypress logs.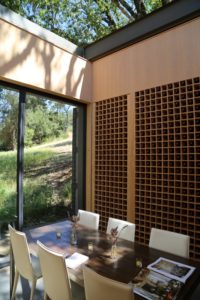 The adjoining wine library now sits on the footprint of what used to be an old wooden shed. Denise asked Kurt if he could restore the shed, but it was beyond repair, so he creatively came up with a design to honor the old building. He removed each piece of wood one by one and numbered them – and then lined them up to create imprints in concrete. Therefore, the new building reflects the exact physical imprint of the original wood in its entirety. The walls are 12-inch thick and house a tastefully decorated members tasting room and wine library. And with a nod to the beauty of the property – a sizable window overlooks the wooded slopes, and the roof retracts completely allowing for an open air tasting and a view onto the branches of the nearby oak trees.
The name ADAMVS (pronounced Adam-us) was chosen by Denise because in Latin it means 'of this red Earth' and they altered it slightly to read "borne from our red earth". And based on their own last name it correlates both the human and terroir element of their particular property quite well.
Several products from the property complement the wine including a Cabernet Sauvignon jelly, fig jam, honey from their beehives and olive oil.
Visits are for active members of their mailing list and serious wine enthusiasts looking to enjoy and purchase premium hand-crafted wines in a very personalized private setting. The majority of their wine is sold directly with a small percentage (the TÉRES) going to select retail distribution in California, Florida, New York and Texas. For more information, and to join their mailing list, visit: www.adamvs.com
Château Fonplégade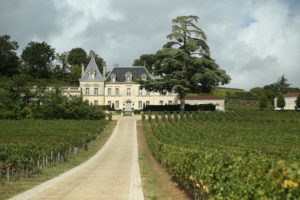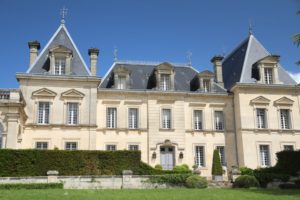 Restored after the Adam's purchased this old property – this chateau is one of the more attractive properties in this part of Bordeaux – located only about a 5 minute drive from the picturesque old village of Saint-Émilion. In French Fonplégade means fountain of plenty, the name taken from a 13th century fountain which remarkably still exists on the property. Historically villagers would come to collect drinking water from this spring which flows out of the hillside.
The stately chateau on the property was built in 1852 by wine merchant Jean-Pierre Beylot and grapes have been planted on site since the late 1500s. At one point the property was owned by Duke of Morny and the Countess of Galard, (half-brother and half-sister of Napoleon III). Denise and Stephen purchased the property from the heirs of Armand Moueix in 2004 (the Moueix family had owned the estate since 1953 and several years prior to the sale to the Adams, Christian Moueix was involved in the winemaking). Included in the sale were all the old library wines. After the acquisition, Denise and Stephen began to search for old bottles to build a new library collection. Stephen was alerted to an auction in Belgium with a rare 1929 bottling of Château Fonplégade. He was able to purchase this bottle; today the oldest bottle of wine they have been able to obtain is from the 1922 vintage.
One of its towers burned during World War II (not due to military involvement, but rather a house fire). Stephanie decided to rebuild this – and even was able to use the same stone as was originally used in the rest of the chateau when it was first built. After the tower was fully restored – a change was made to their label beginning in 2015 – now showing both towers.
Stephen and Denise purchased the property in 2004 (incidentally they spent part of their honeymoon in Saint-Émilion) and spent significant effort in restoring the estate including the cellar, chateau and the vineyards. Their vineyard is 18.5 hectare planted to 90% Merlot and 10% Cabernet Franc and is planted on the southwest side of Saint-Émilion's limestone plateau. Farmed organically since their purchase, they received their organic farming certification in 2013. And they are pioneers in this part of Bordeaux in regard to Biodynamic farming – having received their biodynamic certification in 2020.
During a visit after a particularly challenging Spring (based on several days of severe chill) frost danger was a timely topic. However, based on the exposure and elevation of the vineyard – much of their property is not in danger of spring frost. Standing on the upper reaches of their property one has exceptional vineyard and chateau views – looking down on the who's who of Saint-Émilion including several chateaus with Napa Valley connections, Le Dôme (Jonathan Maltus, World's End Wine), Château Canon (Chanel owned, St. Supery) and Chateau Le Châtelet (Fait-Main wines).
Starting around 2017, over several years, a slight shift was made in the cellar to reduce the new oak on the wines from about 90% to 50% and the use of clay amphoras was introduced (helping to accentuate the terroir aspects of the property). Fermentations are conducted using indigenous yeast. Their focus is on one wine (always Merlot dominated) although they do produce a second label called Fleur de Fonplégade.
The 2016 Château Fonplégade is medium to darker ruby; shows dark fruit, leather, plum, mushroom, dark olive and earth notes. Shows a slight savory quality as it continues to open including a hint of dried tobacco leaf. Offers a simultaneous depth of flavor yet an elegance from start to finish. One can truly taste the terroir – a dustiness especially on the finish. Offers a freshness of fruit and acidity on the finish anchored by refined tannins. One of the primary hallmarks of this wine is clearly its balance.
One harvest as the last of the grapes were coming into the winery, Denise decided to remove a few of the picking lugs filled with grapes. Employees were quickly concerned there was something wrong with the grapes but ultimately it was discovered that she was removing grapes to make grape jam. However, this was from one of their most choice blocks of Merlot on the property. For every harvest since then, a certain tiny section of a block is set aside for both home grape jam and grape juice.
Total production each year is a maximum of 4,000 cases. The wine is sold in both France through negociants and in the USA market. The wines are also allocated to private member clients – primarily to those in the USA.
Both Château Fonplégade and ADAMVS are featured in the wine documentary, Eastbound Westbound: A Winemaker's Story from Bordeaux and California. This film released in 2022, closely examines the wine connections between Bordeaux and the United States. It earned recognition at the annual TASTE AWARDS in Hollywood.
Visits and tastings can be arranged by appointment. For more information, to join the mailing list or to schedule a visit, see www.fonplegade.com
—
FRENCH PROPERTIES
Château Fonplégade

Château L'Enclos