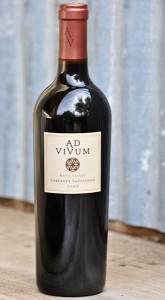 Ad Vivum Cellars produces a single wine, from a single vineyard in Yountville from a single clone of Cabernet Sauvignon produced each year by long time Napa winemaker Chris Phelps (no relation to Joseph Phelps). Chris was raised in Livermore – just "down the street" from Concannon Winery. He earned his degree in Viticulture from UC Davis in 1981. After graduating he interned at Louis Martini Winery in St. Helena, then left for 16 months exploring Bordeaux. While here he met Christian Moueix, proprietor of Chateau Petrus.
Upon returning to Napa Valley, Chris became winemaker at the new Christian Moueix owned Dominus in Yountville; he was their founding winemaker and spent 12 years as their winemaker. He also made wine for Caymus and was head winemaker at Swanson Vineyards in Rutherford for twelve years.
The roots for Ad Vivum begin in 1990 when Chris met Larry Bettinelli on a Christian men's retreat. Larry happened to grow up in Napa, is a 5th generation farmer and both he and Chris connected over their shared passion for wine. Larry was selling his grapes to larger wineries where they were often blended into a much larger production wine. He wanted to focus on a smaller production wines where the varietal characteristics were preserved in the wine making.
Since 1990 he has given Chris a ton or two of grapes each year. Larry sets aside several rows where he can experiment with trellising and various vineyard management practices. Chris then made wine for many years for personal use as well as an altar wine for use in his church in St. Helena. This was probably one of the finest and certainly few hand crafted altar wines one will ever find in Napa!
Starting in 2005 Larry identified 8 rows (which works out to .91 of an acre) for Chris in the Sleeping Lady Vineyard located in Yountville. Coincidentally this vineyard is located just south of Dominus. This is a good vineyard neighborhood, Harlan Estate purchases fruit from the area as does Malbec & Malbec (a premium small producer). Since then, Chris has continued to source from these 8 rows of Cabernet Sauvignon clone 191; his first commercial release was from the 2007 vintage.
A few days after cold soaking the fruit in 2007 in the early stages of fermentation Chris still excitedly remembers how he was immediately drawn to the unique aromatics of this wine. He describes the aromas as having "grace" or referencing a musical term, a "top note". The aromatics and palate are from a unique combination of clone and soil (terroir); Chris has worked with this particular clone before and doesn't recall these particular aromatics in other wines. The wine also typically has a nice purple iridescent in color on its rim in the glass. Chris remembers one sommelier insisting this wine was blended with Petit Verdot. Not so, every year it is 100% varietal Cabernet Sauvignon.
Chris usually harvests earlier and is judicious about the amount of oak used during aging (French oak).
Select Wines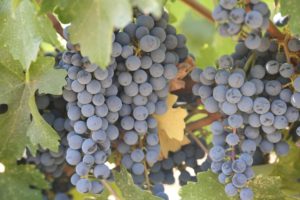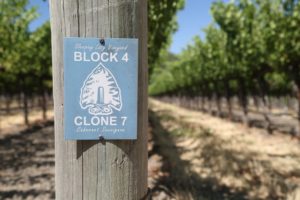 The 2011 vintage was a fairly cool year in Napa – some of the wines we have tasted from this vintage have some herbal qualities. Not so with this one – the grapes from the Sleeping Lady vineyard were able to fully ripen prior to the cool and early rains that plagued this vintage. Aromatically the 2011 Ad Vivium is pleasing, showing notes of raspberry and black berry; it offers an elegant bouquet with a wonderful complexity which keeps evolving as the wine opens. Higher toned fruit shows on the palate including flavors of raspberry. This wine shows good acidity and restraint; it is not a ripe or overly extracted Napa Valley Cabernet Sauvignon. The tannins linger for some time as does the fruit. This bottling should age quite well.
The 2012 Ad Vivium had only been bottled 8 weeks prior to our tasting and as a result, was still a bit closed, but over time this wine opened and evolved wonderfully in the glass. Chris most enjoys drinking his wines when they are allowed to open over a good amount of time – say 2-3 hours at meal. This way one can really notice how they evolve both aromatically and on the palate. This wine is dark ruby in the glass. The bouquet shows darker fruit with a slight chalky component, is slightly floral and reveals hints of mocha as the wine breathes. The palate is perhaps a little more robust than the 2011. It shows flavors of dark plum and red fruits – initially the tannins are rigid and gripping, but as the wine is allowed to sit in the glass the tannins smooth out and become better integrated. It is neat to see this happen in a matter of merely about 20 minutes.
—
The name Ad Vivum is creative; it is derived from Latin and means to live or life – where wine and life meet. When wine is used appropriately it enhances life. The symbol on each bottle dates from Babylonia and represents fertility or life. And over the years, this name has strongly related to specific events in Chris's own life.
To tie in the name and the symbol of the wine, one must backtrack a few years. Chris was hiking to the summit of Mt. Whitney with a number of boy scouts and winemaker Stu Smith of Smith-Madrone Winery in late July 2005 when their group was hit by lightning. Two died in the strike and Chris was also struck and rendered unconscious. It is moments like that that make one realize how truly fragile life is and how quickly it can pass by. In this case, his wine is a celebration of continued life.
With production usually running just several hundred cases each year, the wines are selectively distributed – both direct, locally at wine shops and restaurants including ACME in St. Helena, Backroom Wines in Napa and as a vertical at Press and Bottega Restaurants. Distribution is also available in select retail locations in Texas, Florida, Las Vegas, Germany and Japan.
With such a small production, there are no outside employees. Chris is the winemaker and his son Josh (who also is involved with several local wine labels) helps with sales and the business side of the operations. Josh is also a winemaker, having launched Taken Wine Company in 2010 (he later sold his share of this brand), founded Grounded Wine Company (wines from California, Oregon and Washington) and also operates Coil Wines with his father, producing a Mendocino County Pinot Noir and a rare Napa Valley Chenin Blanc.
Tastings are held in a private location in St. Helena with Chris or Josh or both (a space formerly occupied by Marston Family Wines). For more information, or to schedule a private tasting, visit: www.advivumcellars.com