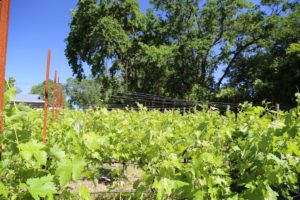 Acre Wines formerly known as One Acre Wines has a unique and interesting story. Founder, David Becker grew up in the "valley" when his family moved to the Napa area in 1971. During our first visit, he spoke of few fences around, hiking over to the nearby hills, exploring ruined farmhouses and catching steelhead in the nearby creek. Not a bad childhood. His family purchased land already planted to prunes, walnuts and other stone fruits. For many years that is what grew on site. Then in much more recent years, David purchased the land from his father and acquired these fruit trees which were now somewhat sickly looking. At that time he had no background whatsoever in the wine industry. In fact he installed rain gutters on people's homes for a living as well as provided rain gutter cost estimates.
A friend mentioned planting grapes – David has always enjoyed sweet wines and mentioned an interest in planting a particular white variety that you will never see planted in Napa. Fortunately his friend had 2000 surplus Cabernet Sauvignon vines from a nearby winery which had purchased too many vines for some of their vineyards. David jumped at the opportunity and planted about 50% clone 191 and 50% clone 337, both French clones that produce small berries with concentrated flavors. These vines literally come right up to the deck of his house and almost the entire acreage is now planted with vines.
Most everyone agrees that much of winemaking takes place in the vineyard and this is clearly evident with David's unbridled passion and folksy contagious enthusiasm for his one acre of vines. After planting the vines he enrolled at Napa Valley College for viticulture classes. As David says, as the vines would age he would take the next series of viticulture classes so his knowledge would keep up with the growth of the vines! He knew his next door neighbor was often traveling and rarely home but he wasn't sure of her profession. As luck would have it, he found out that she is a world renowned viticultural consultant and she has been able to offer invaluable advice. Nice.
His attention to detail in the vineyard is amazing. He manages every single vine himself and spends hours on training the vines, pruning, thinning, managing the cover crop and irrigation.
NOTE: in early 2018 David sold Acre Wines and One Acre to Mike and Talley Henry (no relation to Ric Henry or Mike Hendry, other Napa vintners with the same or similar last names). David will continue to farm these vineyards.
For several years, the Acre Wines were available for tasting at what was Napa Wine Co's shared tasting room in Oakville. But as of January 1, 2019 this tasting room stopped representing all vintner members other then their own three brands.
In trying to come up with a name for the winery, characteristics of the vineyard were discussed including Oak trees, Quail, Hawks, and stones – but the name indicates it best; it is a one acre vineyard in the Oak Knoll district just north of the town of Napa.
For a few years, David teamed up with Chef Bob Hurley for a very unique experience appropriately called "Vine Wine Dine". This began in the vineyard with education and dependent on the time of year, dictated the type of hands on "work" one would experience – pruning, or taking sugar samples being the most common. Then it was off to the well known Hurley's Restaurant in nearby Yountville for a food and wine pairing with One Acre's wines and some special dishes that chef Bob Hurley specially prepared to go with the wines. Chef Bob entertained questions and then guests can stay for lunch.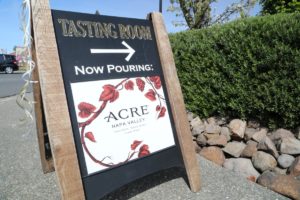 Unfortunately, with the closing of Hurley's Restaurant in 2018, this experience is no longer offered.
For a contrast in size, compare one of the larger wineries in this district, Trefethen, to probably the smallest, One Acre! Starting with the one acre estate vineyard Dave has since branched out and has made a Zinfandel from his neighbors vineyard (under an acre) and also has leased a one acre vineyard in Yountville. He took the same variety cuttings from his estate vineyard and cultivated them in this new vineyard. The wine has not yet been released from this new vineyard but when it is, it will be interesting to compare the "terroir" differences in the wines between the two properties.
A vineyard this size does not produce large quantities of wine of course, when their entire production came from this one acre they were producing around 200 cases per year. Since they now work with numerous other vineyards, their production has increased significantly. However the wines are still only found in select Northern California locations. A noted Napa winemaker once told David, "if you can sell gutters, you can sell wine"! Look for the simple yet elegant label with his vineyard's longitude and latitude coordinates listed. As it says on the back of the bottle, One Acre, One Guy, One Wine – that it truly is.
Until you have a chance to visit with Dave, check out his extremely informative videos about specific aspects of vineyard management. He purchased a video camera specifically noted to be "YouTube" compatible and now these videos are embedded in his website as well as on YouTube. Dave is the narrator and his wife handles the camera work. Most wineries would salivate over the viewership that Dave commands – at the time of this update his videos have been watched on Youtube over 260,000 times!
We had a chance to pay homage to the "famous" grape plant featured in a number of his videos. This one vine has received more video coverage in its life than most people. Follow along as Dave covers its growth and development.
Select Wines
Tasting notes for current release wines coming by end of 2022.
The 2005 Acre Cabernet Sauvignon was their first release and is produced from clone 191 which features a dark ruby color, from the thicker skins that this clone is known for. The aromas are elegant and refined with an earthy undertone including tobacco and a slight smokiness. The palate is all about the fruit, primarily berries, red cherries and plum with notes of vanilla and a slightly smoky sustained finish.
Feast it Forward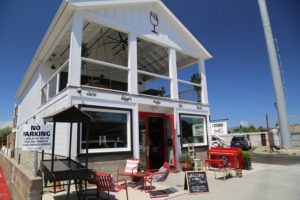 Acre Wines is one of up to sixteen vintners featured in The Studio by Feast it Forward (opened in June 2018) located directly across from the Oxbow Public Market in downtown Napa. This two story building houses an "experiential showroom", as founder Katie Hamilton Shaffer calls it – with a focus on wine, food and music.
Each vintner represented offers several wines – several of the showroom's sponsors have prominent placement including guitars from Gibson Brands, Inc. and furniture from Crosley. A Chocolate tasting is also offered oddly enough sponsored by Sherman Williams and a vinyl station if offered for playing a variety of old records. Upstairs features a demo kitchen – when shows are being filmed here, televisions downstairs broadcast the live feed. This kitchen can also be used for guest chefs to offer culinary classes.
And visitor's will want to stop by their bathroom – a television embedded in a mirror plays Feast if Forward culinary shows. The site can be used for a number of events – they have plenty of space in the back of the building. The Ultimate Airstream Film Lounge trailer is often be parked in the back – they use this trailer when they are on the road hosting unique lifestyle events and it also serves for private tastings on site or for special events. One such event at the showroom might be the "Terrible Tuesdays" in which bad films with cult like followings are shown.
The second floor features a sizable surround building deck – and a swinging 'bed'. This is an ideal perch to watch passerbys going to Oxbow Public Market or those enjoying the park next to the Napa River. These are also some of the best seats in the area to watch live performances at the nearby green.
For more information or to join their wine club, visit: www.acrewines.com
Harvest Video:

Dave – Spring Pruning: