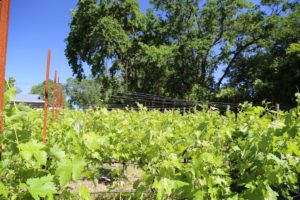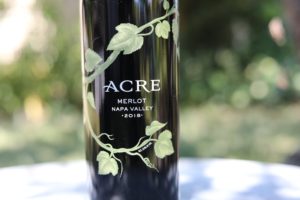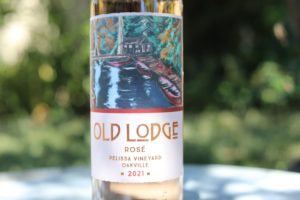 Acre Wines formerly known as One Acre Wines has a unique and interesting story. Founder, David Becker grew up in the "valley", as he calls it when his family moved to Napa Valley in 1971. During our first visit, he spoke of few fences around, hiking over to the nearby hills, exploring ruined farmhouses and catching steelhead in the nearby creek. Not a bad childhood. His family purchased land already planted to prunes, walnuts and other stone fruits. For many years that is what grew on site. Then, much later, David purchased the land from his father and acquired the somewhat sickly-looking fruit trees. At that time, he had no background whatsoever in the wine industry. In fact, he installed rain gutters on people's homes for a living as well as provided rain gutter cost estimates.
A friend mentioned planting grapes; David has always enjoyed sweet wines and mentioned an interest in planting a particular white variety that you will never see planted in Napa. Fortunately, his friend had 2000 surplus Cabernet Sauvignon vines from a nearby winery which had purchased too many vines for some of their vineyards. David jumped at the opportunity and planted about 50% clone 191 and 50% clone 337, both French clones that produce small berries with concentrated flavors. These vines literally come right up to the deck of his house and almost the entire acreage is now planted with vines. This site is now referred to as the Porchview Vineyard, appropriately named for the wrap around porch David had built at his house.
Most everyone agrees that much of winemaking takes place in the vineyard and this is clearly evident with David's unbridled passion and folksy contagious enthusiasm for his one acre of vines. After planting vines, he enrolled at Napa Valley College for viticulture classes. As David says, as the vines would age, he would take the next series of viticulture classes so his knowledge would keep up with the growth of the vines! He knew his next-door neighbor was often traveling and rarely home, but he wasn't sure of her profession. As luck would have it, he found out that she is a world-renowned viticultural consultant. He befriended her and over the years she has offered invaluable advice.
Dave's attention to detail in the Porchview Vineyard is amazing. He manages every single vine himself and spends hours on training the vines, pruning, thinning, managing the cover crop and irrigation.
In early 2018 David sold Acre Wines and One Acre to Mike and Talley Henry – no relation to Ric Henry or Mike Hendry, other Napa Valley vintners with the same or similar last names. Mike's father Warner (died in 2020) founded California based Henry Wine Group in 1985; over the years he developed the business into a formidable and well-respected distributor and broker of fine wines. In 2016 he sold The Henry Wine Group to Benicia based, The Winebow Group. Henry and his wife Carol were also prolific supporters of classical music and opera in Los Angeles.
Warner's father, Warner Sr., founded W.W. HENRY Company in Southern California in 1933; the company's initial focus was on roof coatings but eventually branched out into other services and by the 1950s had become the largest flooring adhesive manufacturer in the U.S. The Warner's sold the business in 2004.
After the sale, David continues to farm some of his original vineyard sites. For several years, the Acre Wines were available for tasting at what was Napa Wine Company's shared tasting room in Oakville. But as of January 1, 2019, this tasting room stopped representing all vintner members other than their own three brands. However, Acre Wines are still produced at Napa Wine Company.
For a few years, David teamed up with Chef Bob Hurley for a very unique experience appropriately called "Vine Wine Dine". This began in the vineyard with education and dependent on the time of year, dictated the type of hands on "work" one would experience – pruning, or taking sugar samples being the most common. Then it was off to the well-known Hurley's Restaurant in nearby Yountville for a food and wine pairing with One Acre's wines and some special dishes that chef Bob Hurley specially prepared to go with the wines. Chef Bob entertained questions and then guests would stay for lunch.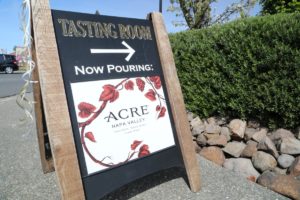 Unfortunately, with the closing of Hurley's Restaurant in 2018, this experience is no longer offered.
In trying to come up with a name for the brand, David discussed characteristics of the vineyard with friends including Oak trees, Quail, Hawks, and stones – but the original name indicates it best; this brand was started from a single one-acre vineyard in Oak Knoll district just north of the town of Napa.
Prior to the sale of the brand, Dave had begun to grow production slightly and with his neighbor Bob Babbe created Acre Wines. He made a Zinfandel from his neighbor's vineyard (under an acre) and also has leased a one-acre vineyard in Yountville. He took the same variety cuttings from his estate vineyard and cultivated them in the Yountville vineyard. Both wines provided interesting 'terroir' differences in sites, despite their locations in the Yountville sub appellation.
A vineyard of only an acre does not produce large quantities of wine; when their entire production came from the one-acre total production was around 200 cases per year. Since they now source from other Napa Valley vineyards (including some extremely historical sites), their production has increased significantly and in addition to Acre wine they also produce a second label called Old Lodge. However, the wines are still only available in select Northern California retail locations. These wines continue to over deliver for the price point.
A noted Napa winemaker once told David, "If you can sell gutters, you can sell wine"! Look for the simple yet elegant label with his vineyard's longitude and latitude coordinates listed. And the early One Acre bottlings simply stated on the back label: One Acre, One Guy, One Wine.
Over the years Dave spent significant time creating extremely informative videos about specific aspects of vineyard management. He purchased a video camera specifically noted to be "YouTube" compatible and has since created numerous videos on YouTube. Dave was the narrator, and his wife deftly handled the camera work. Most wineries would salivate over the viewership that Dave commands; at the time of our latest update to this review his videos have been watched on YouTube over 800,000 times!
During our several visits to the one-acre site, we had a chance to pay homage to the "famous" grape plant featured in a number of his videos. This one vine has received more video coverage in its life than most people.
SELECT WINES
Old Lodge Wines
The Old Lodge bottlings are limited production wines originally from select Napa Valley vineyards; wines bottled under this label have since transitioned to 100% Mendocino AVA vineyards. Its name is homage to the 'Old Lodge' built in 1932 and located at Stanford Sierra Camp, at Fallen Leaf Lake near Lake Tahoe. This site is also where Mike and Talley originally met when they were children. Stanford Sierra Camp is located approximately 30 minutes from South Lake Tahoe and is owned by the Stanford University Alumni Association. This private camp is used by Stanford University alumni and guests and features more than 50 cabins set back slightly on the hillsides above Fallen Leaf Lake with access to several beaches including kayaks, a tennis court and of course, the Old Lodge.
The interior of the lodge feels quintessential old mountain cabin-like with its knotty pine walls and ceiling and cozy furnishings. During the day the Old Lodge can be fairly empty and is a great place to hang out with a good book while in the evenings the space is used for socializing. An adjoining outdoor deck is often frequented by those in conversation revolving around 'solving the world's problems'.
The Stanford and camp roots date back to 1896 when Stanford graduate William Wrightman Price moved to the area and built a boys' camp near Glen Alpine Springs, not far from Fallen Leaf Lake. Over a dispute with a neighbor, he moved his operations to the shores of Fallen Leaf Lake in 1905 and for several years erected tent cabins and built wood cabins for guests.
Driving in on Fallen Leaf Road is a real 'trip'; the road is extremely narrow at times and can be quite busy, especially on summer weekends so one needs to drive slow and alert. This road is closed in the winter. Homes dot the edge of the lake, probably many under generational ownership like at Lake Tahoe. The road finally reaches the Fallen Leaf Marina and General store (the only part of this section of the lake open to the public) and motorists are greeted with a sign that reads, "one lane road" … as if the road getting to this point wasn't already a single lane! And the small beach and floating sunbathing dock located below the general store are open to the public. On warm summer days a swim in the lake is incredibly refreshing.
The buildings of Stanford Sierra Camp can be easily seen from the marina – simply look slightly to the west or to your left as you face the lake. The General Store offers a variety of provisions, sandwiches and great views of Fallen Leaf Lake from their deck.
The Old Lodge wines are created with family in friends in mind and are meant to be enjoyed in inspirational places with those who matter that most. This is something we understand intimately having spent several weeks of the most formative years of our life vacationing on Lake Tahoe's west shore. Our family always stayed in an old cabin at Tahoe Cedars in Tahoma, our 'own' equivalent of the Old Lodge. And it was here that we first heard of Stanford Sierra Camp from our friends from Newport Beach who were Stanford graduates.
The 2021 Old Lodge Rosé of Zinfandel, Pelissa Vineyard Oakville is medium salmon color in the glass; offers aromatics of raspberry, wild strawberry, lychee and hints of vanilla. Immediately noticeable on the palate is this wine's brightness and freshness due to the vibrant acidity. It offers flavors of strawberry, red cherries, rhubarb, a lemon zest and pineapple guava. This wine is clean, crisp and beautifully balanced from start to finish. It is completely dry. Enjoy on a warm summer evening poolside.
Acre Wines
The 2020 Acre Sauvignon Blanc Napa Valley (sourced from the Morgaen Lee Vineyard in Oakville) is deep straw in color; the bouquet offers aromas of green apple, a wintergreen nuance, lemon/lime zest and not quite fully ripe pineapple. This wine is zippy from start to finish which is complemented nicely with a slight roundness or creamy texture. Offers flavors of lime, gooseberry and guava. Finishes very lively with mouthwatering acidity and some lingering mineralities. This wine shows the varietal characteristics both on the bouquet and palate, exhibiting a ripeness restraint, unlike sometimes more ripened Napa Valley bottlings of this variety.
The 2020 Acre Chenin Blanc, Napa Valley (sourced from Betty's Vineyard in St. Helena, owned by Ballentine Winery) is pale yellow in the glass; the bouquet smells fresh and vibrant and like a spring day with flowers blooming. Shows aromas of jasmine, honeysuckle, citrus blossom and a lemon zest. Offers flavors of green apple, kiwi, lemon and lime. It finishes very bright and lingers with some minerality nuances and a very slight flavor perhaps best described as racy or wild (that we sometimes taste in Chenin Blanc). This wine was fermented in 100% stainless steel and post fermentation was transferred into neutral French oak where it was aged for 6 months. It did not go through any secondary fermentation.
The 2018 Acre Zinfandel is deep ruby in color with purplish tinges on the rim; offers plenty of ripe fruit on the bouquet including blackberry and boysenberry with toasted cedar, mocha, clove, chocolate, espresso and a hint of anis. The palate is just as opulent and generous as the bouquet with broadly distributed flavors of dark cherry, blackberry and dark plum. Lingers with some toasted oak influence along with clove, cardamom and hints of pipe tobacco and white pepper. The tannins sport a lightly textured grip anchoring a long-lasting fruit-filled finish. If we had to guess, we would say this wine was aged in American oak. It is certainly a crowd pleaser.
The 2018 Acre Merlot Napa Valley is deep ruby in color; the bouquet features a noticeable depth and generosity of aroma showing primarily darker fruits combined with barrel spice influences. Offers fruit forward and ripe notes of blackberry, blackberry pie and boysenberry along with leather, dust, darker dessert spices and mocha. One could sum up the aromatics of this wine as smelling like dessert. Offers loads of flavor across the palate including of blackberry and plum. Lingers slightly savory with some darker spice notes including white pepper and well-managed medium textured tannins. It also finishes with bright acidity and shows a hint of dried tobacco leaf deep into the finish. This is an excellent priced value to quality bottling.
The 2005 Acre Cabernet Sauvignon was Dave's first release and was produced from clone 191 which inherently features a dark ruby color from the thicker skins that this clone is known for. The aromas are elegant and refined with an earthy undertone including tobacco and a slight smokiness. The palate is all about the fruit, primarily berries including red cherries along with plum and notes of vanilla. This wine features a slightly smoky sustained finish.
Feast it Forward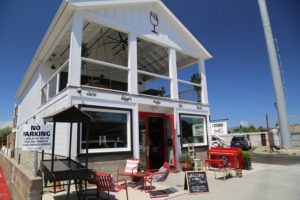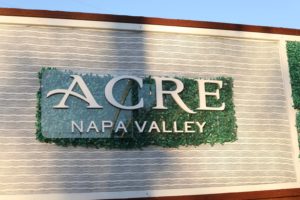 Acre Wines is one of up to sixteen vintners featured in The Studio by Feast it Forward (opened in June 2018) located directly across from the Oxbow Public Market in downtown Napa. This two-story building houses an "experiential showroom", as founder Katie Hamilton Shaffer calls it – with a focus on wine, food and music.
Each vintner represented offers several wines – several of the showroom's sponsors have prominent placement including guitars from Gibson Brands, Inc. and furniture from Crosley. A Chocolate tasting is also offered oddly enough sponsored by Sherman Williams and a vinyl station if offered for playing a variety of old records. Upstairs features a demo kitchen – when shows are being filmed here, televisions downstairs broadcast the live feed. This kitchen can also be used for guest chefs to offer culinary classes.
And visitor's will want to stop by their bathroom – a television embedded in a mirror plays Feast if Forward culinary shows. The site can be used for a number of events – they have plenty of space in the back of the building. The Ultimate Airstream Film Lounge trailer is often be parked in the back – they use this trailer when they are on the road hosting unique lifestyle events, and it also serves for private tastings on site or for special events. One such event at the showroom might be the "Terrible Tuesdays" in which bad films with cult like followings are shown.
The second floor features a sizable surround building deck – and a swinging 'bed'. This is an ideal perch to watch passerbys going to Oxbow Public Market or those enjoying the park next to the Napa River. These are also some of the best seats in the area to watch live performances at the nearby green.
For more information or to join one of their three wine clubs (each with different numbers of bottle shipments), visit: www.acrewines.com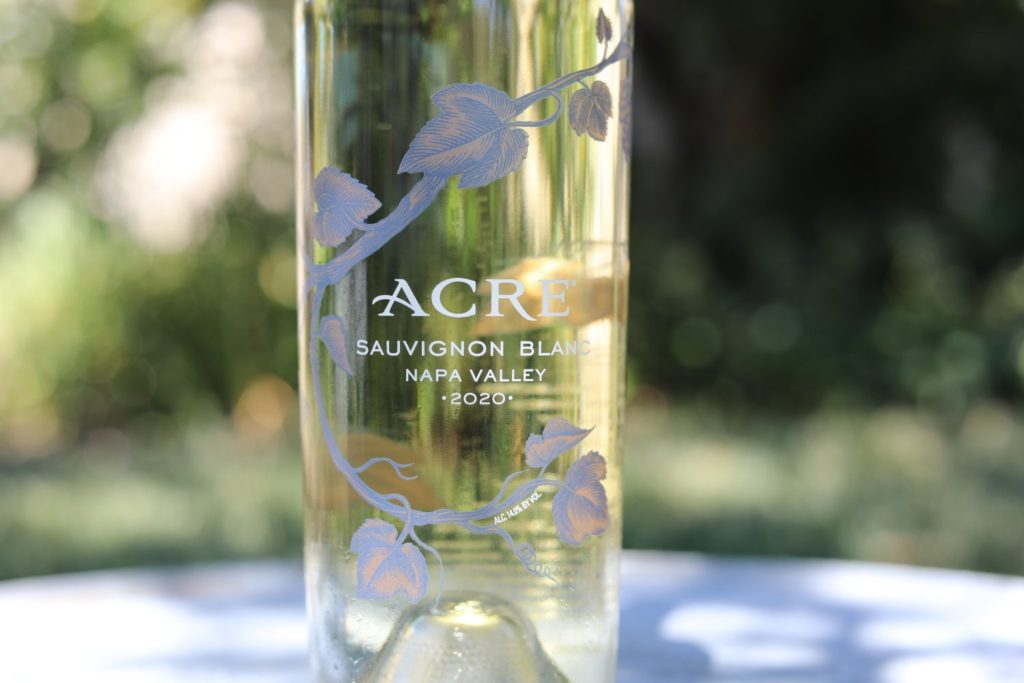 Harvest Video:

Dave – Spring Pruning:

Pico Los Alamos
Mike's brother Will and his wife Kaliope (Kali) Kopley own Pico Los Alamos Restaurant in the charming little community of Los Alamos (inside the old Los Alamos General Store building). Mike has both a wine and journalist/photographer background and is also founder of Save the Waves, an organization dedicated to protecting surf ecosystems around the planet. Kali founded Uncorked with locations in Truckee, Tahoe City and Olympic Valley. She also started Petra Restaurant & Wine Bar at NorthStar Ski Resort.
The culinary focus is on using fresh and local ingredients from regional farmers. A couple of highlights from a recent visit are the roasted beet salad and lox + toast. The wine selection is also curated from local and boutique producers and features over 800 bottlings including of course, select Lumen Wines. And the restaurant has earned Wine Enthusiast Magazine's Top 100 Restaurants wine award for several years. Pico Los Alamos is kid and pet friendly. Seating is either inside or weather permitting outside on the spacious back patio where one can be entertained by the sometimes free-roaming chickens living in the garden.
Lumen Wines, Las Alamos
Along with winemaker Lane Tanner, Will also owns Santa Maria, Santa Barbara County based Lumen Wines (founded in 2012). Their production is small and focuses on cool climate vineyard sources within Santa Barbara County. And from these already cool sites they harvest early in the season ensuring the final bottlings show excellent acidity, are generally lower in alcohol, are age worthy and will pair with food. And the name 'lumen' reflects this wine style philosophy, a word that refers to brightness.
While Lumen sources grapes for their wines, they also own an estate vineyard, named Warner Henry Vineyard in honor of Will's father.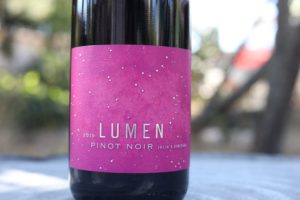 A side room within the Pico Restaurant space serves as the Lumen Wines Lounge where visitors can enjoy a range of current release wines. And a small outside patio area facing Bell Street is also used for tastings. One percent of all sales of the Lumen wines are donated to the 1% For The Planet organization whose focus is on supporting environmental causes. Total annual production is typically between 2,000 and 3,000 cases.
The 2019 Lumen Wines Julia's Vineyard Pinot Noir from the Santa Maria Valley is pale ruby in color; the aromas are savory showing pink peppercorn, dried herbs including sage, mushroom and tarragon along with some high-toned fruit notes including red currant and slightly under ripe red cherries. This wine is very balanced and nimble across the palate, energized by its refreshing acidity. It offers flavors of sour cherry, sour plum, currant and cranberry anchored by a lingering mouthwatering tart brightness. This bottling has some years ahead of it – would love a revisit in 10 years. We thought of drinking this with some grilled halibut or sea bass. This wine is 100% varietal of Pommard clone 4; it was aged in 33% New Hungarian oak and 66% neutral oak barrels.
In addition, Will & Kali own two cottages, Pico Cottage and the Greenhouse Cottage located behind their restaurant. One doesn't have far to walk for food; the cottages are located right next to the outdoor dining space behind Pico Restaurant.