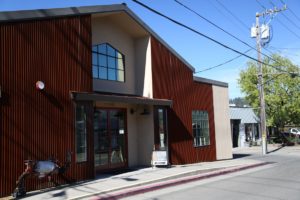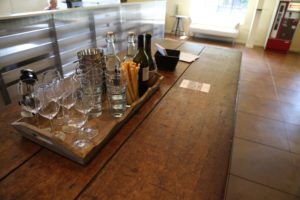 ACME Fine Wines is owned by Karen Williams and is located two blocks off of Main Street on Fulton Lane in the town of St. Helena. Karen and her former business partner, David Stevens first opened a sign-less, soon to be cramped wine shop in St. Helena in 2003 and quickly outgrew the location. ACME opened in its current location in early 2008; this is the quintessential Napa Valley Wine shop offering a variety of services all related to wine. Walking in here is like walking into an artist's studio; the wines are displayed like pieces of art on the wall. And they are art – they are from artisan wine makers – often representing producers with extremely tiny annual productions.
ACME offers tastings on a limited basis with wines poured by the glass (by appointment during the weekdays and walk-in on Saturdays). The Under the Radar Tasting features wines that are new releases or are first time vintages. The Cult Flight is only available certain times of the year and features premium and collector wines and is a very rare opportunity to taste some of the Napa Valley's most coveted and exclusive wines – such as Screaming Eagle or Scarecrow.
A very complementary neighbor is Panevino – purveyors of fine artisan products including their hand-cured meats (which you can see hanging in a window next door to ACME) and very tasty breadsticks. ACME has partnered with them to offer select charcuterie plates to pair with the wines.
Tastings are held in the shop over a large wooden 'Farm Table'; this is a very personalized experience in a room that is simple yet casual with the focus being on the wine. This room can be rented out by individuals for private tastings or sometimes small wineries without tasting rooms of their own also use it.
ACME quickly ran out of storage space in their original location especially during the hot summer months when wine is shipped less often. To remedy that problem, they installed 200 private, secured, and climate-controlled wine storage lockers. This is the only wine shop in the Napa Valley we know of that offers this service. We have toured these lockers before, some are for short term rental and others are for more permanent use. Each metal locker holds about 10-12 normal size cases. Note: in 2019 we heard that ACME may have discontinued offering these storage lockers.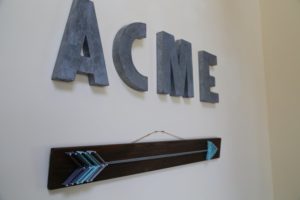 ACME also focuses on tracking down boutique high end small producers who often later go into semi-cult status because of their very limited production, quality and demand. In fact, several small wineries essentially got their public start by selling wine entirely through this wine shop before they became more recognized. ACME is an excellent choice if you are trying to find these types of wine or find out who are the latest "hidden treasures".
We have visited the shop several times and in browsing their central shelf collection displayed on the wall, invariably we always find several "new" producers not yet on our radar. It is always a challenge to keep up with the Napa wine industry, even for those who live in Napa Valley and are totally immersed in the wine culture of the region! The store also contains interesting varieties and wines from around the world to spice things up for locals as well as those with an international palate.
Interested in wine clubs but are always put off by the limitations and requirements imposed? Perhaps ACME's "Do it yourself" wine club will change your mind! You are the buyer – you get to choose the wine you receive based on the variety, appellation, country of origin and price limits. In addition, you choose as few or as many bottles of wine to receive each month. Want ACME to select the wines? They do offer three primary wine club options including the "Under the Radar" club (often featuring inaugural vintages or wines made in tiny quantities) , the Kahuna Club (featuring three of the best wines they taste each month – these are rare and exclusive wines), and Pulse which was originally intended for those working in the wine industry but now is available to anyone and features not only local wines but International as well.
Think of ACME as a personal Sommelier for your home. They have formed relationships with a number of vintners in the valley – and have access to wines that have very limited distribution.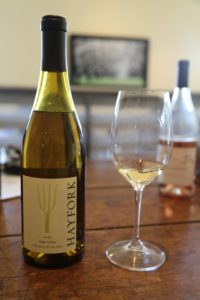 However, aside from all these services, customer service is their primary focus. Their philosophy is they want to talk to and get to know their customers; this personalizes things and makes for much better relationships both from a customer and the wine shop's point of view.
When you visit, look for the rusted facade which gives the outside of the building a very unique look. Enter the front door and proceed to the right to the large A door handles. The inside of the shop is well laid out, clean and totally free of clutter. Several chairs and a table make this a good spot to relax. Parking is tight on Fulton Lane, but ACME has specially reserved parking spots in the parking lot directly behind the store.
Did you know there are better times of the day and week to taste wine than others according to the Biodynamic Calendar? A Stella Natura calendar is on site and can be referenced upon request.
Another highlight of ACME's services are their weekly Friday night winemaker tastings. These are held every Friday and typically feature a Napa winemaker who represents a boutique producer. They've had some of the biggest names in the valley drop by for these events – everyone from Robert Foley to Dick Grace.
With such an insider's perspective into the numerous wine brands in the Napa Valley – ACME offers several wine clubs offering access to these wines. For more information, to join one of the wine clubs or to schedule a private tasting, visit: www.acmefinewines.com