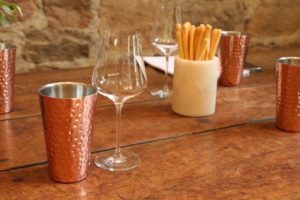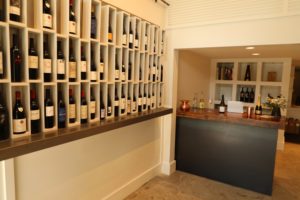 ACME Fine Wines is owned by Karen Williams and is located half a block from Main Street on Hunt Ave in the town of St. Helena. The term acme refers to a summit or highest peak or something one is the best or most successful at doing. ACME opened their first location in 2003, outgrew the location in 5 years and moved to a location on Fulton Lane in early 2008 and operated this shop in this space until mid 2023 (their 20th anniversary) when they moved locations to Hunt Avenue about 1/2 block from Main Street. In business for more than 20 years, ACME has outlasted a number of St. Helena wine shops which have since closed including St. Helena Wine Center, St. Helena Wine Merchants, 750 Wines and Gary's St. Helena.
Karen was initially attracted to the experiences she had in wine country, even more so than the wines. While in college, she would visit her parents in Missouri. During one particular visit, her mother suggested they go wine tasting in Roachport, eventually visiting Le Bourgeois Vineyards. This was in the 1980s. Karen recalled this winery served small tastes in tiny paper cups, similar to what dentists give you to wash your mouth. The spectacular views and panoramic vistas of the surrounding landscape including of the Missouri River made an impression on her. And she realized that some day she would like to live in a similar setting.
She took a wine related course from a local recreation center hosted by a wine distributor. One of her friends took this same course and later opened a restaurant in Breckenridge, CO, asking Karen if she would like to curate the wine list. Karen remembers knowing very little about wine at that time but accepted her friend's offer.
Eventually realizing she needed to move to a wine region, in 1998 Karen packed up everything and drove to Napa Valley. This was in June and she immediately set about looking for a harvest job. Wineries weren't hiring for cellar positions yet or had already filled positions for jobs starting a bit later in the year. Her landlord suggested she find work based on previous experience; she had bartended while living in Colorado.
She worked in the cellar at Kent Rasmussen Winery (now the home of Auburn James Winery) for several years, meeting other winemakers including a young Thomas Rivers Brown who was interning there and winemaker Rob Lloyd.
And she also worked at Tra Vigne (now the site of Charter Oak Restaurant) and eventually managed their wine program and oversaw the opening of the Cantinetta (the on premises wine & food space). She developed a 'cult wine' program for the restaurant and helped promote some of the 'next big brands' including Hourglass and Hollywood & Vine. Based on all the vintners and others in the industry she met while working here including Tra Vigne colleagues, this job was perfectly positioned to pivot to something else in the wine industry when she was ready to do so.
One of her colleagues David Stephens was the wine buyer for Tra Vigne. They both realized between their contacts and insiders knowledge of the Napa wine scene, they could go into business together. Karen remembers asking a number of winemakers if they would sell their wines to her in anticipation of opening. Jennifer Lamb, co-proprietor of Herb Lamb at the time was one of the first to agree to do so. David and Karen founded ACME wines together in 2003 in a small cramped office in the historic stone Pritchard Building on the corner of Adams and Railroad in St. Helena. David worked with Karen until 2009 before leaving and starting 750 Wines.
ACME's success has been built upon relationships, both with vintners and clients. They personally know many of the winemakers and brands in Napa Valley. They have never discounted wines or undercut prices from wineries. And for their clients they are selling not only wines, but their vast and intimate knowledge of the valley, "plus a high level of love" as Liz Murray, ACME's Managing Director told us. The experienced staff are able to make smart recommendations regardless of taste and have a diverse inventory to pull from.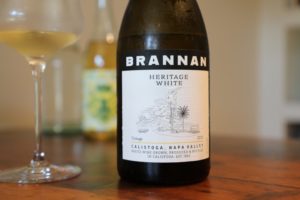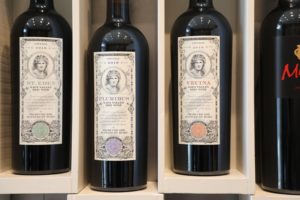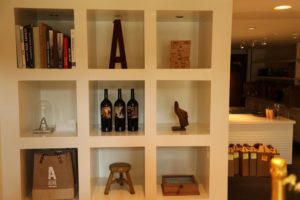 Walking in here is like walking into an artist's studio; the wines are displayed like pieces of art on the wall. And these labels focus on artisan wine makers and often represent producers with extremely tiny annual productions. The inside of the shop is well laid out, clean and free of clutter and features about 150 wines on display at any given time. The shop is an easy walk from anywhere on Main Street in the center of St. Helena. Parking is available curbside on Hunt Ave and or nearby streets.
Karen had her eye on this particular location even prior to starting ACME. But she had to wait about 20 years before the right timing. With the move all of their fulfillment was relocated to a warehouse in the city of Napa. As a result there are far fewer packages being delivered to this space hence far fewer interruptions and a wonderful relief for the team.
ACME offers tastings on a limited basis, by appointment during the weekdays (and sometimes on the weekends) and are hosted only in the mornings by one of the few ACME but mighty and knowledgeable team members. Weekday afternoons are open for general visits including both sales and tastings. The IPO tasting features wines that are new releases or are first time vintages from brands or wineries not yet known. The Launch | Legend tasting is only available to ACME club members and features premium and collector wines and is a very rare opportunity to taste some of the Napa Valley's most coveted and exclusive wines such as Screaming Eagle or Scarecrow.
Tastings are held in the store over a wooden 'Farm Table' or at a small bar; this is a very personalized experience in a room that is simple yet casual with the focus being on the wine. This room can be rented out by individuals for private tastings or sometimes small wineries without tasting rooms of their own also use it.
Think of ACME as a personal sommelier for your home. They have formed relationships with numerous vintners in Napa Valley and have access to wines with very limited production and or distribution. However, aside from their wine related services, customer service is their primary focus. Their philosophy is they want to talk to and get to know their customers; this personalizes interactions and makes for much better relationships from both a customer and the wine shop's point of view.
ACME also focuses on tracking down boutique high end small producers who often later go into semi-cult status because of their very limited production, quality and demand. In fact, several small wineries essentially got their public start by selling wine entirely through this wine shop before they became more recognized. Some of the now well-known brands who sold some of their early vintages here, include Realm, Hundred Acre, The Prisoner and Scarecrow. In fact the founders of Scarecrow, Brett Lopez and Mimi DeBlasio used to shop at ACME before they began Scarecrow. Karen remembers them telling her about their plans to start a small brand and attending a blind tasting of the first vintage of Scarecrow which included an early discussion of possible pricing for the wine.
And Karen recalls meeting winemaker Dave Phinney soon after he had released the first vintage of The Prisoner Wine (less than 300 cases). She eventually introduced her then boyfriend, now husband Bryan Sandoli to Dave. Bryan helped put together Phinney's first mailing list for The Prisoner culling business cards and names written on paper napkins that Phinney had collected.
While browsing their central shelf collection displayed on the wall, invariably we always find several "new" producers not yet on our radar. It is always a challenge to keep up with the Napa Valley wine industry, even for those who live in Napa Valley and are completely immersed in the wine culture of the region. In addition to their fine Napa Valley wine selection, ACME also offers wines from Champagne, Burgundy and Bordeaux. Winemakers often stop by to say hello to Karen and the team and do some shopping. Some winemakers have been known to stop by to purchase a bottle of Champagne in preparation for opening it when their first grapes arrive at their winery signaling the start of harvest.
As of our latest update to this review, ACME offers four primary wine club options including: Kahuna with premium wines curated entirely from Napa Valley including both red white bottlings, Under the Radar, often featuring inaugural or undiscovered wines or red wines made in tiny quantities, Pulse which was originally intended for those working in the wine industry but now is available to anyone and features not only local wines but international as well and includes white, red rosé or sparkling wines (surprise bottlings have been known to be included in shipments for this particular club including a vermouth produced by Massican and even a sake and Apex, featuring a 3-bottle monthly selection of some of Napa Valley's most coveted bottlings including access to highly sought after allocation lists (i.e. Harlan, Screaming Eagle and Hundred Acre among others). Consider this club an access shortcut to select bottlings from wineries with some of the most lengthy wait lists to gain access to their wines through allocation lists. For example, we have been waiting more than 15 years since we first signed up for Screaming Eagle's wait list to get access to their allocation list. It should also be noted that ACME never ships the same wine twice to wine club members.
This space has housed a variety of tenants over the years; the building dates from 1892. More recently it was home to Erin Martin Design, a prominent interior designer who has worked on numerous wineries in Napa Valley including the hospitality centers at Trinchero Estate, Brand Napa Valley, Clos du Val and Mayacamas among other area wineries. Some of her exterior 'touches' during her occupancy remain including the gold trim on the siding panels next to the windows. These designs are in regard to the importance of family – where we come from and where we are going. This space also briefly housed Salon St. Helena, used for hosting tastings for several small wine brands including at one point, Harris Estate Vineyards (now called Heritage School) and Jones Family.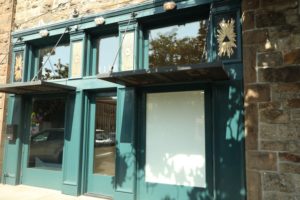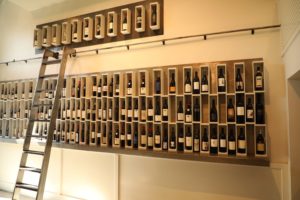 The space housed numerous businesses over the decades including a series of beauty salons in the late 1940s and early 1950s starting with Berta's Beauty Salon, followed by Petite's Beauty Salon, then Reed's Beauty Salon (operated by Bill Reed a former heavy equipment operator) and then Bel-Air Beauty Salon operated by Belva Ramage where according to the April 18, 1957 issue of The Napa Valley Register one would pay $8.50 for an Easter Permanent Wave Special.
In the late 1960s and early 1970s the space housed Greta's, a women's clothing and sportswear shop owned by Greta Erickson, in the mid 1970s it was home to Lynetta's Yarn Boutique followed by a Christian Science Reading Room and then Aqua Art shop in the 1980s.
Another highlight of ACME's services are their sometimes hosted winemaker led tastings. These typically feature a Napa Valley based winemaker who represents a boutique producer. They've had some of the biggest names in the valley drop by for these events – everyone from Robert Foley to Dick Grace.
ACME eventually ran out of storage space in their previous Fulton Lane location especially during the hot summer months when wine is shipped less often. To remedy that problem, they installed 200 private, secured, and climate-controlled wine storage lockers. This was the only wine shop in Napa Valley we know of that offered this service.
With such an insider's perspective into the numerous wine brands in Napa Valley, the next time you are in Napa Valley make a point to visit this boutique wine shop. And they are certainly setup and welcome locals with a never ending turn over in inventory. For more information, to join one of the wine clubs or to schedule a private tasting, visit: www.acmefinewines.com
Fulton Lane Shop (Permanently closed)