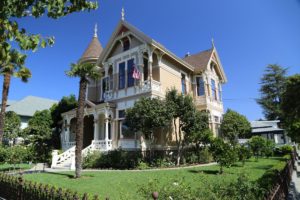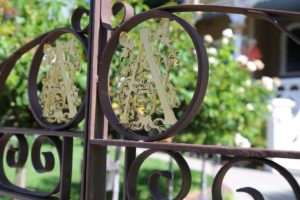 Ackerman Family Vineyards is owned and operated by Lauren Ackerman, long time resident of the Napa Valley. Lauren previously lived and worked in the Silicon Valley and has enjoyed fine wine for many years. She has a degree in public relations and business from USC and an MBA from Pepperdine University. She worked in high tech for many years (marketing and brand building). Both enjoy fine wines; her husband at the time, Bob was a long time collector of wines from Napa including some of Heitz Cellars older vintages. They were married at Auberge du Soleil in 1989 and after their honeymoon instinctively knew they wanted to somehow return to live in the Napa Valley.
Several years later Bob began looking to buy a horse for Lauren (who is an avid rider) and as luck would have it found an already planted vineyard piece of property in the southern part of the Coombsville region located just east of the town of Napa. The horses he was interested in were housed on this property.
Unbeknownst to Lauren, Bob initially met with the real estate agent to look at this property for a possible purchase. Later he invited Lauren to "start looking" but had told the real estate agent previously to pretend that she had never met Bob. This way it would appear that the "first" piece of land they looked at would be the last one. Instead of just purchasing the horses, the Ackerman's purchased the land and the horses were included in the deal. There was already a vineyard planted but over time blocks were replaced and since their purchase the entire vineyard has been replanted. The 16 acre site has approximately 10 acres planted to vine, all Cabernet Sauvignon – clone 337.
The Ackermans have made their own wine since 1995 which allowed them to determine the nuances of their vineyard as well as increase their understanding of the type of fruit their vineyard produces. This was well before their first commercial release in 2003 and allowed them to learn their vineyard properly before producing commercial wine as well as establishing important relationships in the Napa Valley.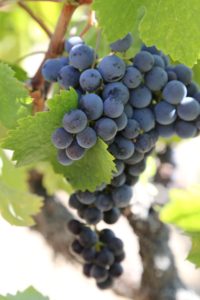 They currently sell some of their fruit and are making between 300 and 500 cases per year. If they wanted to grow their production in the future they do have this luxury as their vineyard produces more than they currently use.
This is one of the most unique producers in the valley as 100% of their total net profits are entirely donated to the Napa Valley Community Foundation. This is a special producer indeed. This foundation is a philanthropic bank for non profits that links donors to charity projects. Their focus is on giving back to the local community in the Napa Valley. Out of well over 1,100 unique producers in the Napa Valley there are maybe 5 or 6 producers in which the focus of their production and business model is to dramatically give so much back directly to the community. The foundation is also close to home for Lauren, she has served as their trustee and chair woman.
A few days before we met Lauren in Coombsville for this initial review, their vineyard had just been officially certified CCOF organic – a process that takes a little over 3 years to complete. They have farmed their vineyards sustainably since they purchased the land however having the certification certainly validates their efforts. Coombsville is known as a cooler region compared to up valley as it is located fairly close to the moderating influences of the San Pablo Bay to the south. These influences result in a rather long growing season usually producing very even ripening. Lauren remembers their earliest harvest coming towards the end of the September (unusual) with their latest harvest coming on November 5th (extremely late for the valley). Their vineyard is trellised with the cooler climate in mind; in this case with the open lyre system to allow the fruit greater exposure to the sun.
In the past Coombsville may have been associated with producing blending fruit for "up valley" wineries – but the fruit coming out of this region today is highly sought after for its finesse and elegance combined with structure. Coombsville fruit is producing delicious stand alone wines.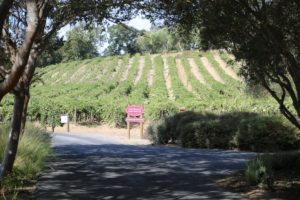 Ackerman Vineyards produce one wine each year, always a 100% estate grown Cabernet Sauvignon. With consistency in managing their vineyard, winemaking, and the barrel program, the differences one may taste from year to year are respective of the vintage. Unlike many wines in the valley the Ackerman's release each year tends to be much lower in alcohol, typically in the mid 13's up to around 14%.
We tried the 2005 vintage just before its October 2009 release. Ackerman uses all new French Oak (Taransaud) barrels where the wine ages for two years. After bottling, the wine sits for another 2 years before being released to the consumer. Based on their experience with older home vintages, wines from this vineyard age well. This extra age before being released is never a bad thing for the consumer. The 2005 vintage is somewhat of a cross between their more restrained 2003 vintage and the 2004 which shows more fruit.
The Ackermans enjoy drinking wines that are versatile, especially wines that can be paired with a variety of foods and these are the types of wines they strive to produce. The 2005 Ackerman Vineyards Cabernet Sauvignon is dark ruby in the glass with an elegant bouquet that shows some floral notes, blackberry as well as subtle aromas of cigar. The oak is well integrated throughout and certainly does not dominate. This wine shows a fine complexity of flavor and picks up in structure from the mid palate onwards; this leads to a finish that is anchored by broad slightly dusty tannins. This is more of a traditional Bordeaux styled wine that will age well yet can also be consumed in it youth, especially with food.
They sell direct; the easiest way to order is from their website and or join their rapidly growing mailing list (or if visiting the Napa Valley – setup an appointment to taste at their location near downtown Napa). Ackerman's wines can also be found locally in the valley at a variety of locations including Backroom Wines in downtown Napa and at Auberge du Soleil in St. Helena. They are also distributed in other states including Arizona, Florida, New York and Wyoming. Because their distribution is small, they plan on capping their retail outlets to a select group of 100.
A small amount of wine is held back each year and then re-released as their library vintages. Aside from having the chance to purchase older releases, these wines remain priced reasonably.
They are even found overseas in one location, the fantastic Waddesdon Manor in the UK owned by the Rothschild family. Lauren remembers visiting this amazing estate and described how the wine shop carries two wines from Napa – Opus One and Ackerman – not a bad place to be at all!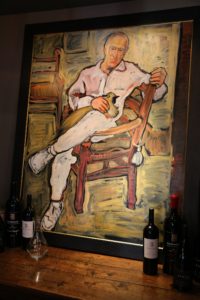 A more recent addition to their wine portfolio is the Le Chatelaine Napa Valley Red Wine (a five variety Cabernet Sauvignon and Merlot based blend) also grown at their Coombsville vineyard. Le Chatelaine is French for Mistress of the Castle. The 2013 vintage shows a noticeable espresso and mocha characteristic on the bouquet. Wonderful texture on the palate – almost a fine chalkiness.
Over the span of some five years (with a brief interruption due to the Napa earthquake in August of 2014), Lauren meticulously oversaw the restoration of a Queen Anne Victorian originally built in 1889, today known as the Ackerman Heritage House. Lauren is only the 6th owner of this historic house. This downtown Napa located "living museum" contains many unique and one-of-a-kind items that Lauren personally discovered and purchased – some she found by taking multiple trips to Europe. After this restoration was completed in 2015, this has become one of Napa's hidden gems. It is within a short walk of many of Napa's noted restaurants and a number of the downtown hotels. The kitchen is arguably one of the highlights of this home. And in 2019, the Ackerman Vineyards received a California Preservation Design Award for the meticulous restoration on the hold house – a statewide award highlighting excellent in historic preservation.
The home can be rented out as an event space and already has been used for political functions, small corporate events and dinners. And the guest rooms upstairs can also be rented. Inquire for details.
Tastings are held in The Aviary, a cozy space in a separate building adjoining the main house. This was initially built by prior owners as an enclosed aviary for keeping pheasants and chickens. While you taste the Ackerman wines here – the calming gaze of Robert Mondavi keeps watch over you – a painting of this Napa Valley 'godfather' hangs near the tasting bar.
And note that Napa producer, Lloyd Cellars also uses the Aviary as their tasting room – winemaker Rob Lloyd produces mostly non Napa wines.
For more information and to schedule a private visit to the house combined with a wine tasting, visit: www.ackermanfamilyvineyards.com
Ackerman Heritage House

The Aviary