NOTE: This review is archived. Closed operations in Napa and the physical winery and moved outside of Napa County – has been purchased by Peju Family and will reopen as Liana Estates. We will revisit the property and provide a separate review.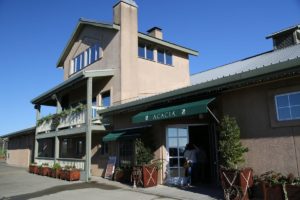 Acacia Vineyard is located in the heart of the Carneros district off "the beaten path" very close to the Napa/Sonoma Marsh Wildlife area. The one thing you notice when you step out of the car at their parking lot is how absolutely quiet it is, especially when you compare this to the main part of Napa Valley where we spend considerable time. In this part of the Carneros, the roads are small but there is usually little traffic – bicyclists love the Carneros for this very reason, not to mention its scenic postcard views. You are surrounded by rolling hills – a sea of vineyards.
Their name comes from a single Acacia tree which is still growing in between the rows of grapes in one of their vineyards. This tree is located just down the road and you can ask for specific directions so you can look for it from the road when you leave. Their first commercial vintage was in 1979 making them one of the older Carneros based wineries. This wine was appropriately a Pinot noir called St. Clair. This wine has been produced every single vintage since then, and is still produced today, but in extremely small quantities available to wine club members on a first serve basis. This was the first Napa produced single vineyard Pinot noir.
Acacia is owned by the Diageo Chateau & Estate wine group which is one of the largest wine & spirit companies in the world – this is the same company that owns Napa based BV Coastal Estates (BV Vineyards), Sterling & Provenance and in fact BV has vineyards planted right next to theirs. Acacia has over 85 acres planted in this part of the Carneros near their winery – planted to mostly Pinot noir. In addition, they have an even larger vineyard minutes away, called Winery Lake near the di Rosa Art Preserve. There are great views of the San Pablo Bay from their driveway and on a clear day you can look at the tall buildings of San Francisco way in the distance.
As with many Carneros based wineries their specialty is Pinot noir and Chardonnay; some of their Pinot vines are among the oldest in the USA. After tasting all the Cabernet Sauvignons up valley (one of our favorite varietals by the way), it is always nice to find a high end Pinot noir producer.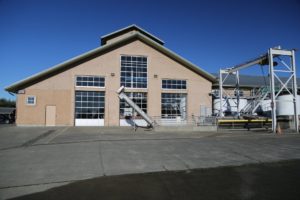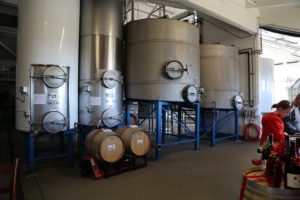 A few wines are made in such limited quantities that the best way to acquire them is directly from the winery. Such is the case with their Viognier – the 2007 is a nice summer wine – we can see why this varietal is sometimes blended with specific red varietals. The aromas are excellent and very fruit driven – honeysuckle and white peach with other stone fruit nuances. Great fruit follows to the palate with additional tropical flavors. Two delicious but different styled Chardonnays are their 2005 Winery Lake and the 2006 Sangiacamo. The Winery Lake has a rich palate that is very golden in color with almost a caramel crème Brule aroma. The Sangiacamo is our favorite of the two; everything about this wine is well balanced – it is creamy but not buttery, and is a slightly lighter styled wine than the Winery Lake. Notes of mild citrus flavors and just a slight mineral nuance complete the finish on the wine.
They produce so many good Pinot's using various styles, its hard to pick a "favorite". The 2005 Lone Tree Pinot noir has a nice floral nose with notes of dried rose petals. It is spicy with black pepper, blackberry and red cherry on the palate. One of our favorite Pinots is the 2005 Beckstoffer Vineyard. The darkness of color hints at this wines complexity and full bodied palate. It is very "big" for a Pinot noir, is layered in flavor and aromas. The nose is fruit driven with some spices. The richness of fruit hits all parts of the palate and the finish is slightly spicy and smoky. Also of note is the relatively new Horseshoe Bend Russian River sourced Pinot noir.
Lastly, a special dessert wine is the 2006 late harvest Chardonnay. With just the right amount of sugar, fruit and acidity this wine is well balanced. Its crisp and not cloyingly sweet. The nose is very fruity with pear and stone fruit aromas – nectarines perhaps. Purchases of their Acacia Marsh Chardonnay are for a good cause – proceeds from the sales of this particular wine directly benefit the restoration of the nearby marshes through the California Department of Fish & Game. This wine is sold exclusively at the winery and goes into a fund called "Wines for Wildlife". Did you know Acacia actually made some sparkling wine in the 1980's with some also produced up until the late 1990's. As of press time they had a 97′ Brut Sparkling available for purchase. Visit: www.acaciavineyard.com