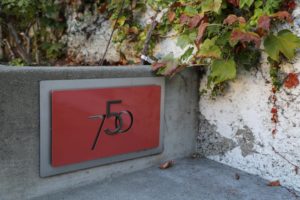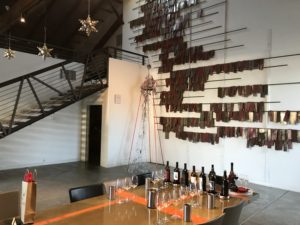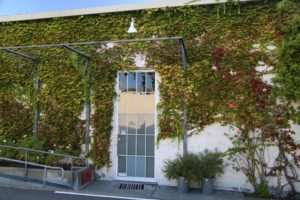 750 Wines (a smartly titled name that is inspired by the normal wine bottle size – 750ml) is a boutique and premier wine shop operated in the town of St. Helena by Napa veteran David Stephens (founded in November 2009). He and his wife Monica run this appointment only unmarked wine shop – a typical visit here is by referral or with someone who has visited the space before. David is from small town North Dakota (Minot) – he moved to California in 1975 (San Francisco) and worked for many years in the restaurant business. He began working in Napa Valley at the esteemed Tra Vigne Restaurant (was their Director of Wine Programs from 1997 to 2002) and then in 2003 co-founded a fine wine shop (ACME Fine Wines) with his business partner at the time Karen Williams. They took the shop from a small, cramped location to its current much larger location. David is no longer involved with ACME Fine Wines; today it is owned by Karen and has become one of the finest wine shops in the valley both in their selection of wines and customer service.
Monica came to Napa Valley in 2006 from Chicago – where she worked at Poetry Inn (a Cliff Lede owned property in the hills east of Yountville). Two years later she founded All Access Napa Valley – a premium concierge service for a variety of clients. Monica is no longer involved in this particular business. Both Monica and David are avid animal enthusiasts and are very actively involved in the annual always successful WineaPAWLooza charity auction with proceeds benefitting the Jameson Animal Rescue Ranch. This 4.5 acre no-kill rescue and sanctuary is located off of Cuttings Wharf Road about 12 minutes south of the city of Napa.
We first caught up with David and Monica at 750 Wines, just west of Main Street (and have been back to this space several times over the years). Their digs are spacious, elegant and simply decorated with the focus being on the visitor and the personalized private tasting experience. Visits to 750 Wines are for serious wine enthusiasts and collectors. David and Monica have formed close relationships with many well-regarded vintners in the valley and as a result maintain a collection of wine that would be hard to find elsewhere. As David told us, he wants this wine shop to be "off the beaten path but accessible". It certainly is that, as it's hidden near a number of businesses but is merely a block from main street St. Helena. His focus is on his customers but also on forging strong relationships with the vintners whose wines he represents.
Several wine shelves line the concrete walls. You know you are not in a run of the mill wine salon when names such as Eisele Vineyard, Grace Family, Lail, Robert Foley, BOND and others peer out from among these shelves. These are not merely wines; when one digs a bit deeper one finds that each wine comes with a story – often an intriguing one. Both David and Monica know the owners or winemakers of the wineries they represent and can certainly share their background stories – all you have to do is ask.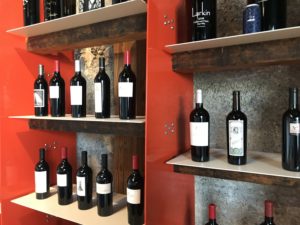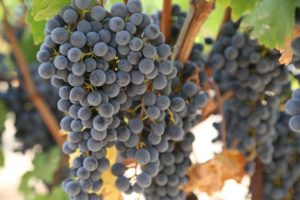 And while their selection includes wines from well-established premiere sites, they also work with newer vintners and labels – and carry wines from varietals not as common these days in the Napa Valley including Charbono and some unique white blends.
When you visit you taste based on the types of wines you enjoy, and you can be assured you are trying wines from producers with extremely limited productions. Because of his long-term relationships, at times David has been able to secure wines that you cannot find at any other retail locations. Despite being open only a week at the time of our initial visit to the space, they had already held a number of tastings. Such is David's reputation in the valley for quality and a personal touch, that when he opens a new shop, it's not really like opening a new shop. He's just moving locations and the winemakers he works with, and his customers follow.
While having a selection of wines from premium proven boutique producers, David always keeps a sharp eye open for the newest mostly Napa producers to hit the market. If you are looking for new premium Napa brands (current releases), 750 Wines is a good place to begin your search. 750 Wines offers several wine shipments for a variety of tastes including their WOW Factor – a monthly shipment of 2 of their favorite wines sure to elicit a "wow" upon drinking. Also popular is their AS YOU LIKE IT, a wine program curated to your budget and stylistic and varietal preferences.
David produced and distributed his own label for several years called Shelter. Shelter was sourced from a number of notable vineyards in the Napa Valley and was found at several premium restaurants in the valley including the French Laundry in Yountville.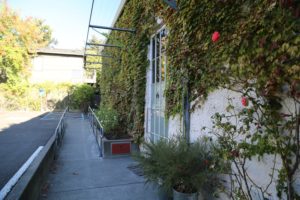 Winemaking sometimes goes hand in hand with being a musician. Along with keeping track of all the latest producers and vintners in the valley David also plays bass guitar in a local Rock & Roll band called Wristrocket. As expected, all of the band members are involved in the wine industry in some capacity and two of the other members also run their own Napa wineries (Robert Foley and Jeff Smith – Hourglass). They perform at select events around the valley.
Tastings are always private, and the shop is closed to other visitors while you are inside. They do offer a "splash and dash" tasting when available. These are usually 30-minute tastings that are meant for more last-minute reservations – with a quick taste through select wines that happen to be open during the time of your visit.
NOTE: 750 Wines has moved out of their St. Helena location on Adams Street – this is related to the fact that in late 2020 750 Wines entered into a partnership with WineAccess.com. This gives clients of 750 Wines access to a greater diversity of wines and to a larger team of wine professionals. As a result of this latest news, this review has been identified as needing an update – once we have more details.
Winemakers take note – 750 Wines maintains a smaller more private room which can be rented exclusively for very personalized tastings. Their main room can also be rented out for small events, and they hold small wine release events from time to time. Inquire for more details. They are open 6 days a week by appointment only and can be open Sundays depending on schedules and client interests. Tastings are limited to a maximum of 6 people. To be updated on local events held in the space including winemaker tastings – plus various limited releases, join their mailing list. For more information or to join one of their wine clubs, visit: www.750wines.com