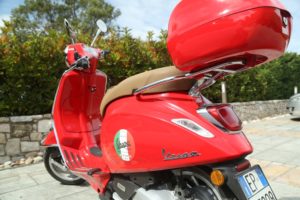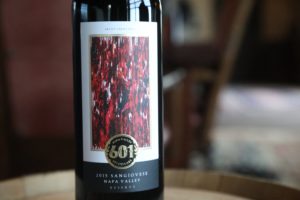 601 Cellars. Enter a Napa Valley brand that does not produce a Cabernet Sauvignon. An anomaly, sure – but a refreshing one, nonetheless. Proprietors Brian Doody and Laura Larson were living in Washington DC and working in high tech (data storage) when they began looking at purchasing a vacation home in the Napa Valley around the recession of 2008/2009. They had no problem finding a home due to the economic slowdown and after eventually spending more time in the valley, they decided to move here permanently.
During a vacation to Italy in 2001 they made an impromptu decision to marry – the city was Florence. And the auspicious month and year was June 2001 (6/6/2001 to be exact) – ultimately a name they immortalized for their wine brand. And with this numerical name, one advantage is it usually lands them at the top of any alphabetized wine list!
Both had been familiar with Sangiovese prior to this trip, but during their travels, took time to explore the diversity of Italian grown and produced Sangiovese. In Napa Valley they also enjoyed Sangiovese from what was Showket Vineyards at the time (their Asante Sana) which later sold to Peter Michael in 2008 and is now named Au Paradis. And from what was Luna Vineyards, a winery that in part focused on wines from Italian varieties, but has since sold and transitioned to the home of Burgess Cellars. Both Brian and Laura enjoy California grown Sangiovese – gravitating towards the richer characteristics that this variety displays when grown in Napa Valley.
Even though some of their bottlings are in the 15% plus alcohol range, there is a freshness and liveliness that is clearly evident across all the wines. These are wines that are not heavily oaked, their style purposeful to showcase the variety rather then any barrel dominating characteristics. These are wines that are highly personal to both Brian and Laura and are wines they enjoy drinking.
Select Wines
The wine that 601 Cellars began with was their 2015 Sangiovese sourced from grower Bruno Solari's vineyard in Calistoga off of Bennett Lane. Laura remembers when Bruno called and said the fruit was ready to harvest; Brian was out of town traveling and Laura had no vehicle large enough to transport about a ton of fruit to the winery. Because of various heat spikes that year, the fruit was harvested quite early. She rented a U Haul van and drove it up to the vineyard and even through the rows to facilitate the transfer of the picking bins to the van (about 1 ton of grapes were harvested).
She and Brian simply planned to make this wine for their own private use, but through the encouragement of other winemakers at the winery, such as Mitch Cosentino and Jarred Pearce, they decided to bottle it as a commercial brand. That inaugural vintage produced a mere 45 cases and went on to win a gold medal at the San Francisco International Wine Competition.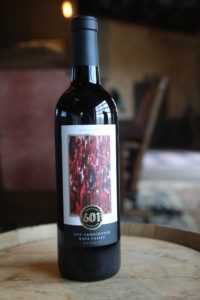 Brian considers his mentor in the wine industry Barbara Spelletich (who runs Crush 94, a custom crush winery in a business district just south of the city of Napa). Brian and Laura had been purchasing wine from the Wine Thief in downtown Napa – where they met proprietor Andy Renda. Andy referred them to Crush 94. Brian recalls showing up and asking Barbara if they could crush their grapes here; she agreed and allocated space for their tiny production.
Brian ended up 'learning by doing' as Barbara made sure he was the one making the wine – while she was the one providing the direction. Later Brian took classes at Napa Valley College in winemaking and today he is their winemaker – although with so many winemaker friends in the industry, he is never more than a phone call or text away from an expert if he needs additional advice.
Starting around 2020 we noticed a number of Napa Valley producers bottling rosé from Grenache, primarily from vineyards growing outside of Napa Valley. There are a limited number of Grenache vineyards within Napa Valley; it is not a common variety. 601 Cellars produces their rosé wines in a Provençal style. The 2022 601 Cellars Rosé of Grenache Napa Valley was sourced from the McGah Vineyard in Rutherford. Their Grenache vines are head pruned rather than being trellised and look like small bushes. The grapes for this wine were pressed whole cluster with the resulting juice fermented in oak barrels. This wine is exactly the color of wild salmon flesh after its been cooked; the bouquet offers aromas of raspberries, light hints of watermelon jolly rancher candy, strawberries and a lime zest. A subtle hint of vanilla sweetness is also found deep in the bouquet. The palate is rounded with a creamy texture balanced nicely with a richness of flavor and balanced acidity. This wine reveals flavors of mandarin, lime, mint, and ruby grapefruit juice; it continues with a long lasting and flavor filled finish.
The 2019 601 Cellars Rosé of Grenache Napa Valley is salmon orange in color with pretty aromas including strawberry and an orange peel zest. Lighter in style this wine zings across the palate with its noticeably acidity, mineralities and bright finish. It carries its youthfulness very nicely and is a pleasure to drink just by itself. With such limited production (only one barrel) and an attractive palate, this inaugural vintage of rosé sold out quickly.
The 601 Cellars 2017 Sierra Foothills Grenache (with a tiny bit of Syrah blended in) is medium ruby in color; its balance is noteworthy across the palate along with an intensity of flavor. Shows firm and granular tannins on the finish. Lingers with flavors of red currant, cherry and raspberry. And a noticeable brightness. Aged 26 months in neutral barrels.
And moving forward through vineyard connections from winemaker Rudy Zuidema, they will be sourcing from a rare block of Grenache in the Napa Valley (grown in Rutherford).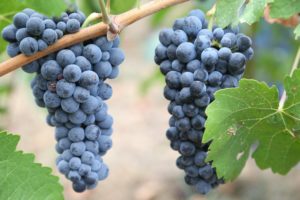 The 601 Cellars 2015 Napa Valley Sangiovese Reserve is medium ruby in color; it offers a sweetness on the bouquet with aromas of strawberry and red fruits – along with some savory characteristics, perhaps hints of sage. The aromatics are engaging. This wine is balanced across the palate – complemented with finely nuanced tannins. Like their other wines we tried, there is a brightness of acidity from start to finish. This is an excellent food wine.
The 601 Cellars Napa Valley Sangiovese Reserve is medium ruby in color; offers a diversity of sweet aromatics of red licorice, cherry cola, cassis vanilla, mocha and a Graham cracker-esqe nuance. As the wine breathes further, subtle notes of cedar start to show. Balanced across the palate with bright fruit notes including red cherry, currant and raspberry. Lighter styled tannins are well integrated into the finish. No harshness here. Lingers with a lift of bright acidity and flavors of red berries. This wine was aged 24 months in neutral French oak barrels. Where is the next glass?!
The 601 Cellars Super Tuscan Napa Valley is 80% Sangiovese (from grower Bruno Solari's vineyard in Calistoga), 12% Merlot and 8% Cabernet Sauvignon. The wine is dark ruby in the glass; offers an appealing union of both darker fruit aromas and darker spices on the bouquet including spicy Santa Rosa plum, dark licorice, dried tobacco leaf and cracked peppercorn. A little meaty and savory especially after the aromatics have had some time to mature in the glass. Has plenty of depth on the palate – juicy from start to end; lingers with notes of dried tobacco leaf, darker spices, lighter-style but firm tannins which persist for some time and a liveliness of fruit. The finish is mouthwatering. Best paired by cozying up to a warm fire, serenaded by greatness – the voice of Andrea Boccelli.
—
Their Artist Series labels are impressions from works of art created by artistic friends including Penelope Moore (who we first met in Verona, Italy at a dinner and who resides in Napa). Penelope is most well-known for her "Palette of the Palate" large scale wine inspired and abstract oil paintings. These are created based in part on what she smells and tastes in a particular wine. Brian and Laura commissioned a piece (which hangs in their home); the label for the 601 Cellars 2015 Sangiovese Reserve Napa Valley includes 12 images from this painting. They have worked with several other artists including Tim Howe, whose works we first discovered on display at O'Brien Estate in the Napa Valley's Oak Knoll District.
Laura is the editor of the well-regarded Napa Life Magazine – with distribution at select wineries and other retail locations throughout the Napa Valley and is also a contributing author and photographer to this publication. In addition, she founded and operates Virtual Vines, a small sales and marketing consulting firm focused on winery clients.
—
The wines are primarily sold direct to consumer other than a very limited number of local establishments carrying select vintages including Allegria and Zuzu and select distribution in parts of southern California. For more information or to purchase wine, visit: 601cellars.com