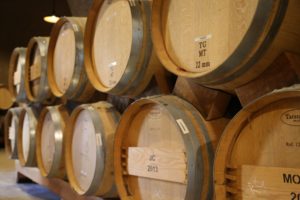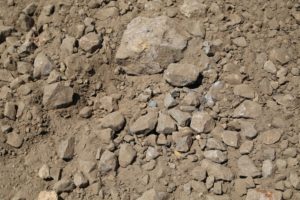 4 Winds Winery was founded by the mother-son team, Jane and Roy Chapin (incidentally based on their name, this is the first listing in our database of nearly 1,100 Napa producers). Jane purchased 109 acres in the Stags Leap District in 1998. The Chapins have some intriguing history relating to some of the early automobiles commercially manufactured in the United States. Roy's great grandfather Roy D. Chapin Sr., along with Joseph Hudson (founder of Hudson's Department stores in 1881) and Abraham Barit co-founded Hudson Motor Company in 1908 in Detroit. Their early efforts were located inside the still standing Aerocar/Hudson brick building at 6501 Mack Avenue before they very quickly outgrew this space and moved into a much larger building.
This building was constructed in 1905/1906 by Alexander Malcomson, a local coal dealer and an early investor in Henry Ford's fledgling company. His Aerocar company was not successful and was soon bankrupt. We visited this old building – its most recent use was as a metal foundry (Falcon Foundry); we briefly met the previous owner of the building Gregory Jurzak who was still running his business here at the time of our visit.
Hudson would go on to produce cars from 1909 until 1957 at which point the brand was discontinued. Roy Sr. also served for a short while as United States Secretary of Commerce under President Herbert Hoover.
Aerocar/Hudson Building

Both Roy Chapin Sr and Joseph Hudson are interred in section 10 in the Woodlawn Cemetery, located about a 20-minute drive from downtown Detroit. Remarkably the mausoleums of both men and their families are located within almost a stone's throw of each other, near the picturesque Willow Lake. This cemetery is well known as being the final resting place of both Aretha Franklin and her family and Rosa Parks.
Roy D Chapin Mausoleum

Joseph Hudson Mausoleum

Hudson Memorabilia

The family has been involved in real estate for many years including grapefruit groves and lettuce operations in Florida. When Jane was ready to purchase the Stags Leap District property, Roy recalls her unconventional strategy involving the previous owner – encouraging her not to sell – which in a timely twist of fate ultimately worked, as the prior owner ultimately decided she only wanted to sell to Jane.
Most of the property is steep and rather rugged. The western side of their property is in the shadows of the rocky Palisades – impressive as seen from parts of the Silverado Trail but even more so when seen up close. Ten acres are 'hidden' in the back of the Palisades – accessible only by a steep dirt trail. The views overlooking the southern part of the valley are quite special and on a clear day one can see all the way down to the San Pablo Bay.
An old house came with the property. In a unique proposition, Jane invited numerous personnel from fire stations both in Napa and neighboring counties to use the house as a training site for fire fighters.
Roy lived in Thailand for some 25 years (he can speak some Thai) – initially for education (studying in Chiang Mai), later to work for Abercrombie & Kent – helping organize and lead premium tours in remote parts of China. Ultimately, he built his own app-based production and video game company, MovieSeer Limited and was based in Bangkok. After Roy sold his company – he began to think about returning to live in the USA.
In 2011 when Roy was considering leaving Thailand Jane spoke to him about a new venture she was interested in – starting a small wine label. The timing was ideal – Roy moved back to California in 2013 and started a new career – in the wine business. He began taking extension wine business courses from UC Davis and more hands-on wine making and viticulture classes from Napa College. When he and Jane were ready to start producing wine, Roy began cold calling a variety of notable winemakers in the valley – and ultimately his persistence and the uniqueness of their site in part helped convince Thomas Brown to become their winemaker. It was also helpful that Jane already enjoyed wines made by Thomas.
Not yet having vineyards on site but wanting to begin production using Stags Leap District sourced grapes, they turned to their neighbors. Jane had known the Steltzners (long time wine producing family in the Stags Leap District) for many years and decided to purchase grapes from them. Later Thomas connected the Chapins with nearby Regusci Vineyards. The first 4 Winds vintage was from 2012 (certainly not a bad year to start with and the beginning of a number of very well-regarded vintages in the Napa Valley). Thomas has been their winemaker since day one. They continue to source grapes from both the Steltzners' and the Reguscis' – always using the same blocks.
Select Wines
They produce one wine each year, a 100% Cabernet Sauvignon made from a blend from both vineyards. The wine spends about 20 months in 75% new French oak barrels. Approximately 300 to 350 cases are produced each year.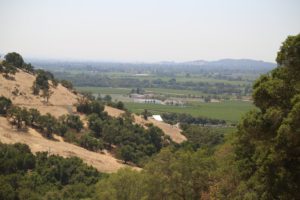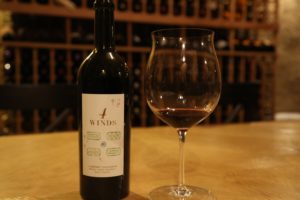 The 2013 4 Winds Cabernet Sauvignon shows dark in the glass and equally dark on the bouquet. Reveals aromas of blackberry and cassis and dust nuances; with ripe and fairly intense aromatics, the bouquet simply smells good. Bursting with flavor, notes of blackberry, a subtle sweetness of oak with hints of chocolate at times are framed by dusty, somewhat chalky and slightly chewy tannins. Drinks very well by itself. This is a big vintage, a fairly robust wine but structurally, well managed.
The 2014 4 Winds Cabernet Sauvignon shows equally dark in the glass as the prior vintage but is more restrained then the 2013 vintage both with aromatics and on the palate. On the bouquet it reveals aromas of spicy plum, ripe blackberry along with a dessert spice component. This wine continues to change dramatically as it breathes – it shows a bit more oak than the previous vintage (toasted cedar) along with dessert spices, brown sugar and a sweetness of fruit. Rounded and rich, the palate showcases ripe fruit with lingering notes of mocha and very well integrated polished tannins.
In 2017 approximately 3.5 acres were prepared for planting a new vineyard (the first time the property has ever been planted to vines). The vines were planted in the spring of 2018, with 3-4 years before getting a sizable harvest, another 2 years in barrel and perhaps a year in bottle – their first estate wines should be released around 2024 or 2025. When you start a vineyard from scratch, it is certainly a lesson in patience before your first wines are released. Based on the pedigree of wines produced so far, this will be a wait worth making.
The property was not spared during the fires of 2017. A small guest cottage was destroyed, but fortunately the main house survived intact. It is possible the bare land that had been previously cleared in anticipation of planting the vineyard, helped as a fire break.
The hillsides in the Vaca range are much more open (compared to the Mayacamas mountains on the other side of the valley) with grassland, chaparral and some oaks. As a result, they did not have to clear out many trees in prepping for their vineyard. In walking the site, one quickly notices the number of rocks but then looking closer one also sees the fineness of the soil between the rocks.
Their property is in an acclaimed vineyard neighborhood – while there are no immediate adjacent vineyards to their small vineyard site – their property borders the famed Stag's Leap Wine Cellars FAY Vineyard and other nearby neighbors include the Robinson Family, the Steltzners, Cavus and Malk Vineyards.
Most estate properties plant grapes first and then may build a winery – however when the Steltzners were doing some renovation on their cave, Dick Steltzner called up Jane and asked her if she wanted a cave to be built on site (as he had all the equipment already). She agreed and a small cave for their personal use was drilled into their hillside (now used for storing empty barrels and their own wines).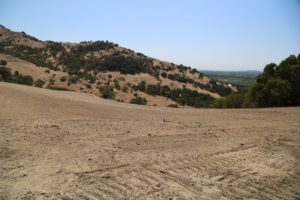 The name 4 Winds has a number of meanings to the Chapins' – Roy is one of four siblings, their property is located in a part of the Stags Leap District that is often breezy, and with Roy's connection to Asia – 4 is an auspicious number and wind is often used in Feng shui.
And the label is unique – it was created from a watercolor painting of their French styled gardens that grow in front of the main house on the property. Rather than taking a traditional perspective of the gardens from the ground level, the label depicts what the gardens look like from above – separated into multiple garden blocks. And in an homage to their Florida roots (and Jane's prior involvement in the citrus industry) the label contains two small citrus trees – and those really perceptive will spot a tiny rabbit on the front of the label.
The wines are selectively distributed in California, Texas and Florida. Locally you can find the wine at the K. Laz Collection in Yountville, ACME Fine Wines in St. Helena and select outlets in San Francisco and Los Angeles. For more information and to join their mailing list, visit: www.4windswinery.com