1313 Main is located as their name cleverly indicates, at 1313 Main Street in downtown Napa within walking distance to a number of restaurants and other tasting rooms. This spacious, sophisticated and elegantly decorated tasting room and lounge moved from their original location on the Silverado Trail in mid 2011.
Owner Al Jabarin moved to the Napa Valley in 1990 from the country of Jordan and three years later launched an online wine outlet called WineZone.com which became the foundation for Cal Wine. Cal Wine has operated from the Napa Valley since 1995 and Al is one of Napa's wine pioneers in regards to using the Internet to sell wine.
Over the years we've heard of many plans to open a tasting room in the Napa Valley but almost all never materialize. We first met with Al a number of years ago, which is when we heard of his plans to open an establishment like 1313 Main. Tasting rooms and lounges like this only add value to downtown Napa and with their extended evening hours this is a perfect place to stop by for a glass of wine after work.
The tasting menu is arranged by 2oz and 5oz pours; you can also order full bottles and yes, they even serve limited production craft beers! In case you didn't know, beer is what Napa Valley winemakers use to quench their thirst after a hard days work in the vineyard or cellar. In the spirit of their physical address and name, a selection of 13 red and 13 white wines as well as 13 beers are offered daily.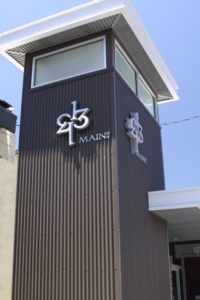 Since 1313 Main opened they have morphed into focusing more and more on the restaurant atmosphere rather than being more of a wine bar (as they were when they first began). However, they have embraced both the food and the wine culture offering creatively prepared artisan plates paired with wine. You can also order a plate that includes a full selection of all their cheeses offered.
In 2013 the selection of wines for Cal Wine moved to a small retail wine shop a few blocks away on Clinton Street. The focus here is not only Napa wines but of wines from around the world. Al championed 'Winemaker Wednesdays' – this tradition continues here with local winemakers pouring their wines on site.
Cal Wine has a sizable online catalog of Napa produced wine with national and International distribution and they will ship worldwide. With many searchable categories including by winemaker, they make online shopping for wine a breeze.
The original Cal Wine shop just east of the Oxbow District was tiny (and is where we originally met Al) but 1313 Main has plenty of space including a large outdoor area in the back that will be used for tastings (once fully developed). They maintain a wine list of over 1,500 wines including one side of the lounge devoted to Napa Valley wines and the other side devoted to an International selection of very affordable priced wines.
1313 Main also has one of the largest selections of sparkling wine both for sale as well as available for tasting in downtown Napa. There are two tasting bars: the main bar that greets you at the entrance and there is also another bar in the back of the building which opens as necessary. If sitting at the bar is not your thing, several alcoves are available for sit down tastings and extended periods of conversation including one in front of the fireplace.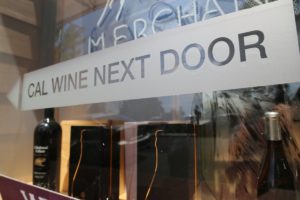 A special room houses a huge Brazilian Mahogany table – great for serving larger groups or for private tastings. A limited number of wine lockers are available in this room on a monthly lease – each locker holds up to 18 bottles. This already has been popular with Napa based producers who do not have their own tasting room and want to use this room to pour wines for their own clients.
With their great location and space, they can hold a number of wine events here including winemaker tastings and other education events. Ever wanted to private label your wine with a label of your choice? Al offers this service through Cal Wine – pick out the wine you want to label, choose one of their stock labels or design your own. This is a great idea for birthdays, weddings and other special occasions. Cal Wine offers a variety of wine clubs.
Lulu's Kitchen is located within this tasting room – in a room on the the left as you enter. The restaurant focuses on farm-to-table produce, meats and cheeses. Between the chef and the sommelier, there is a lot of talent here!
There is usually plenty of free street parking available. For more information, visit: www.calwine.com