Ziata Wines was founded by long time wine industry veteran Karen Cakebread. While Karen was working for Hewlett Packard an opportunity arose to move to Asia. During that time she worked as an international marketing consultant for Cakebread Cellars about when Cakebread was just starting to export wines to Asia. Upon returning to California she was faced with the choice of where to work. As Karen says, "Silicon Valley or Napa Valley?" – she obviously chose Napa and worked at Cakebread from 1989 through 2006. She became their events director and was responsible for their educational, wine, culinary and hospitality programs.
With her long term involvement tirelessly promoting Napa Valley through the Napa Vintner's Association (served on the board for 4 years as well as the steering committee in charge of the annual, Auction Napa Valley), it is only fittingly that she now has her own wine label. When choosing a name for her new project obviously her last name was taken so she started looking at her family names. Her mother's maiden name was Annunziata and the name Ziata is a tribute to her.
She started this label as a way to become involved in all aspects of the vineyard to bottle process as well as the fact that she enjoys a lighter style wine. She says, "I like all wines some of the time but Sauvignon Blanc all of the time"! As of the time of this review she also has a 2008 Pinot Noir which will be released sometime in late 2009 or Spring of 2010. Additional plans call for a Cabernet Sauvignon.
Karen also has an acre of land in the northern part of the Napa valley and will be planting this to Sauvignon Blanc and several years from now will have an estate wine from this small vineyard.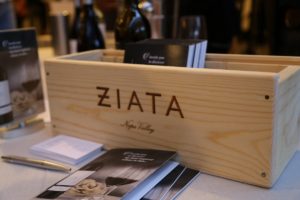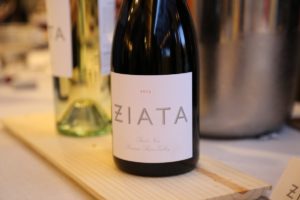 Anne Vawter is the winemaker and has made all vintages. Anne is a graduate of UC Davis (Viticulture and Enology) and worked with Heidi Barrett at Paradigm Winery for several years and currently makes wine for Varozza in St. Helena. She has a soft touch when it comes to winemaking preferring to conduct most of the winemaking work in the actual vineyard.
Ziata's first release, the 2008 Sauvignon Blanc is from a small 1 acre site east of the town of Napa. This small vineyard sits at the base of volcanic bluffs which over the years have dropped their rocks down to the soils which now make up the vineyard. As a result this vineyard grows on very a rocky and well drained site. Three Sauvignon Blanc clones are planted, each of which contribute something unique to the wine. The wine was fermented in stainless steel and then saw 4 months aging in neutral French Oak.
This is a sophisticated and delicately styled Sauvignon Blanc that is nicely in balance. The initial bouquet shows pleasant mineralities and notes of crushed rock, almost gravelly in nature. As the bouquet opens hints of honeysuckle are revealed and more fruit, most notably aromas of ripe pineapple. The nose is very aromatic in part from the attributes of the Musque clone. The lively palate also shows some mineralities, green apple and lemon but is certainly not "green" in flavor. The wine is styled in a leaner fashion but with a hint of creaminess which rounds out the mouth feel very well. Lively acidity and bright young fruit make this an excellent wine to pair with food. In fact, some of Karen's friends have submitted recipes they feel goes well with this wine and these are found on her website. Production is tiny – only 252 cases were made.
Karen has a unique passion for travel and exploring some of the off the beaten paths in various countries. She works with a number of charities including Wine Women and Shoes and was a founding board member of the Elaine Mackie Charitable Trust to raise money and awareness about Breast Cancer. Part of this organization's fund raising efforts included trekking around the world and reaching the summits of select mountains including Kilimanjaro.
You can find Ziata Wines locally at Backroom Wines in Napa and a number of area restaurants including Press St. Helena and Cole's Chop House in Napa. Visit: www.ziatawines.com