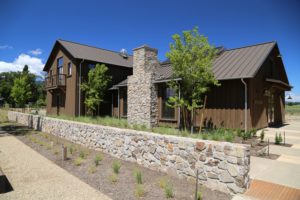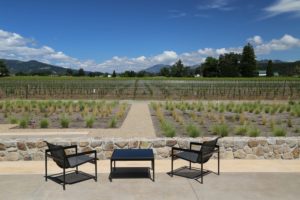 Wheeler Farms. The Wheeler Farms estate property is located on 11.5 acres off of Zinfandel Lane just south of the city of St. Helena. For those curious about it's history (and it is fascinating), the original stone winery was built in 1880 by Charles Wheeler and was conveniently located next to the train tracks about 1/2 mile to the west of Wheeler Farms Winery. The only visible remnant of this winery is an old stone wall – seen just east of the train tracks almost at the intersection of Highway 29 and Zinfandel Lane.
The property was purchased in 2014 by long time Napa vintners Bart and Daphne Araujo – who as their estate manager, Greg DeLeo states, "pivoted somewhat" after selling their iconic Araujo Estate and Eisele Vineyard. The previous owners, a Japanese firm had acquired the property in 2009 from the great-great-granddaughter of Charles Wheeler. Their intention was to build a winery on site but after the Tsunami hit in Japan in 2011 they decided against this and ultimately sold the land.
The winery is named in honor of the Wheeler family, whose property along Zinfandel Lane extended to the other side of Highway 29 and for decades was known as Wheeler Farms. By almost 1940 at the height of their land holdings the property encompassed some 400 acres with the current estate planted to prunes at that time. Charles Wheeler's background was in grain and milling; he was part of the group that built the first grain elevator in California located in the city of Vallejo. But more significant to Napa's history, Charles was a founding member of the St. Helena Viticultural Club in 1875 along with the president at that time, Charles Krug. This was the predecessor organization to the current St. Helena Viticultural Society.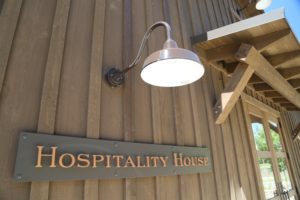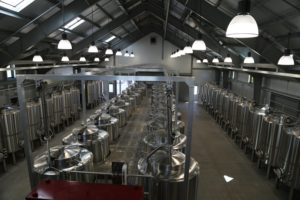 The Araujo's founded Araujo Estate (now the Eisele Vineyard) in 1990 and by the time they sold the winery and property in 2013 had built Araujo into one of the country's most prized wine estates with wines highly coveted by serious collectors and other wine enthusiasts.
Not ones to rest, they immediately continued their focus on premium wines by founding Accendo Cellars – with the first vintage from 2013. These wines are made at Wheeler Farms and feature a Sauvignon Blanc and a Cabernet Sauvignon. Rather then focus on a single vineyard site (as was the case at Araujo), these grapes are sourced from exceptional sites in select parts of the valley, including from select vineyards they personally own.
The vineyard landscape of the Napa Valley has changed dramatically over the decades – and this property is a good example of this. Original grape plantings included Carignan, Johannisberg Riesling, Gutadel, and Golden Chassales among other varietals no longer economically viable to grow in the Napa Valley. Today the property is planted to 6 acres of Cabernet Sauvignon and 2 acres to Sauvignon Blanc.
In a nod to some of the agricultural diversity originally on the property, a small orchard of stone fruit trees will be planted (the property used be home to an extensive walnut orchard, prunes and even citrus trees). A variety of vegetables are also grown in the raised beds in front of the winery. In part, these will provide ingredients for selected dinners and various culinary offerings (a commercial kitchen is on site). And chickens and bee hives round out the mix.
The winery itself is state of the art – a cellar underground follows the entire footprint of the main winery building. Tanks are fairly small; each one contains a pump which simplifies the amount of work during harvest (the alternative is moving pumps from tank to tank). Each tank can be converted to open or closed top during fermentation. And every tank is located under a hydraulic arm which can be moved tank by tank to do punch-downs as needed.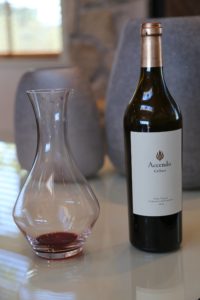 In a somewhat unusual move – they initially produced olive oil from trees growing in Winters, California (about an hour due east of St. Helena). However for subsequent vintages these same trees were physically moved from the orchard in Winters to their own estate – thus allowing them to now bottle Napa Valley estate grown olive oil. This limited production olive oil is harvested from 80 trees – all are various Italian varietals.
Bart and Daphne have worked for many years with acclaimed graphic designer, Chuck House of Icon Design Group (part of a team that has been responsible for numerous iconic Napa & beyond wine labels). Wanting to honor history on the label representing a specific time period (the late 1800's), Chuck researched old USDA records and located images depicting the 'ideal' grape bunches with images of a number of varietals. He adapted these images for their own labels – including a Sauvignon Blanc and Cabernet Sauvignon.
Their inaugural release of their Sauvignon Blanc was from the 2016 vintage. The 2016 Wheeler Farms Sauvignon Blanc is pale straw color in the glass with notes of citrus blossom and orange peel on the bouquet. This wine was 100% fermented in stainless steel tanks. Balanced with good acidity. Fresh and youthful. Lively on the palate with a rich intensity of flavor.
The 2014 Wheeler Farms Napa Valley Cabernet Sauvignon shows savory notes on the bouquet with aromas of dried herbs and a subtle hint of dust that is more in the background. A sweetness of fruit shows as the bouquet continues to open. Balanced with mouth watering flavors and acidity. Drying tannins – a fairly robust structure anchors the finish – with both oak and fruit tannins.
The 2013 Accendo Cellars Cabernet Sauvignon shows dark fruit on the bouquet with a pleasing tobacco smokiness character and a savory component. Presents a higher toned fruit profile including both red and darker fruit flavors along with a thread of chocolate. A red cherry tartness shows on the finish. Features firm but very well structured tannins persisting on an extremely long finish. Big but balanced. This youthful wine (tasted 3.5 years after harvest) has plenty of life ahead of it.
Visits are for serious wine enthusiasts and collectors. With a number of premium brands using the winery for both production and hospitality purposes, they offer a Portfolio Tasting featuring some of the wines from those producing on site. With a diversity of both producers and types of wines available, these tastings can be customized based on preference. Tastings often provide access to personalized visits with the winemakers or the owners behind the brands.
For more information and to join their mailing list, visit: www.wheelerfarmswine.com
Wheeler Farms Winery

Remaining Stone Wall from Original Winery

Video, Sommvivant