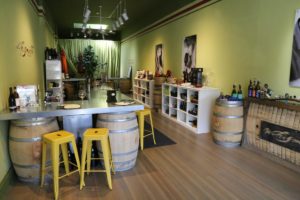 WH Smith Wines is a small winery & estate located high in the Howell Mountain hills east of Angwin. However note that as of mid 2009 they opened a beautiful tasting room in the town of Calistoga. Bill Smith purchased the nearby La Jota property in the early 1970's, and planted all of the vineyards by hand. One of his neighbors, Randy Dunn was an initial early influence during his formative winemaking years. Bill was the winemaker for La Jota until he sold this winery to Markham (now owned by Jackson Family Estates). Today he is the winemaker and operates W.H. Smith Winery which is located just down the road from La Jota.
The bulk of their production is Pinot Noir (four different Pinot's produced) as this is one of his favorite wines, as well as two Cabernet Sauvignons, the Purple and Bronze label. Bill used to produce big bold high tannic Cabernet Sauvignons but enjoys the softer lower tannin more velvety mouth feel Cabs which is what he now produces. These are the types of wines that we enjoy and seek out. To produce these "softer" wines he removes the seeds during every step of the winemaking process. Grape seeds have a lot of tannins and when they are sitting in alcohol, the actual alcohol will cause the seeds to release their tannins into the wine.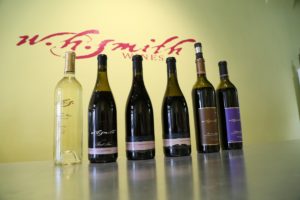 Their first commercial vintage was in 2001. The source of the Cabernet Sauvignon is from his Piedra Hill Vineyard which is located next to the winery. The location is above the fog line which provides a cooler overall climate compared to the Napa Valley floor. This means longer ripening, higher acidity and a more even ripening of the grapes. W.H. Smith selects only the most intensely flavored and aromatic wine from select barrels for his final blends. He also keeps fruit from individual clones separate until the final blends are constructed. We tried several barrel samples during our visit including what will be their 2006 bronze label. This dark wine has a very round mouth feel; even so young, it is already an elegant style of Cabernet Sauvignon.
We thought it was impossible to find a winery producing high quality Pinot Noirs located in the hills of Howell Mountain until we visited W.H. Smith. Of course this isn't Pinot country and they don't grow these grapes here, rather all their Pinots are sourced from premium vineyards located along the Sonoma Coast region in Sonoma County. We tried a bunch of these Pinot's while still in barrel. Our favorite is the Pinot Noir produced from the Hellenthal Vineyard which is located at about 1800 feet. This is a very dark wine with earthy notes on the bouquet followed by vibrant cherry and raspberry flavors. A number of area wineries have discovered this vineyard and source fruit from it. The vineyard site is only 5 miles from the Pacific Ocean so it receives a fair amount of wind and fog, which are perfect growing conditions for this varietal.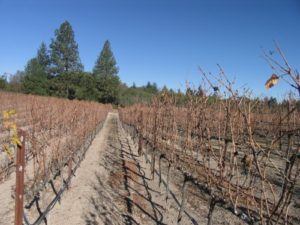 Their Maritime is their "high end" Pinot Noir and the fruit for this wine is selected from several vineyards all within close proximity to the Pacific Ocean. Compared to their Sonoma Coast Pinot Noir this wine is darker and more shows more concentrated fruit both in the bouquet and on the palate, all the while retaining the wonderful elegant smoothness. The palate shows a variety of fruit including plum and cherry with a soft lingering finish.
The bronze label 2006 Howell Mountain estate wine has a distinctive nose that shows hints of evergreen mixed with aromatic dark fruit followed by a palate that is surprisingly smooth for this mountain grown wine. The tannins are balanced and form the structure for a pleasing finish. The 2006 purple label, also an estate wine from their Howell Mountain vineyard is a decidedly bigger wine than the bronze label – its a wine for you serious Cab lovers! Hints of vanilla and ripe black fruit show in the bouquet followed by rich concentrated dark fruits on the palate.
The wave of new tasting rooms within city limits has moved up the valley – it all started in the city of Napa and ultimately reached tiny Calistoga.
Ask about the "Wine Sensory Experience", a 1 hour course filled with very educational sensory exercises about wine.
The class is taught by one of the owners, T'Anne (by appointment only) Friday-Sundays in the mornings. She has over 30 years experience in the industry and during this course provides information about how to recognize wine aromas, wine profiles and soil characteristics and how they affect wine. At the end of the class you will taste all wines offered in the tasting room as well as cheese and light appetizers. This course is always held in the mornings before their general tasting room is open and as a result the course is entirely private.
Sometimes you can find winemaker Bill and his wife Joan in the tasting room. WH Smith plans on holding special events from time to time in this tasting room.
For more information about WH Smith's wines visit: www.whsmithwines.com For more information about the wine sensory experience, visit: www.winesensoryexperience.com