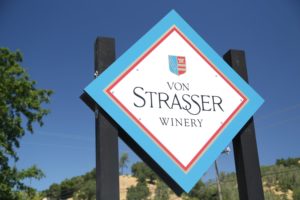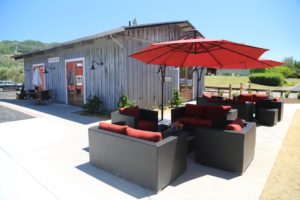 von Strasser Winery is a small family-owned winery specializing in unique and single vineyard designated wines from Napa vineyards (all their wines are exclusively Cabernet Sauvigon based). von Strasser Winery has essentially going through two specific periods during its history. The first was when founders Rudy and Rita von Strasser purchased property in 1990 on what is now the Diamond Mountain District in the Mayacamas mountains. They built a winery and eventually planted about 15 acres of vineyards. A prime part of the Napa Valley, their nearby neighbor was Diamond Creek Vineyards. During his time here, Rudy was also instrumental in helping form the Diamond Mountain sub appellation.
In 2015 Rudy sold the winery and estate property to CTF International Development (which is currently developing the property into a high-end resort). The sale included the vineyards (but not the von Strasser brand or wines) and moved his operations along the Silverado Trail just south of the town of Calistoga (see below for more details).
Rudy was raised in New York City; he originally came to the Napa Valley to gain wine making skills as his initial interest and work in college was in regards to hard cider (his degree was in pomology at the University of New Hampshire). However, it is not hard to be hooked by the "Napa allure" especially considering Napa is not known for its cider production. Rudy was the first American to be selected to intern at the famed First Growth French winery, Chateau Lafite-Rothschild. This is a big deal and was a successful internship for Rudy. He in fact "opened the door" for other American interns and this French winery now selects one student (from UC Davis) each year for this internship.
After returning from France but before starting von Strasser Winery, Rudy also gained additional experience at Napa wineries including Trefethen and Newton. For many years, von Strasser focused on three types of wines; Diamond Mountain grown fruit from their own vineyards in which the blocks are hand selected for only the highest quality fruit, Single Vineyard wines and their Reserve wines which are only made in select years when these wines are of superior quality. When made, this wine always contained the following blend: 40% Cabernet Sauvignon, 40% Petit Verdot, and a blend of Cabernet Franc and/or Merlot for the remaining 20%. You won't find any other Napa wineries with this strict of a regiment in regards to a Reserve wine. Their estate vineyard produced the fruit for their Cabernet Sauvignon while they also source from a number of typically small area vineyards.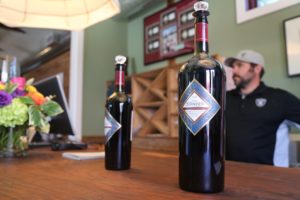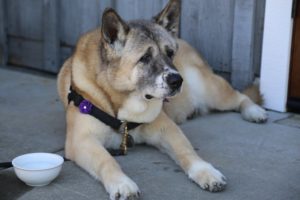 And the second incarnation of von Strasser Vineyards occurred in late 2015; Rudy purchased a one acre property within the city limits of Calistoga including the winery, tasting room and the Lava Vine brand. He has since built a state of the art new barrel storage facility, updated the winemaking equipment including some very modern tanks, installed a full hookup system for electric and water for mobile bottling trucks and remodeled the old tasting room into an appealing contemporary space. During the remodel and rebuild of their parking lot – they created more parking spaces then were in the original parking lot. One side of their parking lot is for smaller vehicles – the other side is for larger vehicles.
All wines moving forward produced under the von Strasser label are Cabernet Sauvignon focused wines. Their unique (for California) Gruner Veltliner, an Austrian variety will now be bottled under the Lava Vine brand. This variety is so rare, that von Strasser was the first California winery to bottle a wine from Gruner Veltliner (he had a small block of this variety planted on his old property). Because both labels are now housed under the same roof – this really helps differentiate the types of wines – and keeps both labels separate from each other.
Rudy still owns one vineyard on Diamond Mountain and has leases on several other vineyards.
Their well appointed tasting room is located in a small metal building which was in the past was used by Calistoga Roastery, a local coffee company with a store in downtown Calistoga. When you enter, drive around the two story red building in the front to either of the two parking lots. This red building houses their office and also serves for some wine storage in it's basement.
The property is located right next to the "greenway" which contains a bike path that connects to the town of Calistoga and the Solage Resort – which is ideal as Solage includes free use of bicycles with each room. Their property also backs right up to the Sunburst Hotel.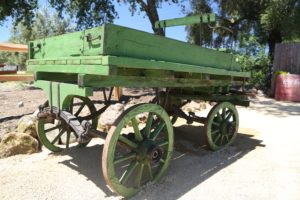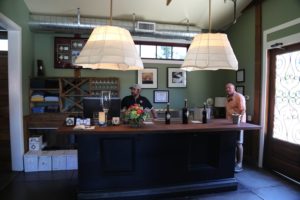 von Strasser maintains a side room next to their tasting counter for private wine and food pairings as well as for larger groups. The tasting room closes at 430pm each day but can be reserved for after hour special appointments on a case by case basis.
They are a "kid and dog friendly tasting room". Picnic tables are located immediately outside the tasting room – this makes for a nice spot to enjoy a relaxing lunch while under the shade of the nearby trees. Since the winery is located right next to the tasting room – during harvest you can often see the operations in action.
Note the old green wagon that sits next to the parking lot. This was an original piece of equipment used in the nearby Oat Hill Mine (the mine was built in 1876 and ran off and on until the mine finally closed in the 1980's). This was a mine of cinnabar (mercury). Today the Oat Hill Mine Trailhead is about a 5 minute walk from their tasting room.
von Strasser has a "futures" program in which you "buy" some of their wine while it is still in barrel. This is one way to make their wines available when you have limited production and your wines are in great demand! And in a creative use of their parking spaces (the first and only Napa winery we have seen do this), they have each parking curb labeled with a name of a popular grape variety. Not that their parking lot is large, but it makes a conversation starter for when you walk into the tasting room, ie,
"I'm parking in the Sauvignon Blanc parking space".
For more information and or to join their wine club, visit: www.vonstrasser.com