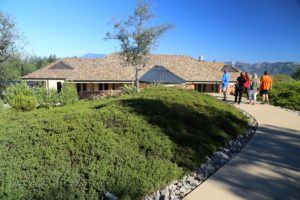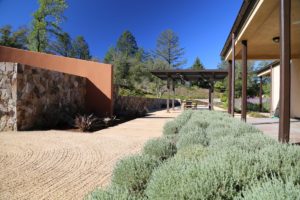 Vineyard 7 & 8. The winery was built from 2004 through 2008. Founders Launny and Weezie Steffens have traveled extensively in Asia and developed an appreciation for numerology – the numbers chosen for their name are considered lucky in many Asian cultures.
The winery sits in a fantastic location almost on top of the Spring Mountain ridge at an elevation of slightly above 2000 feet. The journey from the town of St. Helena on the valley floor to the winery takes about 15 minutes – on a windy road through the forested slopes of the Mayacamas mountains. An elevation of over 2000 feet in Napa county is among a select group of mountain vineyards and wineries. The Steffen family purchased the vineyards in 1999 and kept some of the original plantings from 1985 as well as planted additional vineyards. Their focus is entirely on two varietals; Chardonnay and Cabernet Sauvignon both of which are planted on the property.
Chardonnay is not a varietal that first comes to mind when discussing hillside vineyards in Napa but Spring Mountain has several growers of this varietal. Merely a few miles as the crow flies across from their winery sits the Howell Mountain Appellation. One would not even think of growing Chardonnay there, despite the relatively close proximity as that area is much warmer than Spring Mountain which sees more cooling coastal influences. A bit of snow often falls here in the winter and in the summer this area is typically above the fog. Growing conditions are unique in that in the summer the warmest parts of the day are usually in the mornings, becoming much cooler by late afternoon and then warming up a bit at night as the cooler air descends to the valley floor.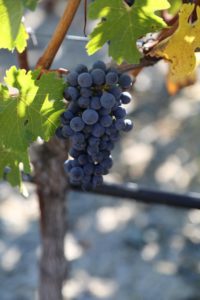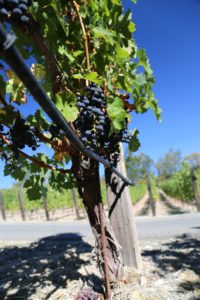 The winery sits a short ways in on the Spring Mountain "summit winery road" and affords one fantastic views of Mt. St. Helena and the neighboring mountains. The entrance to the winery is built to resemble a home and first time guests to the property generally aren't aware of the size and functionality incorporated into the building.
A massive 700 pound copper door greets visitors at the entrance and once inside guests step into a room with a 180 degree windowed view of the surrounding mountains. On a clear day from this room, the views are awe inspiring. This main room contains a sizable table made from wood dated at over 40,000 years old. It is Kauri wood from New Zealand and is considered some of the oldest workable wood in the world.
During the first few releases Vineyard 7&8 sold their wines via the wholesale market but have since expanded to now sell direct to consumer. Launny and Weezie's son Wesley is General Manager and the Assistant Winemaker – some of his prior experience in the business came as a cellar master at the well-known Harlan Estate Winery working with winemaker Bob Levy and at BOND Estates. Wesley also spent time working with Thomas Keller at the acclaimed French Laundry in Yountville.
And Bob Levy's wife Martha McClellan is the current Vineyard 7 & 8 winemaker; she has built an impressive resume in the valley with time spent working with properties such as Blankiet Estate, SLOAN Estate and currently at Checkerboard Vineyards. Founding winemaker was Luc Morlet (of Napa's Morlet Vineyards)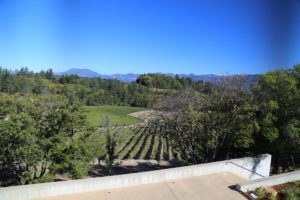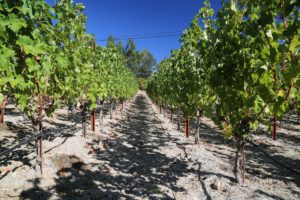 Ever since the Steffen Family purchased the vineyards, great attention to detail has been placed on the details and nuances of managing their vines. Specific rows are picked only when they are ready – thus ensuring that particular vineyard blocks are picked at multiple times allowing only fully ripe grapes to be fermented. A number of small tanks ensures that they have enough room to micro manage fermentations block by block.
A kitchen is located on site and private food and wine pairings are offered. Total production is quite limited at about 2,000 cases, some of which is distributed in Asia including China.
The 2004 Vineyard 7&8 Chardonnay is a very nice representation of what you can do with Spring Mountain grown fruit from this varietal. Its an elegant wine with attractive flavors including lemon, pineapple and some toasted nut nuances.
The 2004 Vineyard 7&8 Cabernet Sauvignon reveals an intriguing bouquet showing notes of mocha and various ripe berry fruit (raspberry and blackberry). The palate is nicely balanced and the tannins integrate very well on the very smooth and long finish.
Note: Wesley founded a much newer label, Correlation Wine Company, which focuses on non estate wines – wines sourced from select vineyards throughout the Napa Valley based on relationships that Wesley has cultivated with various growers, winemakers and vineyard owners. The inaugural releases of Correlation included a 2014 Cabernet Sauvignon and a 2016 rosé.
Correlation wines is a vintner partner at The Wine Thief in downtown Napa. This tasting room features small production wines from mostly Napa Valley based vintners and is located on the corner of First and McKinstry Streets directly across from Gott's Roadside Hamburgers and the Oxbow Public Market.
The vintners represented here are small – usually in the 500 case to 3,000 case range. These producers focus on high quality limited production wines and unless you work in the Napa wine industry are names you generally will not have heard of. The focus of the wines offered are Cabernet Sauvignon and red wines – but there are several whites available, Pinot Noir and a rosé. The wines are available at a wide range of price points.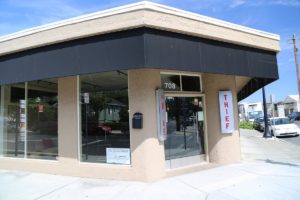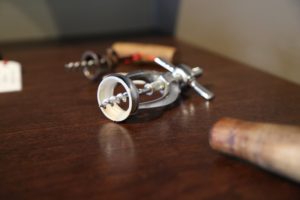 To succeed in Napa as a collective strong relationships between the vintner partners is a necessary criteria. The vintners represented all know each other and in some cases have been friends for years. Another important factor is the location of the tasting room; this is a prime corner spot in a busy part of Napa – they are also surrounded by several other tasting rooms.
The Correlation wines are available for tasting by walk-in at the tasting counter, or from one of two automatic dispenser wine stations (by the taste, by the half glass or by the glass). Appointments can also be made to try the current release of Correlation wines in one of the two private rooms on site.
Tours and tastings at Vineyard 7 & 8 are by appointment and are for serious wine enthusiasts. For more information and to join their mailing list, visit: www.vineyard7and8.com
Exterior

Interior

Vineyards

Cave – photos coming soon