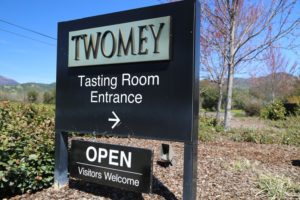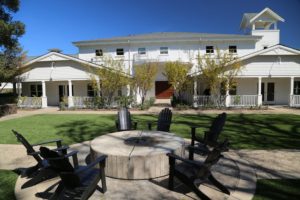 Twomey Cellars (pronounced two-me). The winery was founded and is owned by the Duncan Family – the founders of the well-regarded Napa and Sonoma based winery, Silver Oak Cellars. Brothers David, Tim, Mike and Kevin Duncan founded Twomey in 1999. David is the managing partner – the name Twomey comes from their grandmother's maiden name and is the middle name of several family members.
After producing only Cabernet Sauvignon for several decades, Twomey Cellars began when the the Duncan Family purchased their Soda Canyon Ranch Vineyard in 1999 – appropriately named as it is located off of Soda Canyon Road in the southern part of the valley. They made this purchase to add a vineyard source for their Napa Valley Cabernet Sauvignon. At the time this was among the most expensive per vineyard acre transactions ever made in the Napa Valley – but ultimately contained what turned out to be a pleasant surprise and by today's standards, was a very good investment.
Daniel Baron, the winemaker for Silver Oak Cellars at the time discovered the property was planted to Merlot (the pleasant surprise that we mentioned above). Daniel had worked at Château Pétrus in Bordeaux and was very familiar with premium Merlot. Encouraging the Duncan's to produce a Merlot from the vineyard – and realizing it wouldn't fit into the Silver Oak Cellars Cabernet Sauvignon only portfolio, the Duncan's created a separate winery. The initial few vintages were crushed at Laird Family Estate (a custom crush winery north of the city of Napa).
With production increasing, as well as the acquisition of the West Pin Vineyard in the Russian River Valley, the Duncan's realized they needed their own facility and purchased the old Stonegate Winery just south of Calistoga in 2003. While Twomey began their production with Merlot and perhaps built a reputation for creating premium wines of this variety, they also have since earned a strong following for their premium Pinot Noir (first vintage 2002).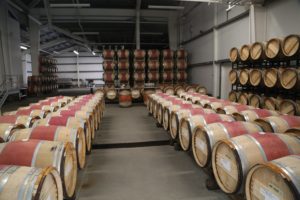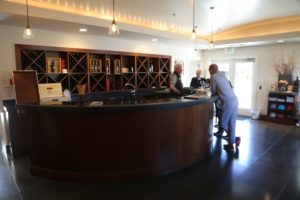 Continuing to grow, in 2006 the family purchased the old Roshambo Winery near Healdsburg in neighboring Sonoma County and used this as a production facility for Pinot Noir and Sauvignon Blanc. Today they produce a number of Pinot Noirs both from their own vineyards (in 2017 they purchased the Prince Hill Vineyard in the Dundee Hills appellation of Oregon's Willamette Valley and in 2019 another winery in the Anderson Valley already surrounded by 38 acres of Pinot Noir vines) as well as other regarded vineyard sites including from Monterey's St. Lucia Highlands.
Twomey Cellars practices what is called Soutirage Traditional which is essentially a very labor intensive process of decanting wine from one barrel to another barrel using gravity flow (no pumping). This is very interesting to watch – a valve is attached to one end of the barrel and then the barrel is tipped slightly so the wine begins to flow out. Using a light and a glass to catch the wine as it flows, they are able to see sediment as soon as it appears and this is when they stop the flow. This is done up to 6x to the barrels of wine during an 18-month period.
The only white wine produced from Twomey is a Sauvignon Blanc, created from several vineyards in both Napa and Sonoma including sourced from their Calistoga property next to the winery and from the vineyard next to Silver Oak in Oakville. The vineyard next to the tasting room is entirely planted to Sauvignon Blanc. Interestingly the first few vintages of their Sauvignon Blanc were not sold to the public – but rather were sold to employees. Their feedback and continuing to incrementally elevate the quality of this wine led them to finally release a wine from this variety beginning in 2007.
The 2017 Twomey Cellars Sauvignon Blanc was aged in a diversity of vessels including various sized barrels, metal drums, tanks and an incremental amount in concrete barrels. This wine offers citrus aromas on the bouquet – including a lemon zest and tropical nuances including guava. Shows more citrus as the wine opens. Crisp and focused on the palate – reveals notes of lemon lime and grassy nuances. Flavors of green apple and a crisp tartness on the finish. This is a very good food wine (think spicy Thai or Indian dishes) or a warm summer day patio & pool sipper. And most importantly, the wine is a good showing of this grape's varietal characteristics.
The grapes for the 2016 Twomey Cellars Anderson Valley (Mendocino County) Pinot Noir were sourced from the Monument Tree Estate Vineyard and the Ferrington Vineyard. Fairly fragrant on the bouquet showing notes of dried rose petal and cranberry with hints of dessert spices. Very pleasing on the palate – with flavors of cranberry and cherry with supple fine tannins that linger softly. A very balanced wine.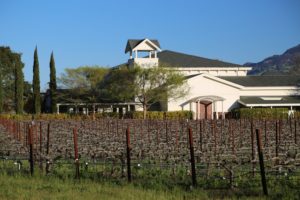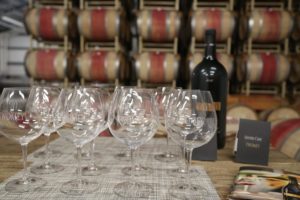 The focus with Merlot is to create an elegant but age worthy Pomerol styled wine using California fruit while at the same time retaining a French style of actual wine making. This wine is never 100% varietal but rather is blended with smaller amounts of other Bordeaux varieties (typically Cabernet Sauvignon, Cabernet Franc and Petit Verdot). During several visits to date, we have tried a few vintages including their beautiful 2003 Napa Valley Merlot. This is a robust wine of this variety, with deep garnet colors and an intriguing bouquet revealing aromas of plums, cherries and blackberries. It is well rounded and smooth on the palate. The tannins on the finish are silky and do not overpower or destroy the balance of this wine. Their Merlot wines are extremely popular with restaurants nationwide, especially steakhouses.
The 2014 Soda Canyon Ranch Merlot, Napa Valley (one of the few single vineyard Merlot bottlings that we have come across in the Napa Valley) reveals fragrant aromas focused on the fruit rather then secondary influences from barrel aging. Shows blueberry, cherry and hints of tobacco. Supple across the palate (especially on the entry) shows very good acidity with flavors of black currant and blackberry. Lingers with a red fruit slight tartness and somewhat dusty well-integrated tannins. The texture on the finish feels nice.
—
Winery & Grounds

The entrance to the tiny parking lot is located 453 feet in from Highway 29 on Dunaweal Lane just south of the tiny community of Calistoga. Look for the pretty white wooden house with the portico style roofed tower.
The tasting room is modern and intimate with a small curved tasting counter – barrels of wine can be seen adjacent to this room. A wine glass is included with every tasting and unlike some other wineries visitors are given a clean glass – not the one used for the tasting. Similar to the glasses at Silver Oak, these wine glasses are wide, thin rimmed and tall…very pleasing stemware. And like at the other Twomey tasting room a wooden box is displayed for visitors with the last name of Twomey to add their signatures and also list their home city.
OTHER TWOMEY TASTING ROOMS
Healdsburg
Twomey also operates a beautiful tasting room just west of Healdsburg (a less then 10 minute drive from the Healdsburg Plaza) in neighboring Sonoma County and is one of the few Napa wineries with another tasting room outside of the valley. Features excellent views from the all windows surrounding the tasting room overlooking pristine vineyards and of Mt St. Helena and Geyser Peak in the distance. Also pretty views below from outside on the terrace.
The focus of a tasting here is on single vineyard Pinot Noir and appellation specific wines. Visits are by walkin or by reservation for more intimate experiences (a sit down tasting and or a tasting + tour).
Philo, Anderson Valley
The Duncan's purchased an existing winery and 38 acres of surrounding Pinot Noir in the summer of 2019.
Visit and photos coming in 2020.
Dundee, Willamette Valley
The Duncan's purchased the Prince Hill Vineyard in Dundee Willamette Valley (just south of Portland Oregon) in 2017 and released their first wine under the Twomey label from this vineyard in September 2019. The property was previously owned by winemaker Dick Erath who named the vineyard after the musician Prince – Dick's sons favorite artist.
Visit and photos coming in 2020.
For more information or to join one of their wine clubs, visit: www.twomeycellars.com.