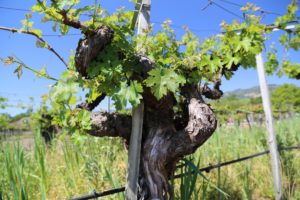 Tudal Winery is a very small winery located in the northern part of the Napa Valley – backing up right next to the Napa River. The owner, John Tudal lives on site.
His father Arnold (now deceased) moved here in 1972 after selling his vegetable farm near Alameda (San Francisco Bay Area). John was twenty at the time and helped his father plant their original vineyards here to Cabernet Sauvignon with advice from one of Napa's winery legends, Louis Martini. The property is 10 acres planted to a number of vines but this original section is simply called the "Old Block". Some of these original vines are sporting massive gnarled trunks – by Napa standards they are very old. Arnold began making home wine soon after he planted his vineyards – his first commercial release was in 1979 – making this one of the Napa's select few wineries who are still producing wines after being founded in the 1970's or earlier.
Tudal is located towards the end of Big Tree Road just before you reach Benessere Winery. With small quantity hand crafted delicious and we might add, affordable wines, some with names like Flat Bed Red & their much larger production Tractor Shed Red, its no wonder their wines are highly sought after! Four distinctive categories of wines are available – the Legacy Series which focuses on wines from the property, The Founder's series which focuses on wines dedicated to John's grandparents, Winery-Icons Series which showcases wines with labels representing various icons on the property and the Vineyard Series which are wines from vineyard select locations within the Napa Valley.
The winery has quite the assortment of odds and ends lying around. The faded old Massey-Harris tractor dates from 1947 and was purchased by John's grandfather, George "Baci" Cerruti in 1947. It was in use on the family farm in the San Francisco Bay area until 1972. Today it no longer works – is a farming memory for the family that has become probably the most photographed item on the property by visitors.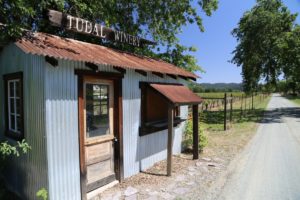 The winery is surrounding by various metal statues, random signs and eclectic landscaping. The old Tractor Shed serves as the tasting room. As John says, "we are are winery with the feel of Sonoma, or Lodi or the Central Coast in the Napa Valley". A visit here is refreshing with good people, a homey feel and certainly none of the flash that some of the newer Napa wineries exhibit.
A tasting table is setup inside the barrel room but if weather permits we recommend tasting outdoors. Also note the "signature" room – with hundreds of notes written on the walls (and the ceiling if you can reach) by satisfied visitors.
A variety of wines at various price points are available. The names of the wines have stories – one named after John's Grandfather Baci.
The estate bottled Cabernet Sauvignon is excellent; it is very dark in color full of spices in the nose and on the palate as well as containing flavors of blackberry. Also be sure to try their Old Vine Cabernet Sauvignon. Old Vine isn't a term normally used to describe Cabernet Sauvignon (usually reserved for Zinfandel), but age has not hurt this wine! The 2002 was current release when we tasted which is a bit older than most wineries' current vintage which is not a bad thing. It has had additional time in the bottle but will easily cellar for another 10-15 years.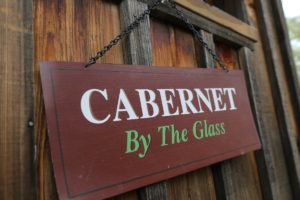 Their wines have been served at several White House functions and sports celebrities often enjoy their wine (sometimes poured at San Francisco 49er's events). The great baseball player Joe DiMaggio also loved their wines and he spent short vacations on the property.
They have employed several winemakers over the years – Ron Vuylsteke has been with Tudal for 20 years (unusual these days for a winemaker to remain with a winery for so long). They have also employed the services of notable winemaker Kirk Venge and currently employ Rudy Zuidema as their consulting winemaker.
Be sure take some time to walk around the property as there is much to see; planter beds now serve as home to their vegetable garden. The same gardener that manages the wonderful gardens at Kuleto Estate is also in charge of the gardens here. Besides at the winery you can find their wine locally at several wine shops including the Wine Garage in Calistoga.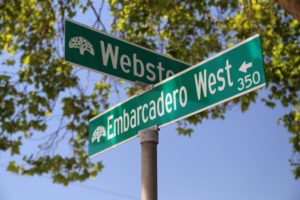 In 2011 Tudal Family opened their second tasting room Cerruti Cellars in Jack London Square in Oakland (Address: 100 Webster Street, Suite 100). Named after John's grandfather George Cerruti (an Italian immigrant who came to California from Genoa in 1912). The site of this tasting room is a building constructed in the 1920's that was used for cold storage by Armour Food Company.
The full lineup of Tudal wines can be tasted here. No appointment needed. Friendly and energetic hosts. Live music plays in a room adjoining the main tasting room – usually on the weekends in the spring and summer months. There is even an outdoor terrace with small tables overlooking the train tracks and at times the passing trains.
The tasting room is surprisingly large with several side rooms and spaces for more private tastings. Open on the weekends from 1-6pm and by appointment the rest of the week. Parking is metered across the street.
For more information visit: www.tudalwinery.com
Cerruti Cellars Tasting Room, Oakland

Napa Valley Winery