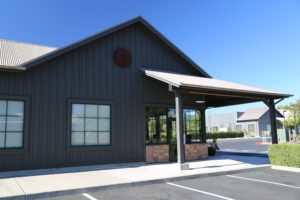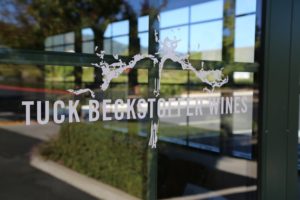 Tuck Beckstoffer Wines currently operates a number of labels including 75 Wine Company, Mockingbird, Semper Wines, Victory Vineyards, and Vinifera. This winery was founded by long time Napa native Tuck Beckstoffer with their first commercial release coming in 2004. However for serious Beckstoffer followers, Tuck commercially made some now much sought after Cabernet Sauvignon in the late 1990's. A little history is also in order. Tuck's father is Andy Beckstoffer who after moving to the Napa area in the late 1960's would later go on to establish Beckstoffer Vineyards. Today the Beckstoffers are Napa's largest Independent family growers providing top notch fruit for a number of well known wineries. They have acquired several historical vineyards over time and their fruit is in extremely high demand among premium wineries. The Beckstoffers choose their vineyards carefully, selecting excellent terroir, but then also carefully micro-managing the vines and implementing leading viticultural practices. Not only do they own a number of a Napa Vineyards but they also own and manage vineyards in other Northern California counties including Lake and Mendocino. If you spend any sort of time in the Napa Valley you will definitely see some of their vineyards and signage.
Tuck Beckstoffer's specialty in the wine business is farming; he grew working among the vines and quickly learned to recognize high quality vineyards. As a result he very carefully selects premium sites for his own wines and based on his family's vineyard management company he has a plethora of vineyards to choose from. You will never find bulk wine used for any of his labels, even the entry level wines. Their focus is on over-delivering quality of wine at a reasonable price. Over time Tuck has established invaluable contacts with local farmers for single vineyard sources as well as having the luxury of being able to use fruit from some of the Beckstoffer's holdings both in Napa and beyond.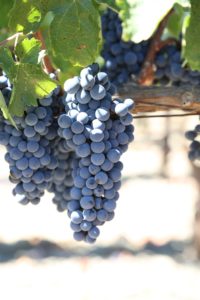 Their 75 Wine Company wines are named in honor of 1975 which is when Tuck came to the Napa Valley. One "value" wine is their 2007 Napa Valley Sauvignon Blanc. This is a crisp clean all tank aged single vineyard wine from the organically farmed Block House Vineyard, Napa's oldest Sauvignon Blanc vineyard. It undergoes no malolactic fermentation. The nose is very clean with notes of cut grass, green apple and hints of tropical aromas. The wine stays crisp and lean throughout the well balanced palate. The 2007 Niveus under their Vinifera label is a delightful blend of Sauvignon Blanc and Semillon. Some of the nicest Sauvignon Blancs we have tried in the Napa area are typically blends and this wine is no different. The keyword to this wine is more. More fruit, more creaminess, more aromatics and more flavor. It was aged in French Oak, was aged surlie (helps bring out a more viscous rounded mouth feel), and malolactic fermentation was not allowed to occur. The richness of the mouth feel makes a pleasing impression with various stone fruit flavors including white peach, nectarine and apricot. There is also a nice long finish.
The Beckstoffers are pioneers in the Red Hills Appellation in Lake County having developed a number of vineyards in this high elevation location. Lake County is north of Napa and boasts the cleanest air of any county in California. This is also home to a developing vineyard industry where land is still much more affordable than say the Napa Valley. As Tuck says, "the Red Hills have the possibility of being what Oakville is to Napa, but for Lake County". Oakville of course has the recognition and long history of grape growing – the Red Hills just became an appellation in 2004 and growers are still finding out what this area is capable of and fine tuning their viticulture practices. This appellation sits between the Vaca and Mayacamas mountain ranges; both ranges also form the North South borders of the East and West sides of the Napa Valley and are hotspots in Napa for growing premium Cabernet Sauvignon at elevation.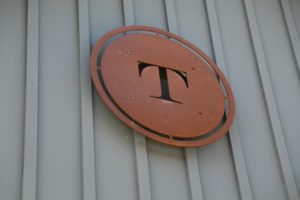 Their vineyard in the Red Hills runs from about 1500 feet up to 2600 feet – the highest points of this appellation are slightly above 3000 feet, certainly much higher than what you will find in Napa. Tuck spoke of the challenges of starting a vineyard in this area. Boulders of obsidian half the size of rooms were removed…or if you prefer another comparison, the size of cars. The shallow soils in this region are red and extremely rocky all composed of black glassy obsidian rock and gravel and there is excellent drainage. These are the perfect stress soils & conditions (or lack of soil) for growing Cabernet Sauvignon! Their 2005 100% Cabernet Sauvignon (75 Wine Co label) from their Amber Knolls Vineyard in the Red Hills Appellation is an ideal expression of terroir and is representative of what this area can produce. In addition this wine has an excellent price to quality ratio. A touch of toasted oak intermingles with ripe fruit on the nose with a palate full of dark black fruit containing notes of blackberry and black cherry. There is also a neat earthy component to the wine with notes of crushed rock and mineralities with a rather smooth finish anchored by smoky dusty tannins.
The 2005 Vinifera 100% Cabernet Sauvignon was sourced from two of the best appellations in the heart of Napa's Cabernet Country, Oakville and Rutherford. Tuck spent over 2.5 years searching for vineyard sites that met his exacting specifications. Cabernet Sauvignon from these two appellations often run $75 and higher. Not so with Vinifera – its priced under $40 and as of press time is their most produced wine. As with Beckstoffer's wines the core focus is to deliver a quality wine at a reasonable price. This wine clearly does that. It is an excellent food wine showing bright fruit and lively acidity. Its balance is the key to pairing with food – not one component dominates. The nose is elegant and refined leading to a palate bursting with red cherry and red currant flavors. Structurally this wine is also in balance; it also has a pleasant lingering finish.
Tuck Beckstoffer's wines have fairly good distribution nationally as they are currently found in about 40 states. In addition they are found in select parts of Canada and Asia. Locally you can find their wine at Dean & Deluca. For their portfolio of wines, visit: www.tuckbeckstoffer.com
NOTE: in early 2016 Tuck Beckstoffer purchased the Dancing Hares Winery and Estate from original founders Bob Cook and Paula Brooks. Bob spent 3 decades in the computer software business and has enjoyed drinking fine wines for many years. He first fell in love with the Napa Valley during one of a number of trips to the area. In the mid 1990's he started looking for property and by the late 1990's had purchased a hillside estate.
There are 5 vineyard acres planted on the 31 acre estate which lies in the northern part of the valley below Howell Mountain; their property is hillside, located just above the valley floor. The vineyards were planted in 2000 and are separated into a number of very small unique blocks. Major Bordeaux varietals are planted on site.
After Tuck Beckstoffer purchased the property, it has since been renamed to the Tuck Beckstoffer Estate.
Stay posted for major updates to this review later in 2019 or beyond once we have had a chance to revisit the winery.