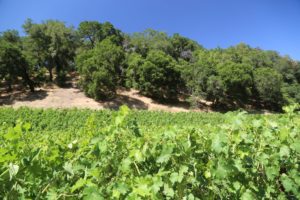 Amulet Estate is a 20 acre property tucked into the hills of northern Napa Valley in what historically was known as Dego Valley (now Italian Valley). The property has been owned by multiple individuals over the years including Robert and Paula Brooks (who we met with years ago). During their ownership, the property and wines were known as Dancing Hares. We first discovered the Dancing Hares wine at a premium tasting at ACME Wine Shop in St. Helena. A number of top Napa Valley wines were represented at that tasting, produced by some of Napa's finest vineyard sites, but it was the Dancing Hares wine that ultimately stood out.
Robert spent three decades working with computer software; he enjoyed drinking fine wines for many years. He first fell in love with Napa Valley during one of a number of trips to the area. Beginning in the mid 1990s he began looking for property in Napa Valley and by the end of the decade had purchased this hillside estate. He is also a prolific and very accomplished author of both national security thrillers and children's book genres. During the Brooks ownership, they built a winery and tunneled a cave, finishing in 2009. The winery was designed by architect Howard Backen and over the years the cellar has been influenced by several winemakers who made wine here including Andy Erickson, Philippe Melka and Shawn Johnson.
In 2016 the Brooks sold the estate to vintner, Tuck Beckstoffer (son of grape grower Andy Beckstoffer) and the property was renamed to Tuck Beckstoffer Estate. In 2020 several Toronto based investors took majority ownership of the property through Generation Capital (including president of Generation Capital, Matthew Cribbins) and by early 2021, it was renamed to Amulet Estate. As of late 2022, Tuck Beckstoffer is no longer involved with ownership of Amulet Estate. The first vintage bottled under Amulet Estate was in 2018. The name Amulet was originally one of Tuck Beckstoffer's wine brands, the name referring to an object that protects a person from trouble, or a good luck charm.
The property was first planted to vines in 2000. After the Glass Fire of 2020 damaged much of their vines, their vineyards were completely replanted in 2021 and as a result, no estate wines were produced for several years. The fire was a silver lining of sorts as it allowed them to update both varieties and clones planted and even change row spacing and increase the height of the fruit zone for more airflow. And they have transitioned into organic farming and are using products such as biochar (organic matter converted to carbon/charcoal like material using heat in an oxygen free environment) and fish emulsion.
The lower block which is bisected by their driveway and is in the St. Helena appellation, was originally planted to red varieties but after the fire it was planted to three clones of Sauvignon Blanc. The upper block or 'saddle', despite its short walk from the lower block is in the Howell Mountain Appellation and was planted entirely to Cabernet Sauvignon. The differences in soil types and exposures are remarkably different between these two blocks; the lower section is primarily sandy loam while the upper section is extremely rocky. Total planted vineyard acreage on the property is 5 acres, managed by Barbour Vineyards Management Company.
The primary focus of Amulet Estate's winemaking is on producing limited production, hand-crafted 100% varietal Cabernet Sauvignon, focusing on single vineyard exceptional sites from individual sub appellations within Napa Valley. Their source vineyards already have proven pedigrees; their wines showcase the terroir differences in Napa Valley from vastly different sites ranging from valley floor to hillside spanning a diversity of soil types and microclimates. In addition, Amulet Estate produces a single bottling of Chardonnay from the Platt Vineyard located near the tiny community of Freestone in neighboring Sonoma County. Their total production of these wines is usually between 1,000 and 1,500 cases per year.
A much larger produced red wine bottled under a companion label, AE is produced primarily for distribution in select markets (mainly restaurants). This wine is produced from a single vineyard site in Yountville. An AE white wine was originally produced from purchased fruit but will transition to their estate Sauvignon Blanc once the vines come into production. And the Mockingbird red, an existing label dating from Tuck Beckstoffer's ownership was produced for the last time in 2018. This has transitioned to the Amulet Estate Red wine, a blend of the best barrels of wine from each vintage regardless of vineyard site.
Select Wines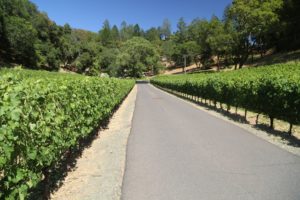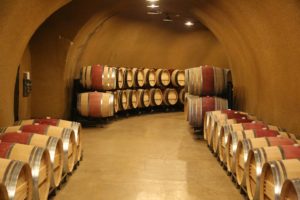 Platt Vineyard ranges in elevation from around 450 to 800 feet and as the crow flies, is only about 5 miles inland from the chilly waters of the Pacific Ocean. Because of this site's proximity to the ocean, this is a cool weather vineyard with summertime temperatures much lower than even slightly to the east in Sebastopol. The 2019 Amulet Estate Platt Vineyard Sonoma Coast, Sonoma County Chardonnay is deep gold in color; this wine offers a distinctive layered bouquet with no singular aromatic presence dominating. Aromas include chamomile, citrus blossom, apple, light notes of warm butter and hints of hazelnut. It offers a lovely supple texture across the palate with a creamy characteristic. Features flavors of green apple, kiwi, pear, a minerality nuance and a noticeable brightness of acidity, especially on the long finish. Its mouthwatering essence begs another sip. This wine was fermented both in barrel and in concrete eggs and was allowed to go through partial malolactic fermentation. It was aged in 40% new French oak; the winemaking team prefers to use barrels from Allier which lightly complements the fruit rather than overpowers.
In 2021 Amulet Estate produced for the first time, an extremely rare white wine, a blend of several varieties from 100+ year old head-pruned, dry farmed family owned and managed Proof Vineyard in Rutherford located on the railroad track side of the intersection of Highway 29 and Zinfandel Lane. The vineyard footprint encompasses approximately 4 acres and also includes some red varieties, i.e., Petite Sirah. When we first heard of this wine, the age of the vineyard and it was made from white varieties, we immediately thought of winemaker David DeSante who works with older white wine vineyards in Napa Valley. And sure enough, he also has access to this vineyard. This Amulet Estate "AE" bottling is simply labeled as White Wine, Napa Valley and is a blend of 55% Sauvignon Vert, 35% Semillon and 10% other white grapes including Golden Chasselas.
A refreshing commonality we noticed on all their red wines is their winemaking team's careful and thoughtful handling of tannins, regardless of site. Their skillful management showcases structured wines, yet at the same time these bottlings are approachable in their youth while providing the wines an age-worthy backbone.
For the 2018 and 2019 vintages, Amulet Estate produced a wine from Beckstoffer's Georges III Vineyard in Rutherford but then transitioned to the Sleeping Lady Vineyard in 2021. Georges III is the largest single vineyard holding for Beckstoffer in Napa Valley; the site is 300 acres, of which 250 are planted, organized into 29 unique blocks. The site is planted entirely to Cabernet Sauvignon (multiple clones) across a variety of rootstocks and trellising systems. The property features several soil types including cortina and bale loam and higher clay content in the southern part of the vineyard. Some of the eastern blocks closest to the Silverado Trail are extremely rocky. Conn Creek runs the length of the western portion of the vineyard – deepened and widened by the U.S. Army Corp of Engineers in the 1920s. During the widening of Conn Creek, a significant amount of river cobble was spread outside of the river channel on the nearby lands – it is from one of these alluvial blocks that Amulet Estate sourced their Cabernet Sauvignon.
The 2018 Amulet Estate Cabernet Sauvignon Georges III Vineyard is dark ruby in color; initially shows more barrel influence but give this wine time to breath in the glass, its aromatics will continue to evolve and impress, showing more fruit characteristics. The bouquet offers notes of clove and other darker baking spices, mocha, Graham cracker, old cedar, espresso, a sweetness of blackberry and hints of licorice. The tannins show a medium grip are dusty, rounded and well-integrated into the finish.
The 2018 Amulet Estate Cabernet Sauvignon Oakville Ranch was sourced from one of the properties' higher elevation blocks (1,700 feet). During the time of our visit to Amulet Estate, assistant winemaker Patrick Quigley remembers when he first visited this site thinking, "Cabernet Sauvignon truly belongs here" and when he tries this wine it always takes him back to walking the vineyard in the early mornings in late summer or early fall. This wine is dark ruby in color; it initially offers aromatics that are floral (violets) complemented nicely by darker fruit aromas including blackberry. As the wine opens shows a sweetness of fruit along with some subtle old cedar aromatics, sage and dried herbs. The bouquet is slightly savory. The palate offers flavors of plum and darker fruits. Immediately noticeable is this wine's lovely texture; the tannins are dense but not course in their textural feel, rather they are chalky/earthy. Linger with bright mouthwatering acidity, especially noticeable on the finish. This is a big Cabernet Sauvignon but at the same time its nicely balanced. It was aged in approximately 80% new French oak.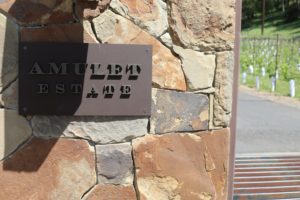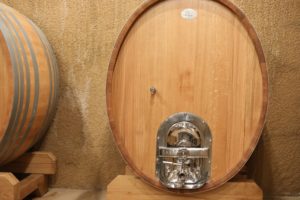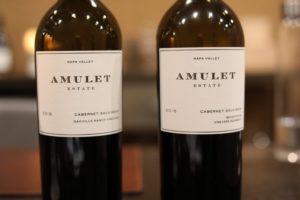 The 2018 Mockingbird was crafted to be a reserve style bottling, not the most robust wine but one that certainly has structure but is simultaneously elegant, balanced and age worthy. This wine is dark ruby in color and offers a very engaging bouquet that one simply does not want to stop smelling. Its aromatics are both floral and fruit driven with blueberry, blackberry and some darker spice notes including dried herbs and old cedar box. This is a very expressive wine both aromatically and on the palate; offers darker fruit flavors anchored by a noticeable grip of both long lasting tannins and youthful freshness of fruit complemented by bright acidity. This wine is primarily a blend of two vineyard sites; Oakville Ranch which contributes the savory characteristics especially on the bouquet and the more elegant Bale Mill Creek, an alluvial rich site located on the valley floor north of St. Helena.
The 2019 Amulet Estate Cabernet Sauvignon Steltzner Vineyard (Stags Leap District) is deep ruby in color with purplish tinges on the rim; this wine is opaque. The bouquet offers generous and lively fruit aromas of ripe blackberry, boysenberry and plum along with lighter notes of lavender and violet. The oak is a complementary character in this wine, there to support the beautiful fruit. The palate offers an intensity of fruit flavors including blackberry and ripe plum, anchored by a firm structural backbone of finely woven, but broadly dispersed tannins. Finishes bright with lively acidity. This wine is quite approachable in its youth.
The 2015 Dancing Hares Proprietary Red is a blend of Cabernet Sauvignon, Merlot, Cabernet Franc and Petit Verdot; noticeably dark purple in the glass it offers aromatics of blackberry, mocha, a hint of cedar box and a subtle savory dried herb character. This wine sports a lovely texture and is quite approachable in its youth; the tannins are firm but fine grained and chalky in nature. Hints of mocha, cedar and toasted oak also complement the long finish.
Visits are by appointment only and are typically hosted with either their assistant winemaker or winemaker. Visitors are greeted with a glass of Chardonnay and given an overview of their vineyards and then walked into the winery followed by a tasting inside the cave. Visits are highly personalized, educational with conversation about wine and other topics. For more information, to sign up for membership or to schedule an appointment at Amulet estate, visit: www.amuletestate.com
Lower estate block, Sauvignon Blanc

Upper estate block, Cabernet Sauvignon

Other