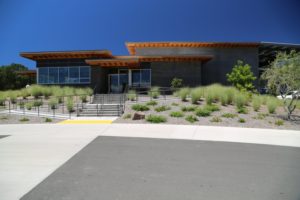 Titus Vineyards is a family owned vineyard founded by Lee & Ruth Titus in 1968. Today they own 45 acres of land (40 planted to vineyard) just north of Deer Park Road next to the Silverado Trail. In addition, they own a 10 acre vineyard spread, off of nearby Ehlers Lane. Their main property is actually quite historic with the original vineyards on site planted in the 1880's. For many years the Titus's provided grapes to other well-known Napa Valley wineries including Charles Krug and today they still sell a portion of their harvest to other vintners. Charles Krug has been buying grapes from Titus since the mid 1940's from an original contract merely based on a handshake. This is certainly one of the oldest privately owned vineyard contracts in Napa!
Their main vineyard grows on the valley floor and is near glass mountain, which is appropriately named after the shiny black obsidian rock in the area. During a recent vineyard tour you could easily see lots of this rock scattered among the vines. One side of the vineyard is bordered by what is probably Napa's only peach orchard and the other side backs up against the Napa River. Their other vineyard is also valley floor but it actually sits up on a small knoll with extremely rocky soils. In this regard, despite the vineyard being located on the valley floor, it is almost more like a hillside vineyard based on the soil type. Here is an interesting bit of trivia based on old newspaper records – one of the wind machines in the middle of their vineyard was the first wind machine installed in the Napa Valley.
When the Titus Family purchased the property many varietals that don't exist in Napa were already planted on site. These are varietals you may not have heard of, Mondeuce, Burger, and Golden Chasselas. With both the foresight as well as a previously acquired taste for Bordeaux varietals, these are the types of grapes they replanted in the early 1970's. Currently several of the older varietals are dry farmed. Ruth and Lee had four sons and today two of the sons, Eric and Phillip oversee the vineyard and winery operations.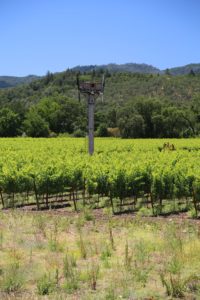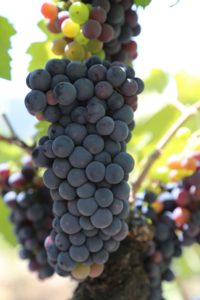 Today it is somewhat rare for a vineyard of this size to be managed "in house" rather than hiring one of the numerous area vineyard management companies. However by managing the vineyard themselves they have complete control of all aspects of their property. In addition, they both grew up on the property and know the vineyard nuances like no one else. It is Eric's job to deliver high quality grapes to his brother Phillip, who has been their winemaker since day one.
They released their first commercial vintage in 1990 and even after all these years of producing high quality wines, they are still one of Napa Valley's best kept secrets! Visits are typically for wine club members or very serious wine enthusiasts. Their focus is typically on blended estate grown red wine (although they do have a bit of Sauvignon Blanc planted on site which is one of Napa's nicer warm weather styled Sauivignon Blancs – the 2014 has a pleasing creaminess, softness and richness of flavor; yet retains a beautiful balance. It is not made in what is often referred to as a greener New Zealand style of wine from this varietal.
The 2006 Zinfandel is blended with Petite Sirah to fill in "any holes" that Zinfandel might have as well as add some nice coloring. This is a lively zesty wine not the least bit jammy. It has briary aromas including blackberry and raspberry leading to a "fun" fruit and spice driven palate that leaves you only wanting more.
Their Cabernet Sauvignon is the "flagship wine" and is always blended with several other Bordeaux varietals. Their 2005 vintage is a winner. The 2005 Cabernet Franc has good structure, lots of fruit and a long finish. You should also be familiar with their limited quantity production wine simply called "Lot 1". During an event we heard several people say this wine was their first experience with Titus and that after tasting it they were quickly sold on the quality!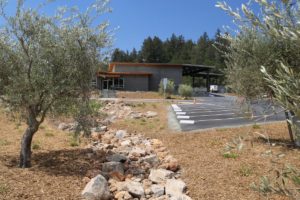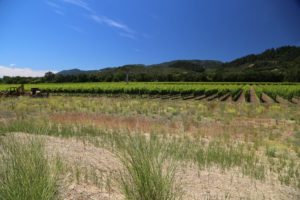 Usually only 100+ cases are produced with most going directly to their wine club; the 2004 vintage is a big wine that is a very unique blend of Petite Sirah and Petit Verdot with a touch of Zinfandel and as you would expect from these two "big" varietals when combined, produces a wine of power and strength and dark color. However the tannins do not overwhelm, rather they are integrated nicely and what you will most likely take away from this wine is the delicious fruit flavors of plum and blackberry. Titus tries to make red wines that are full bodied and balanced and the vintages we tried, match this criteria perfectly.
All their wines were made for many years at Chappellet Winery in the hills east of Rutherford and also at Laird Estate,just north of the city of Napa. However, their own winery was completed towards the end of 2015 and all production is now on site. The winery is raised above the vineyards – all the soil for this rise in elevation is the result of dirt from cave tailings donated to them from the drilling of caves for other wineries.
Titus also produces a very limited olive oil made from a number of different olive varieties that surround parts of the property. Be sure to ask about their wine club which can be personalized to match your tastes – in other words unlike other area wine clubs you are not locked into what the winery decides to ship you.
Also of note is their pricing – based upon Napa standards it is rather reasonable; this good price is passed on to the consumer based upon the fact they have owned their vineyards for a long time.
Note the dual sided wind fan that sits among their vineyard – easily seen to the West as you pull in the parking lot. As far as we know this is Napa Valley's first wind fan machine – Phillip mentioned reading an article in the St. Helena Star dating from 1957 mentioning the installation of this fan on the property. At the time it was billed as cutting edge new technology for the valley helping mitigate temperatures during certain times of the year. It is still used during cold periods, usually in April.
Lastly, if you have a number of extra hours in your day be sure to check out the Titus TV section on their website starting with Harvest 2008; the very cool often entertaining and educational video clips feature Eric & Phillip Titus with real behind the scenes coverage of what actually happens during harvest. You can view this directly here: www.ustream.tv/channel/titus_tv When the videos are being filmed live, viewers are able to submit their questions real time.
For more information and to join their wine club (in addition to wines, membership also gains access to winery hosted events – we have attended several of these casual events over the years – they are lots of fun) visit: www.titusvineyards.com