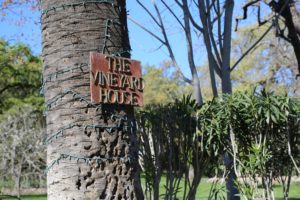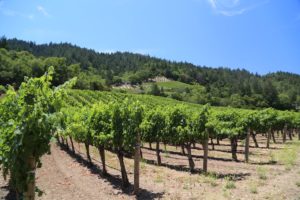 The Vineyard House – Jeremy Nickel, the proprietor of The Vineyard House in Oakville is continuing his family's rich legacy and history in the Napa Valley through his own vineyards and wine. His story begins with his father, Gil Nickel – who was one of the founders of Far Niente, founded Dolce and later, Nickel & Nickel. The wines of the Vineyard House pay tribute to his father Gil.
Gil Nickel, originally from Oklahoma became an ordained Baptist minister early in his life – he would spend time preaching and providing life direction to inmates in local prisons. Eventually he completely switched gears, from religion to science, and graduated from Oklahoma State University where he double majored in Physics and Mathematics. Upon graduating he served with the Oklahoma Air National Guard, spent a tour in Vietnam and after returning stateside was hired to work in the U.S. Navy Laboratory in Southern California. Jeremy recalls his father traveling from Oklahoma to San Diego in a single engine prop plane by following the windy asphalt of Route 66 across the country.
Gill had never touched a drop of alcohol in his life up to this point. Then he took a trip to France and discovered French wines and particularly fell in love with the white wines from the Montrachet region. The seeds were sown of what would eventually become a passion for the rest of his life.
In 1975 Gil moved to San Francisco. At the young age of 30 he started making wine in his home on Nob Hill. Calling his home production "Nob Hill Cellars" he entered it in the Sonoma County Fair in 1978 and took third place. Not bad. In 1979 he took a trip up to Napa to look for vineyard property. Finding an old abandoned stone winery building that dated to 1889 (this winery had been closed since Prohibition) he and several partners purchased the property. With three years of restoration they dug a cave and turned it from an old stone building overgrown by the surrounding forest into a beautiful estate property. And over the years this has became one of Napa's venerable names – Far Niente.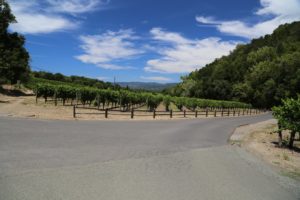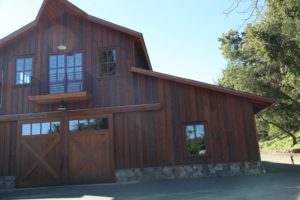 Jeremy's grandfather founded the company Greenleaf in 1945 – a retail nursery. Then a family member convinced his grandfather to sell wholesale rather than retail. Today, Greenleaf is one of the largest family-owned nurseries in United States with numerous employees and nurseries spanning across several states. Greenleaf still focuses its sales on the wholesale market with millions of container grown plants sold annually. And the company is still under the Nickel family ownership.
Jeremy remembers taking a trip with his father to France when he was young and spending time in a wine Châteaux. One of the heirs of one of the wineries was about his age and told Jeremy that he was going to be the winemaker some day. Jeremy then asked his father if he could also be a winemaker. Gil told him, "if you are lucky you can be, but you don't have to be".
Fortunately Gil wanted to ensure his son had the ingredients to succeed in winemaking should he follow that career path. In 2003 after Gil passed away – he left this property and house to Jeremy. Jeremy has since expanded the property – there are now 33 acres of which 25 are under vine. This is Oakville of course and Cabernet Sauvignon is one of the most planted varieties in this appellation and certainly the variety that has put this unique part of the Napa Valley on the map. Jeremy grows Cabernet Sauvignon, Cabernet Franc and in a testament to his father's original love affair with Montrachet, there are 10 acres of Chardonnay still under vine.
This is the Halter Valley (named after the type of show horses that used to be kept on the property), a little visited side valley in the foothills of the Mayacamus Mountains in the western part of Oakville. Jeremy's vineyards form the center of this valley – his neighbors are some of the "whose who" of Napa Valley – Harlan is across the street, Bond up the street and Futo Estate is next door and his family's Far Niente is just East of his own property.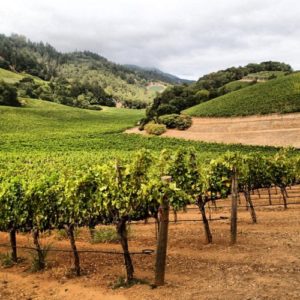 As Jeremy says, vistas from his vineyard "are like living in a painting by Monet". This tiny slice of Napa feels secluded and so far removed from the rest of the valley – whereas in reality it is mere minutes from the often busy Highway 29 that runs through Oakville.
This property is one of the more historic sites in the Napa Valley. The house which inspired the name of his wines was originally built in 1853 by William Baldridge – a prominent Napa citizen. William participated in one of the early emigrant parties to California and was one of the men present in 1846 during the historic Bear Flag Revolt in the town of Sonoma. The entire property feels like walking back in time – with stately Palm trees gracing the entrance to the driveway, massive hundreds of year old Oak trees, and one of the largest fig trees you will ever see.
It is interesting to note that Jeremy holds a blind tasting, appropriately titled the "Cult Cab Competition", for select trade each year and puts his wine against some of the biggest names in the valley. The first year he held this competition his wine came in as the overall third favorite choice – against Napa heavyweights (and significantly more expensive wines) such as Screaming Eagle, Abreu Vineyards, Eisele Vineyard etc.
Select Wines
Their first vintage was 2005. Each vintage is small – typically just several hundred cases. These are balanced wines – with balanced structure on all three vintages tasted. It should also be noted that some wines can hold up better in the bottle after being opened than others; each of these wines did just that. The wines did not drop off even after several days; each vintage continued to develop additional nuances and complexities (including a softening of the tannins) as they were exposed to some air. For the wine to hold up well after being opened, one must start with exceptional fruit – and then of course the winemaking style and the wine's extraction comes into play.
2007 shows dark fruit and a dark nose. In our opinion, this is the most intriguing bouquet of the three vintages. Unlike the other two vintages there is a slight menthol and even a subtle anis nuance to the bouquet. Earthy and dusty tannins anchoring a long satisfying finish. Smooth, yet with structure.
2008 – of the three vintages this shows the prettiest bouquet. It is floral and elegant with notes of cherry, raspberry and cedar on the nose. As it breathes hints of mocha show. The palate is well endowed with fruit – it is full bodied – both blue and black fruit. The finish is layered with big yet balanced tannins – holding up well to the fruit.
2009 is still a young vintage. The nose is initially closed – but with time becomes more aromatic as it opens – showing more black fruit with also a gravelly component – with mineralities. This wine has very good acidity and structure.
—
Take a careful look at the label – those who are overly astute will note that placed in the gold tendrils of the vines, Jeremy's fathers name is spelled – turn the bottle around and you see an embossed image of the actual "vineyard" house. Looking out the window on the second floor is an image of Gil Nickel making a toast with a glass of wine, perhaps a toast to his son who he would be rightly proud of continuing on his family's wine legacy in the Napa Valley.
Gil's passion for racing cars and historic automobiles has carried to his son. Jeremy is also a vintage race car driver and collector of these unique vehicles. He has his own racing team – visit: www.jeremynickelmotorsports.com for more details.
Jeremy has also created a historical look at To Kalon Vineyard – more details here: www.historyofto-kalon.com and he owns and operates To-Kalon Farm in Wellington, Florida – www.to-kalonfarm.com
Jeremy selectively distributes his wines in states that he has a personal connection to – California, Texas, Nevada and Oklahoma (where he still calls home). His wines are found at some of the big name casinos in Las Vegas including MGM and the Bellagio. Locally the wine is found at several premium restaurants including the French Laundry and Morimotos. The wine is sold direct or through their website. Visit: www.tvhwines.com
To-Kalon Farm, Florida
Visit, notes and photography coming by 2022.