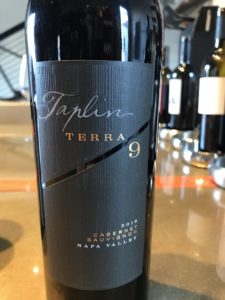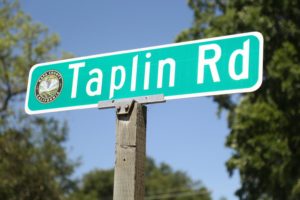 Taplin Cellars as a wine label is a newer addition to the Napa Valley but the Taplin family history in the area dates back to 1871. First Taplin family member to move to the Napa Valley was John Orange Taplin, a dairyman who came to California from Vermont during the Gold Rush, settled in San Francisco in 1856 and eventually moved north to to find a home for his dairy cows. In 1866 he established a dairy along the Silverado Trail near the intersection of the road that was named for him (Taplin Road) – his dairy was located on property that extended south towards Zinfandel Lane. Milk in those early days was transported to homes in metal containers on top of a horse-drawn wooden carriage. Some of the better wooden carriages that we have seen in the Napa Valley used leather brakes – the more basic ones used wooden brakes!
Taplin Road was originally called Spring Valley Road – the old Spring Valley Schoolhouse dating from 1894 still stands next to Taplin Road. He sold his dairy in 1884 to his sons John and William – who ran the dairy until about 1940.
The Taplins have a strong connection with one of the Napa Valley's early vineyard owners, the Lewelling family. One must start with prominent horticulturist John Lewelling; John came to the Napa Valley in 1864 and purchased property in St. Helena from George Yount (Yountville's namesake). He grew several hundred acres of grapes and and also numerous other fruit trees. When John Lewelling died, the California Horticultural Society declared him to be "The Father of California Horticulture". His decedents continue to farm Lewelling Vineyards directly next to Taplin Vineyards.
—
Fifth generation Napa Valley residents and great-great-grandsons of John Taplin – Stephen Taplin and his brother Bill own 28 acres in St. Helena near the lower reaches of the Mayacamas mountains off of Lewelling Lane. Twenty six acres are planted to various clones of Cabernet Sauvignon. Their sister Melinda was an original partner; tragically she passed away in 2015 from breast cancer; a rosé is made every year in her honor and 100% of the profits from this wine are donated to Breast Cancer Research.
The Taplin and Lewelling families were joined through marriage when Stephen and Bill's grandfather Albert Taplin married their grandmother, Ethel Lewelling. Today both families (along with cousins, the Wights) still own significant acreage in this part of St. Helena. In addition to Taplin Cellars – the families also separately operate several other wine brands including Lewelling and Hayfork. The wine brand Trivium is no longer being produced.
All three siblings were raised on this property but then left the valley to build careers and families outside of the Napa Valley. Both brothers have successful careers – Stephen is an accomplished doctor and Bill is an engineer. Wanting to return to their roots and use the land as it is best suited – the three decided to hold back some grapes from their vineyard in 2008; they made a small amount of wine that year which they eventually released – but their larger first commercially available vintage was from 2009.
Starting a new wine label is not without its challenges, especially these days in the Napa Valley where there are more then 1000 unique commercial wine producers. Having been fortunate to grow up in the valley, Stephen has made a number of friends in the wine industry – who have been particularly helpful during the formative stages of starting a new label. Friends from well established Napa wineries such as Mondavi, Martini and Caymus (Wagner) have all contributed advice and knowledge.
Since 2006 when we created the Napa Wine Project we have archived reviews more than 250 Napa producers who are no longer making wine for whatever reasons. Labels continue to "go away" over the years at a remarkably fast clip – especially as more pieces of the "vineyard pie" are sub divided in an already small geographical area. However, the Taplins have a lengthy and rich heritage in the valley and are wisely building their brand for the long term, starting small and taking tiny steps as they grow. It certainly helps that they have owned property in the valley for decades – as well as the fact that this is a very focused and dedicated family effort. And when we mentioned this high turnover during our visit, we were assured they were not going to become another statistic. Thankfully, that has been the case and they continue to grow the brand.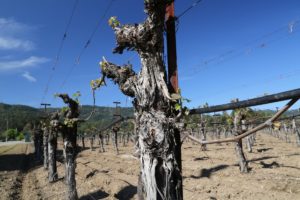 With that said, they do have plenty of room to grow the production of their estate wine. Currently most of the grapes from the Taplin Vineyard are sold to premium wineries including Caymus and Orin Swift. Those wineries source the same blocks each year; so does Taplin – they source merely from several rows in one of the rockiest, gravelly parts of their vineyard. Who better to manage their vineyard then family – conveniently, their cousin Doug Wight has his own vineyard management company. Their vineyard borders both Hall Estate and Lewelling Estate.
Taplin strives to best showcase their terroir and the variety – looking to make wines with identifiable fruit characteristics while showing restraint. Their philosophy is to age wine before releasing it – rather than choosing perhaps what might be a more financially prudent path. As a result, their wines spend two years in bottle before being released – their current vintages are typically released about 5 years after vintage date.
The 2008 Terra 9 Cabernet Sauvignon shows a mix of bright red and blue fruit on the bouquet – raspberry and blueberry along with hints of mocha which show more vanilla as the wine opens. This wine has alluring aromatics. The finish evolves pleasantly on the palate – slowly with red fruit lingering for some time along with broad integrated tannins. This is a food friendly wine – and during a recent tasting, really came alive when paired with a Monte Alba Manchego cheese. Immediately the tannins of the wine were softened and the acidity tempered by the cheese.
This wine is meant to be paired not only with cheese but with food. Growing up in the valley the three Taplin children were surrounded by fresh seasonal produce. Their mother Alice was a nutritionist who kept a close eye on their diet – eating healthy was and remains an integral part of their lifestyle.
And this wine is meant to be shared with family and friends – over a meal and then followed by what Stephen calls the "remarkable moment" a time after food where talk continues and lingers – all the while enjoyed with wine. There is no word in English for this but in Spanish there is – this moment is called "sobremesa" or literally, "over the table".
The name "terra 9" is meaningful to the family – and is certainly a tribute to terroir. Their father used to say his grandfather would tell him their property is 9 parts rock and 1 part soil. The nearby Mayacamas mountains and ancient stream beds are the origins of this.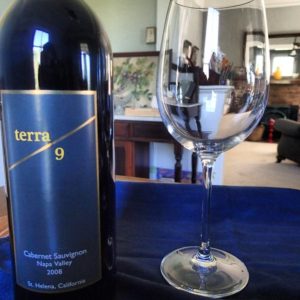 Their price point, relative to Napa pricing is certainly one of the better value to quality ratio Napa Cabernet Sauvignon. Not to mention their lengthy family and vineyard history in the Napa Valley as well as the quality of and structure of their vineyard's fruit.
Their production is very small – only about 300 cases, a single vintage and a single variety each year (other then their Cabernet Franc dominated rosé). The wine is distributed selectively, mostly based on where the family lives, in the San Francisco Bay Area and parts of Washington DC, Virginia and Maryland.
Tastings are for serious wine enthusiasts and are always with a Taplin family member at their vineyard or in their old family home. A "wooden box" as Stephen describes it, this house has two walls dividing four rooms. The Taplins have old photographs of this family home from when it used to be located partway up the nearby Mayacamas mountains. In 1920 the home was hauled down from the mountains to its present location.
NOTE: in 2021 we heard that the Taplins are or will be building a winery on their property in St. Helena. Once the winery is completed, we will visit and will update our notes accordingly.
For more information and or to join their mailing list, visit: www.taplincellars.com