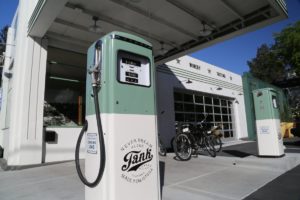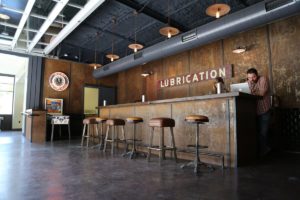 Tank Garage Winery is a partnership between Napa wine industry veterans James Harder and Jim Regusci. This is not their first venture together in the valley – they have both worked together at James Cole Winery and the nearby T-Vine Cellars Tasting room and winery (literally located just down the street). The Tank Garage tasting room opened in Spring of 2014 in Calistoga.
James Harder was born outside of Edmonton Alberta and has enjoyed a long career centered around wine; as soon as he graduated from Simon Fraser University in British Columbia he took a job at Vincor International (now part of Constellation brands); by the time he left Vincor he was their Vice President of Marketing. James worked for Inniskillin Winery for some time – famous for their ice wines. He also worked for Napa based Wilson Daniels (a prominent wine marketing company) and then later, together with Jim Regusci began and eventually sold Nine North Wine Company (responsible for creating and marketing a number of negociant type brands).
Jim Regusci is a fourth generation Napa Valley associated with Regusci Winery, located on the ranch that his grandfather purchased in 1932. Jim began a vineyard management company in 1985 overseeing merely 8 acres of vines. In some 30+ years his company remarkably now farms over 2,300 vineyard acres. Jim also began Regusci Winery in 1996.
It is one of the more unique tasting rooms in the valley in that it is located in a former mechanic's garage and gas station. Historic gas tanks sit in front, a visual nod to this properties' history; they are not functional. Yes, people have pulled in asking if they can pump gas from these. While this was an old mechanic's garage, surprisingly they are not the first winery to have a tasting room here; the old Wine Garage was located here for a number of years.
This locally historic garage originally dates from the 1930's. A functional garage door sits in front of the tasting room and is opened fully on nice weather days. An inviting side room / lounge is well decorated in era furnishing and is setup for more private tastings. An old "Indian" motorcycle is on display.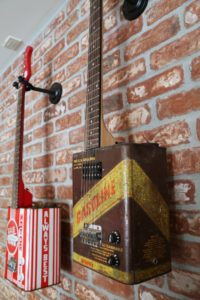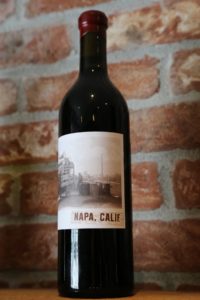 What is truly unique in the valley are the "guitars" made from old gasoline cans hanging on the wall in their small store. Every once in a while someone stops by plays some metal on these "old" metal guitars. Tank Garage harmonicas are also for sale.
The wines are a very good value for the quality. They released their first vintage in 2011. Their wine making is about blends rather than 100% varietal wines and early on the focus has been on small production one time produced wines. All of their wines as of the time of this review are in the 150 case production or less. Called The Vault, these one off wines vary in variety and vineyard location every year. And all feature extremely unique and intruiging looking labels.
The names of the wines are some of the most creative we have come across in Napa – sometimes borrowing from song lyrics but all are catchy. Names like "And She Was" and "Dive Motel" or even a name in tribute of a local bootlegger, St. Jimmy. The majority of their grapes come from the Napa Valley but they do source outside of the valley for some of their wines specially for varieties that are not commonly grown in Napa.
As the Crow Flies 2011 is a good every day wine – that might just make the perfect pairing with a Calistoga based Busters BBQ Tri Tip sandwich. You may realize this as you are in the middle of tasting this particular wine (or other current release offerings) while at the tasting bar and delicious BBQ aromas from that nearby establishment tantalizingly waft into the tasting room.
Lounge Room

As the Crow Flies is a unique blend of Nero d'Avola (sourced from Los Olivos in Santa Barbara County) and a much smaller percentage of Petite Sirah. The bouquet on this 2011 vintage is clean – it is a big wine with excellent structure; broad dusty tannins linger for some time.
The 2011 Never Dream Alone is a proprietary blend of Tempranillo with a smaller amount of Zinfandel. Already this has become one of their more popular wines – it opens with a bouquet that is big, with plenty of with fruit, black cherry – a bit perfumy and notes of chocolate, baking spices and hints of white pepper. The pleasing palate is well balanced.
Two non Napa wines are a Grenache Blanc and Roussanne blend and their only 100% varietal wine at the time of this review, a tasty Pinot Noir from the Russian River Valley in neighboring Sonoma County. So, one never knows what wines will be avaialble for tastings during visits because of their always varied and continuing exploration of varieties and wine styles. During one visit, they even had a skin fermented white wine (a Vermentino and Verdelho blend).
And Tank Garage has embraced those who work in the industry (winery owners, employees of owners etc) – with a business card, they offer complimentary tastings Monday through Friday.
The wines are not distributed – but are available for sale online. For more information or to join their wine club, visit: www.tankgaragewinery.com
Exterior

Interior