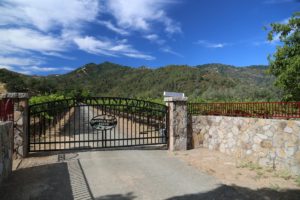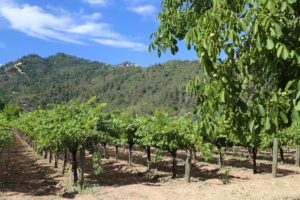 Switchback Ridge has a long family history in Napa Valley dating back to 1914 when the property (at the base of Dutch Henry Canyon south east of the town of Calistoga just off of the Silverado Trail) was purchased by family relatives. At that time there was a small zinfandel vineyard planted on site but when Prohibition began in 1920 the property like much of the valley was converted to other crops – in their case to plums.
Much later the vineyard was again planted to vines – this time a diversity of varietals was planted; today approximately 21 planted acres of vineyards to three varietals: Cabernet Sauvignon, Merlot and Petite Sirah. Switchback Ridge was founded by John Peterson and his daughter Kelly and is named after the switchback ridge at the upper part of their property which contains a number of hiking trails. Of note is their Petite Sirah planting – it is more than 60 years old and has been farmed by John much of his life (he helped plant this vineyard as a child).
John handles all of the primary vineyard management duties himself. Because of his long history on this property, he really has a feel for the nuances of the property including soil types, microclimates etc. Well regarded winemaker Bob Foley has made their wine since their first vintage; their wine is made above Angwin at Bob's own winery.
Their first commercial Vintage was from 1999. They produce three wines every year, typically each 100% varietal: a Merlot, Cabernet Sauvignon and a Petite Sirah. We tried all three from the 2005 vintage.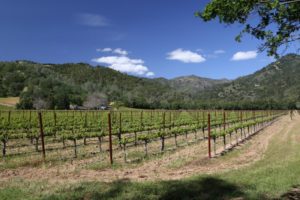 The 2005 Merlot is a very nice soft wine with a long elegant finish. It is certainly not nearly as big as their other two wines! There is even a little bit of mint and eucalyptus in the nose. All in all, it has a very aromatic bouquet. The 2005 Cabernet Sauvignon is a very dark inky wine. The nose is full of ripe juicy blackberries. It is a seductive wine with many layers of flavor. The finish has strong but well managed tannins with a long finish that lingers well after you swallow.
The 2005 Petite Sirah is all about the fruit. It is a robust wine – a significantly bigger wine than even their Cabernet Sauvignon and as a result it needs to breathe before you drink it. Decanting is recommended. It has chocolate overtones on the nose. It is aged in neutral oak so there are no dominating toasted oak, cocoa, vanilla or other characteristics that are often imparted with new oak barrel aging (depending on the cooper of course). There are strong tannins on the finish but these do not dominate the wine, as the rest of the mouth feel is already huge and can stand up to this well structured finish!
Their mailing list is extremely popular and the waiting list to join this, can take up to several years. Locally you can find their wine at Entoteca in Calistoga and Dean & Deluca in St. Helena. Incidentally this was the 350th commercial wine producer we visited and tasted with on this project. Visit: www.switchbackridge.com
NOTE: visitors to the valley wanting to taste the Switchback Ridge Wines can do so by appointment at Phifer Pavitt Winery in Calistoga through a special collaboration between the owners of each of these properties. For these visits, please reach out directly using the contact information on the Switchback Ridge website.