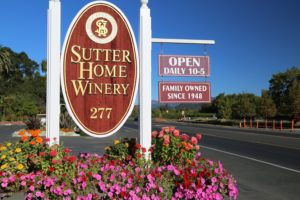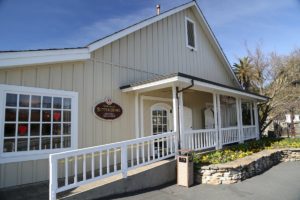 Sutter Home Winery. The property that houses the Sutter Home tasting room and what was the old Sutter Home Winery dates back to 1874 as it relates to wine making operations. This site was originally home to the John Thomann Winery and Distillery built in 1874 – Thomann had purchased this property from one of the Napa Valley's original vineyard owners, John Lewelling (the Lewelling family continues to farm in the valley today and also produced their own wines). Thomann also built the large Victorian (dates from 1884) which many years later would be used as the image on Sutter Home's wine labels. Thomann's primary vineyards were not on site of the winery, but were rather located near the tiny community of Deer Park below what is now the Howell Mountain sub appellation.
However, the roots of the name Sutter Home date back to 1890 when a couple, Emile and Caroline Leuenberger purchased land, also near the tiny community of Deer Park and called their winery and property, Sutter Home, named after Caroline's father John Sutter. Five years after their purchase they founded Sutter Home Winery and Distillery in San Francisco and is where they blended and bottled wines made from grapes from their Napa Valley property.
The April 1906 San Francisco earthquake & subsequent fire destroyed their business. Moving their operations to the Napa Valley later that same year, they purchased the old Thomann Winery and Distillery just south of St. Helena. Already well established with the name Sutter Home, they immediately renamed this property to Sutter Home and prominently painted the name of the winery across the roof of the winery building.
This old winery and accompanying property was purchased by the Trinchero Family (John Trinchero) and a partner, Louis Carlesimo with escrow closing in early 1947. Their first harvest and vintage was in 1948. The agricultural landscape of the Napa Valley in the late 1940's post World War II was dramatically different then it is today. Crops included walnuts and plums and vegetables including lots of tomatoes. Also cattle were commonly grazing in the valley.
And there were far fewer wineries then, compared to in the valley today. Only 6 Napa Valley based wineries have produced continuous vintages longer then Sutter Home – they are: Beringer (1876), Nichelini (1890), Beaulieu Vineyard (1904, founded 1900), Inglenook (1933, founded 1879 – we are counting Rubicon Estate here, as in the 1980s, as a stand alone brand Inglenook did not produce wine for at least one vintage), Louis Martini (1933) and Charles Krug (1946, founded 1861).
When the Trinchero's purchased the property, the old winery barn was still standing – the floor was still dirt and there was no electricity. And it hadn't been used since right before prohibition. At the time, John and Louis paid $12,000 for the winery and the barn on 3.5 acres. The old Victorian was not purchased by the Trinchero family until 1986. Rather then name the winery after themselves, the brothers decided to keep the existing name, especially since "Sutter Home Winery" was still showing – painted on the sloped roof the barn (facing the Highway 29 side). During Prohibition on the front of the barn, the word winery had been blocked out. Louis sold his half of the partnership in 1948 – and Sutter Home became wholly owned by the Trinchero Family.
Eventually John's brother Mario and his son Bob Trinchero bought out John's share of the business in 1960. Mario and his wife Mary had three children, Bob, Roger and Vera (Vera died in 2014). Today the the winery is still very much family run with multiple generations of the family involved.
Sutter Home opened their first tasting room in 1947 – a unique space to be sure, housed inside a seven-thousand-gallon old redwood tank with an access door cut into it. This tank was connected with several others in later years and served as their tasting room until the 1970's when they finally built a new hospitality space. Up until the mid 1970's any tasting room employee was a Trinchero family member. Perhaps rather surprising, Sutter Home did not own vineyards for decades but today own more then 9,000 acres in California (mainly outside of the Napa Valley). Their first vineyard purchase was 15 acres near Calistoga in 1983.
In the early 1960s, due to financial problems and unable to secure a loan from the local branch of Bank of America, the Trinchero family put Sutter Home on the market. But there were no buyers and eventually they were able to secure a loan to keep the business afloat.
Today Sutter Home is still family owned – it is part of Trinchero Family Estates (TFE), the largest family owned winery in the Napa Valley, second in California behind the Gallo family and the 4th largest winery in the United States. As of our latest update to this review, TFE owns more then 50 different wineries or brands. Pretty heady stuff for having weathered such tough economic times during their early history.
Sutter Home currently makes a wide variety of wines – and has a long history of doing so – although in the early days they were making beverages other then still wines including vermouth, marsalas, sherrys and sparkling wines.
White Zinfandel
Sutter Home is well-known for accidentally discovering White Zinfandel which in our experience is the wine most "non wine drinkers" seem to be most familiar with. This discovery came at a time when interest in Zinfandel was waning, and as a result, their discovery saved a lot of Zinfandel vines in California from being ripped out. In 1972 Bob decided to make a Zinfandel (from Deaver Vineyard in Plymouth, Amador County – Sutter Home purchased their first grapes from this particular vineyard in 1968 after an introduction was made with Ken Deaver by Sacramento retailer, Darrell Corti. Darrell was inducted into the Culinary Institute of America Vintner's Hall of Fame in 2008 for numerous contributions to the wine world including his involvement with Sutter Homes' early White Zinfandel). Wanting to produce a Zinfandel that was more concentrated in flavor, color and structure – Bob bled off some of juice after pressing the grapes.
This resulting clear white Zinfandel was in a tank – not knowing what to do with this, Bob asked a friend and wine merchant from Sacramento, Darrell Corti for advice. Darrel said to call it 'Oeil de Perdrix' translating to "Partridge's eyes" in French and referring to a type of rosé wine that has been made in Europe for hundreds of years (originally from the Champagne region of France but now is made in Switzerland). Bob submitted the name for label approval but the federal government indicated he needed an English translation. Bob then chose the name White Zinfandel. He bottled 220 cases of this wine and sold 1/2 of it to Darrell (bottled in green bottles). Of historical note, this first vintage of White Zinfandel was bone dry (no residual sugar).
Bob changed the style of the Sutter Home White Zinfandel forever with the 1975 vintage. Bob had 1000 gallons of clear almost dry Zinfandel wine in a 1200 gallon tank. Needing to fill the rest of the space in the tank he added non fermented Mission grape juice to the Zinfandel. Ultimately the fermentation stopped at about 2% residual sugar and the blend became pink in color. Bob bottled this, dropped the 'Oeil de Perdrix', kept the White Zinfandel name despite it now being a pinkish hue and demand quickly sky rocketed; they have since sold millions and millions of cases of White Zinfandel.
—
Interestingly, the 1970's are known as a time when Napa Valley was still making restrained (low for today) alcohol wines. But one Zinfandel Sutter Home produced in 1977 was actually 17% alcohol.
The Sutter Home brand has become their mass marketed wine made for wide consumption and mainstream public demand. The wines are typically made in very large quantities and contain grapes from many locations mostly throughout California. In addition these wines are light, often sweet and not nearly as complex as some of the smaller boutique wineries but for the price they are a good value.
Sutter Home has some of the most affordable wines in all of the Napa Valley (although one should be aware that the grapes for these wines are generally not from the Napa Valley). As a Napa winery if you offer wines at such affordable prices, your production is large and you are using grapes from outside of the county – all of this helps cut down on overall costs. Where else in the Napa Valley can you find a 750ml Muscat desert wine for $7 or a Cabernet Sauvignon for $8?! There is no other Napa winery making all of the following styles of wine; White Zinfandel, White Merlot and White Cabernet Sauvignon. These wines are fairly light, slightly sweet and very easy to drink. If you enjoy these types of wines (patio and pool party sippers) Sutter Home makes an ideal visit for guests to the valley. We have been to their long tasting counter in the winter when we were the only ones there; however this is typically not common and in the summer and during harvest, the tasting room can be very crowded – a mix of tour bus passengers and others.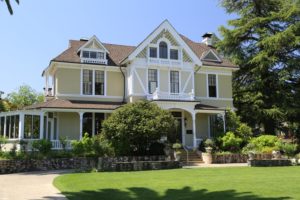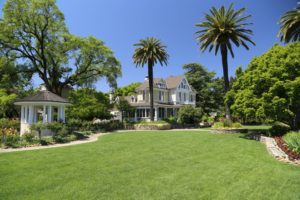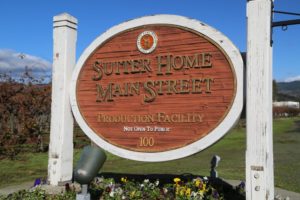 Sutter Home is a very environmentally friendly winery. Wine making starts in the vineyards and they have a huge composting program, and plant beneficial cover crops which attract the "good" insects. Water management is also a key component of their vineyard operations. They typically use much less water per vine than most wineries. Many wineries are unable to recycle waste water into their vineyards, not so with Sutter Home as they use over 50 million gallons of recycled waste water each year to water their vines. Wine bottle and other packaging materials are also partially made from recycled materials.
Their tasting room is located just south of St. Helena along the busy wine strip of Highway 29 which is where some of Napa's most visited wineries are located. Select tastings are complimentary and several wines. Compared to many of the other 30 and 40 something customers who frequent other Napa Valley walk in wineries, this winery tends to appeal to an older crowd although their website seems to be marketed to a younger generation.
It is amusing to watch folks running through the entire "perceived" way to formally sample wines when they are tasting $8 and $9 Sutter Home light sweet wines. You can walk around the small gardens and take some pictures of the actual famous "Sutter Home" which is not open to the public as it is for corporate use. However, the estate is stunning especially in the spring time when all the flowers are in bloom.
Since 2001 (the year Mary and Mario's daughter Vera was diagnosed with Breast Cancer), Sutter Home has taken an aggressive approach towards fighting this terrible disease by having donated over a million and a quarter dollars through their Sutter Home for Hope® program.
And in a very unusual offering for a Napa Valley based winery, Sutter Home (since 1992) produces alcohol free wines bottled under the label Fre Wines. The alcohol is stripped from the wines through a process that uses centrifugal force combined with nitrogen gas and temperature. And while these wines are alcohol free, there actually is just a tiny bit of alcohol that remains – typically under 0.5%. One won't get buzzed from drinking a few bottles or more! Several lighter style white wines are produced including a White Zinfandel, a sparkling Brut along with several reds including a Merlot. Several of these very inexpensive wines are for sale in the tasting room.
For more information about this iconic Napa winery, or to join their wine club, visit: www.sutterhome.com