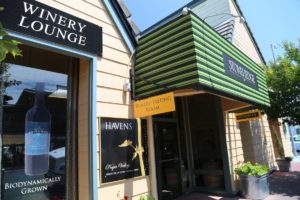 Stonehedge Winery opened their tasting room in 2007; it is located a few blocks north of downtown Napa. For reference it is right across the street from the Vintner's Collective. Stonehedge was founded by the Shahabi Brothers who are originally from Iran and the winery dates from 1990. Their first commercial release was from 1992 – today Shahin Shahabi is the sole proprietor.
They produce a wide variety of affordable wines starting at about $10/bottle. Their philosophy is to handcraft wines that are affordable to the majority of the population. What really separates this winery from many other Napa wineries of its size (other than the low prices) is its amazing International distribution.
Their wines are found in select locations from Azerbaijan to Oman to small islands you don't normally hear about like Faeroe Islands and Mauritius. They have distribution throughout 49 of the 50 states as well as Africa, Asia, Europe and the Middle East. As a result, out of all the 750+ commercial Napa wine producers we have visited and tasted with, this winery gets the award for the most International distribution! They also have a contract with Trader Joes and provide good distribution to many local stores.
Stonehedge has grown rather rapidly since their first vintage in 1992 as initially they were very small but now their production is about 190,000 cases. For a typical family owned Napa winery that amount of production is astronomical. In the global world of wine they are considered a medium sized producer.
Stonehedge sources fruit from vineyards all over California from Mendocino in the north to Amador County in the East all they way down to Santa Barbara. Stonehedge offers three types of wine, California Appellation (wines from all over California), Napa Valley wines and their Signature wines which are available in very limited quantities. While nearly all of their wines are from fruit they purchase from California vintners, they do own 20 acres of grapes in the Oak Knoll AVA in the Napa Valley.
A tasting here is relaxed and informal. The tasting room is tastefully decorated and faux cellar blocks are painted on the wall to give one the idea they are tasting in a cellar. In addition real oak barrels line the edge of the room. There is also a nice tasting room behind the main tasting room for private tastings. Stonehedge makes many different wines; as a result we tried just a few – focusing on Napa grown wines.
Havens Winery used to be located off of Highway 29 just south of Yountville. The winery sold and then closed down permanently a few years ago. The label took a break but then Stonehedge acquired the Havens name and is now producing wines again. Their "first" release under the Stonehedge ownership is a 2009 Chardonnay with additional varieties coming including Pinot Noir and Cabernet Sauvignon.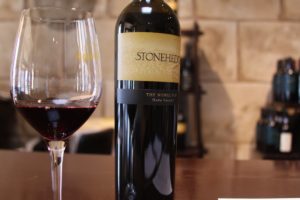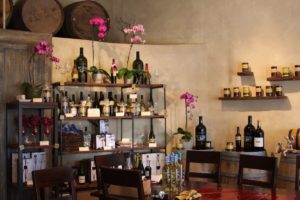 There are not a lot of Chardonnay grapes grown in Oakville as this appellation is located further from the cooler appellations to the south – next to the moderating influences of the San Pablo Bay. Stonehedge sources their Chardonnay from a vineyard close to the Napa River (valley floor fruit). The 2009 Havens Oakville Chardonnay was aged in 40% stainless steel and 60% oak – with that said the oak's influences are extremely subtle. The bouquet features juicy fruit aromas – some citrus and hints of tropical fruit with steely mineralities – the palate is all about the fruit, it is rich but not oaky or buttery. There is a sweet core of fruit that runs from the mid palate onwards – the finish shows hints of graphic on the palate. This is a clean easy drinking Chardonnay.
The 2007 Stonehedge Nobel Red is one of their top selling wines. It is a blend of Zinfandel, Cabernet Sauvignon and Merlot (all Napa fruit). The label lists the wine as 15.5% alcohol but it in actuality it is probably higher. The bouquet is fruit forward – very aromatic and lively with distinct aromas of red licorice, violets and chocolate covered cherries. The entry features a sweet core of fruit, raspberries and plums – very ripe fruit. The mouth feel is super soft, rounded and supple from start to finish.
Their Reserve Cabernet Sauvignon is amazingly priced considering it comes from the well-known Stagecoach Vineyards near Atlas Peak whose fruit used in wine from other wineries often commands a much steeper price. When the owner of Stagecoach Vineyards Jan Krupp was ready to sell his first harvest no one would buy the grapes as his vineyards were in "unproven" terroir". He had to make 40 calls before anyone would even buy the fruit. Wow, how far Stagecoach has come in a relatively short time as now their grapes are in very high demand!
Stonehedge has several other labels including their very popular under $15 "Cool Fish Wines" which are typically white or light wines, Koo Loo Loo, featuring wines only grown organically on the Sutter Buttes (Central Valley) and 39 North, featuring only Biodynamically hand crafted wines grown at vineyards all located 39 degrees north of the equator.
Their tasting room features a lounge like setting – with several couches. A wide variety of wines are available for tasting at any one time from not only the main Stonehedge label but also their other labels. Their wines are very reasonably priced by Napa standards. Yelp provides them with a number of new interested customers and the tasting room staff seemed to remember every customer who commented on Yelp!
The labels poured at this tasting room are owned by the Smith-Anderson Wine Group
For more information, visit: www.stonehedgewinery.com and www.coolfish.org and www.havenswinery.com