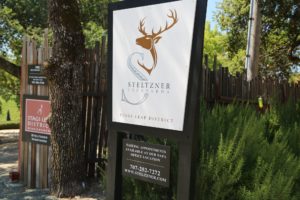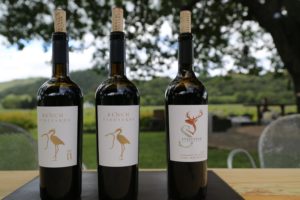 Steltzner Vineyards. The more one digs into the life and times of Dick Steltzner, the more one realizes how influential and productive his decades in the Napa Valley have been to the valley's wine industry. He was born and raised in Piedmont (east of Oakland, CA only about an hours drive from the city of Napa). His family knew the Wente Family (owners of the country's oldest, continuously operated family-owned winery, founded in 1883) and young Dick would often spend time on their Livermore based ranch where he was introduced to farming.
Rather then pursue a career in agriculture, he found himself interested in art. He graduated with a Masters Degree in Fine Arts from Sacramento State University and then moved to the Napa Valley in the early 1960's – renting a huge studio off of Lodi Lane for $80 a month. Next he purchased and moved to a 40-acre piece of property in what is now the Diamond Mountain appellation near Calistoga. He was drawn to the property because it contained a natural spring and equally as important to his artistic interests – plenty of clay that he could use for his own pottery. His property was next to what would become Al and Boots Brounstein's iconic Diamond Creek Vineyards. Helped in part by proximity and the challenges of planting grapes in this mountainous terrain, Dick became friends with the Brounsteins and helped develop and name the vineyard blocks at Diamond Creek Vineyards.
After an enticing offer was made for his property, Dick sold and moved to what is now the Stags Leap District. After his experience at Diamond Creek Vineyards he began to offer his vineyard management services to others – early on he helped in the development of Spring Mountain vineyards (incidentally Dick's relatives used to operate La Perla Winery in the 1870's which eventually became part of the greater Spring Mountain Vineyards property) and vineyards for Clos du Val.
And fruit from his own Stags Leap vineyards were used in the 1972 Clos du Val Cabernet Sauvignon that was in the Judgement of Paris tasting. And in a little known fact, the inaugural vintage (1974) of Insignia from Joseph Phelps was also primarily sourced from Dick's vineyards. Later he helped Joseph Phelps locate a vineyard in Stags Leap.
By the mid 1970's Dick was overseeing the management of some 450 planted acres in the Napa Valley. In 1977 after not being able to sell all his fruit, Dick decided to make his own wine. One of his clients was Bruce Markham of Markham Vineyards – Bruce allowed Dick to make the Steltzner wine at Markham; his inaugural release was the 1977 vintage.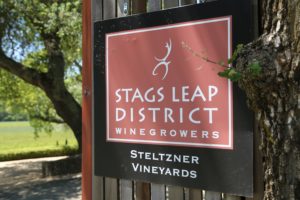 Eventually Dick moved his operations to an old prune packing shed dating from 1915 – and later built a winery, had caves drilled and built a hospitality center. Old timers in the valley may remember the Steltzner fruit stand located along the Silverado Trail – selling seasonal produce and fruit (on an honor cash based system) including blackberry's, kiwis and Satsuma Mandarins among other produce. They eventually stopped operating this stand in the late 1980s.
For many years their winery was located on the east side of Silverado Trail across from Pine Ridge Winery. At the peak of their production, Steltnzer was producing nearly 25,000 cases a year. A production of this size, managing a tasting room and the efforts needed to sell thousands of cases of wine began to take a toll on the family's time. Deciding to sell the winery, tasting room and 1/2 of their Stags Leap vineyards – they did so in 2012 to the PlumpJack group (the old Steltzner winery is now home to Odette Estate).
During one of our early visits to Steltzner we tried a Pinotage – out of the 950+ commercial Napa wine producers visited and tasted with to date, Steltzner has been the only winery where we have tasted this variety. While no longer producing wine from this variety, they did make a pinotage most years between 1996 and 2011. This wine is very common in South Africa but is hardly ever heard of in California much less Napa Valley. This variety was originally created in 1926 as a cross between Pinot Noir and Cinsault.
Dick's daughter Allison has grown up in the wine business – at one point managing their tasting room and even producing a wine under her own label called Allison. During one of our visits many years ago, we tried two wines under this label, a Sauvignon Blanc and a rosé of Syrah.
After the sale, the family refocused their vineyard and wine making efforts – overseen by Allison. She speaks of continuously challenging themselves to get better in what they do – with constant communication playing an integral role between everyone involved. This has led to an exciting synergy and a renewal built upon decades of experience complemented by passion and the never ending always moving pursuit of perfection.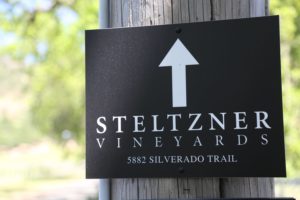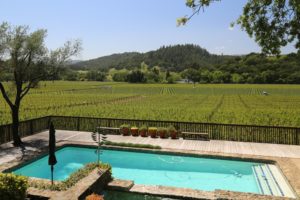 Their focus is on the Bench Vineyards, appropriately named for its slightly elevated position above the valley floor – located on the eastern side of the valley against of the backdrop of the rugged and rocky Palisades. Allison recalls her father was attracted to this particular site based on the morning fog often burning off on top of a hill just south of their vineyard. And in hind-site this part of the Stags Leap District has certainly proved itself over the decades – their vineyard borders Joseph Phelps' Insignia Vineyard, is near Stag's Leap Wine Cellars Faye Vineyard and within eyesight of Shafer's Hillside Vineyard. The soils can vary dramatically here, even within short distances – ranging from very rocky to clay like as one heads west.
The wines from this vineyard are refined, feminine in their structural approach and certainly are a contrast to the bigger and more powerful wines from say the Oakville or Rutherford appellations to the north. These are extremely balanced wines with excellent acidity.
Taking the management of the Bench Vineyards to the next level, well-regarded vineyard manager, Jim Barbour and his highly skilled crew took over the management of the vines in 2014. The 30 acre site is planted to 27 acres of which there is a coveted 5-block section planted to Cabernet Sauvignon dating back to 1976 (all dry farmed). In addition to Cabernet Sauvignon, the vineyard is planted to Malbec, Sangiovese, Petit Verdot and Merlot.
Rather then larger production wines needing distribution, today the focus of their vineyard and wine making efforts are on limited production, premium wines sold primarily direct to consumer. While still producing Steltzner wines, Allison and her husband Sam introduced Circa 64 Wines in 2015 (named in honor of the year when Dick first purchased property in the Napa Valley). Both Steltzner and the Circa 64 Wines are from the Bench Vineyards.
Looking to elevate the stature of visibility of their vineyard, they continue to selectively sell fruit to premium producers – and in 2015 several Napa producers released their first Bench Vineyards designate wines.
Their wine making is shared between two winemakers – one with decades of experience, Bob Pepi and the much younger Mike Smith (who has already created premium wines for a number of labels). Most of their fermentation is now done in barrels.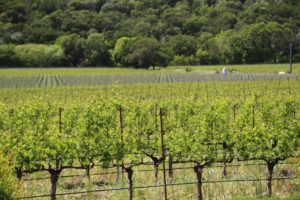 The 2015 Bench Vineyards Circa 1964 is a proprietary blend where the best barrel lots are chosen each year regardless of variety. This vintage is a blend of 50% Cabernet Sauvignon, 25% Petit Verdot and 25% Malbec. Incidentally the family was drawn to the varietal characteristics of Malbec because of their exposure to the wines coming from Mendoza, Argentina (based on numerous visits to this country). Immediately shows inviting aromas – this is a lively bouquet with notes of blackberry tinged with cocoa powder. A core of red fruit plays across the palate – it is extremely harmonious in its approach from start to finish. Very approachable in its youth – it is supple in texture but framed with an intensity of fruit. Pleasing fine grained and polished tannins linger smoothly on the finish.
The 2015 Bench Vineyards Circa 64 Cabernet Sauvignon is 100% varietal sourced from the D block on site (all Martini clones that Dick originally took from cuttings from Louis Martini's back yard decades ago). These Cabernet Sauvignon vines date back to 1976, a rare older planting of this variety in the Stags Leap District. This is an elegant wine both on the bouquet and on the palate. It is dark in the glass revealing an inviting bouquet with blackberry and blueberry aromas and a hint of vanilla. Like the bouquet, the palate is about the fruit rather then many secondary characteristics from the oak – what we immediately noticed about this wine is its finish. The tannins are silky smooth, yet noticeable and are somewhat chalky in their presentation. Very good acidity.
The 2015 Steltzner Vineyard Estate Cabernet Sauvignon is a noticeably different wine then the same vintage Circa 64 wines. Shows aromas of boysenberry with hints of chocolate on the bouquet. Offers flavors of black currant, plum and cherry leading to a very long finish. One immediately notices the mouth watering acidity. The finish is long, the tannins are not course but there is a noticeable drying grip to their texture – and they linger along with a mouth watering tartness of fruit.
The label for the Circa 1964 wines is intriguing – with the idea coming from a family crest, the label was tailored for their own vineyard and features a heron with a rattlesnake in its beak (with a small reservoir on site and their proximity to the rocky hillsides, they have both herons and rattlesnakes on the property).
The Steltzner's maintain an office in the city of Napa (where tastings are offered in their salon by appointment); they no longer maintain an open to the public tasting room. Their vineyard property is only open for the once a year private, V2V (Vineyard to Vintner) weekend event where select Stags Leap wineries and producers open their doors to those who have purchased tickets to this particular tasting event.
NOTE: Steltzner and Bench Vineyards will be part of the Heron House in Yountville opening in Fall 2019 – a retail wine tasting Co-op. We will visit and update this review once this retail space opens.
For more information and or to join their mailing lists, visit: www.steltzner.com and www.circa64wines.com