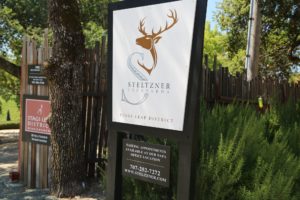 Steltzner Vineyards began as a vineyard management company with land initially purchased in 1964 and 1965. Dick Steltzner developed some well-known vineyards in the Diamond Mountain, Spring Mountain and Stags Leap districts for well-regarded wineries such as Diamond Creek Vineyard, Spring Mountain vineyards and for Clos du Val Wine.
After selling off high quality fruit to other wineries Steltzner decided to make his own wine, releasing his first commercial vintage in 1977. For many years their winery was located on the East side of Silverado Trail just across from Pine Ridge Winery.
Steltzner focuses on producing high quality red wines with the majority of their production being Cabernet Sauvignon and Merlot. More recently the Dick's daughter started her own label called Allison. It features two delightful easy-to-drink wines, a Sauvignon Blanc and a very nice dry Rose of Syrah. Both wines use a screw cap closure instead of corks as there are a lot of benefits to this type of closure and hopefully more and more wineries will start using these as peoples "perceptions" of screw caps on wine change.
The total annual production at Steltzner varies between 20,000 and 25,000 cases. Their reserve wines are typically only produced in quantities of 500 cases or less. Steltzner makes several wines which are not as commonly produced in the valley as some varietals. Their Malbec which is slightly blended with Merlot is a very well balanced lighter style California Malbec with a lot of fruit in the nose and blackberries all over the palate as it swirls in your mouth.
We tried their Estate Cabernet Sauvignon and also their Reserve Cabernet Sauvignon. Both are very representative of Stag's Leap fruit. They are bold Cabernets; the Reserve has a nice fruity nose that fills up the glass and there is a pleasant slightly smoky flavor with just the barest hint of oak on the finish. For Stag's Leap grown fruit, Steltzner has kept their prices very reasonable. Their wine typically is priced in the high $20 to high $30 range.
For many years, Steltzner produced a Pinotage – out of the 900+ commercial Napa wine producers visited and tasted with to date, Steltzner is the only winery where we have tasted this varietal. This wine is very common in South Africa but is hardly ever heard of in California much less Napa Valley. This varietal was originally created in 1926 as a cross between Pinot Noir and Cinsault. It is great with spicy food.
NOTE: The physical winery and vineyard location sold and is no longer located on the Silverado Trail. Their office is in the city of Napa (where tastings are offered in their salon by appointment); they no longer maintain an open to the public tasting room. The Steltzner label remains under family ownership.
The Steltzner Family still owns a private residence and vineyards in the Stag's Leap District – which is open only for the once a year private event, V2V (Vineyard to Vintner) where select Stag's Leap wineries and producers open their doors to those who have purchased tickets to this particular tasting event.
They also produce excellent Sangiovese, Cabernet Franc and Merlot. Visit: www.steltzner.com
Note: this review has been identified as needing a major update.
Wine with Tony