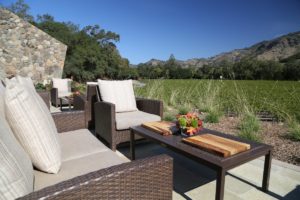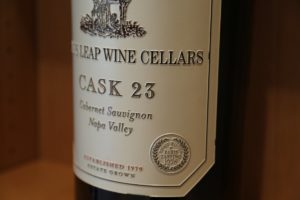 Stag's Leap Wine Cellars (apostrophe before the S) was founded in 1970 by longtime Napa Valley resident Warren Winiarski (originally from Chicago). "Winiarski" in Polish means son of a winemaker – Warren's father ran a livery business for weddings and funerals but also was a home wine maker (fruit wine, honey wine and dandelion wine).
Warren became interested in wine when he met Philip M. Wagner, an influential viticulturist and author from the east coast. Philip in turn introduced Warren to Maynard Amerine (a well known wine researcher and prolific author). Warren began to explore wine regions including in New Mexico and California. Eventually he wrote several small wineries in the Napa Valley asking if they needed any help. The proprietor of one winery, Lee Stewart of Souverain, (the site of what is now Burgess Cellars) wrote back and invited Warren to come by the winery. Warren ended up taking an assistant winemaker job there for several years. After working at Souverain, Warren started working for Robert Mondavi in 1966 (before ground was even broken on the winery facility).
In 1965 Warren purchased 30 acres on Howell Mountain (near Randy Dunn's winery), planted Cabernet Sauvignon but later sold the property to purchase his Stags Leap property. For approximately $200,000 he purchased a 44-acre parcel of land next to Napa vineyard grower, Nathan Fay. Warren had tried some of Nathan's home wine, realized the quality of wine from this particular part of the valley and then had the vision to build the winery, plant the land to Cabernet Sauvignon and Merlot (after removing prune trees and old grape varietals) and ultimately began producing world class wines. And Warren was the founding winemaker (rather then hiring a winemaker).
From the Silverado Trail continue straight on their short driveway until you reach a parking lot on your right hand side. A modern and welcoming hospitality center opened in early Fall 2014 – replacing their long time tasting room. This new hospitality center is unique in that the main tasting room overlooks some of the finest scenery in the Stags Leap District. It feels like (and rightly so) their vineyard is on display and visitors are the captivated audience. One block of the well known Fay Vineyard is located directly below the tasting room. A contemporary setting with large windows allows one to enjoy excellent views of this premium vineyard as well as the rocky formations in the hills that form this part of the Vaca Mountains. From the tasting room, views are looking down at Block 1a – the rest of the Fay vineyard lies behind the row of trees and is planted all the way to the base of the mountains.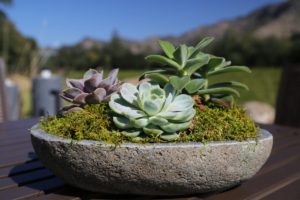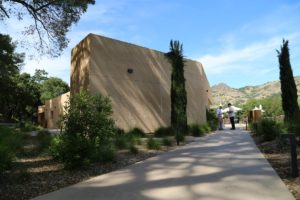 Two tastings are offered, a portfolio and an estate tasting. Tours can also be arranged by prior appointment. Several private tasting rooms are on site and outdoor seating is also available. On a clear warm day this outdoor patio seating is an ideal place to sit back and enjoy fine wine and fine views!
The Estate Wine tasting are from grapes sourced from vineyards on site. Their oldest vineyard block on the property dates from 1972 and the fruit from this goes into a small production wine available only through their wine club.
While this is a "cab house", Stag's Leap Wine Cellars produces a Chardonnay each year. The Stag's Leap Arcadia Vineyard Chardonnay is grown east of the town of Napa (in Coombsville) in a cooler growing climate than the actual winery location. We have enjoyed several vintages of this wine over the years – it is a balanced wine that often shows hints of flint or graphite notes on the bouquet along with citrus blossom. It is a rich wine of this varietal yet is remarkably balanced. The finish is clean with just a touch of lingering vanilla flavors (2012 latest vintage reviewed).
Despite their two primary Estate Vineyards located so close to each other, there are remarkable differences in soils between the two. The Fay Vineyard Cabernet Sauvignon is grown on very alluvial soils contrasted with the S.L.V Cabernet Sauvignon (stands for Stag's Leap Vineyard) which is predominantly from volcanic soils. Terroir makes a huge difference and it is interesting to compare these two wines side by side for that very reason.
Their S.L.V Cabernet Sauvignon won at the famed Paris wine tasting of 1976 catapulting this winery along with Chateau Montelena & the Napa Valley wine growing region in general, to International fame. Bottles of those original winners are now housed in the Smithsonian Museum. Guess they will never be consumed! A bottle of this 1973 vintage (made from grapes that were only three years old at the time) is also displayed in their hospitality center.
They have done a nice job on the 2011 vintage (a fairly challenging year in the Napa Valley due to late rains into June, a fairly cool summer and a early rains during harvest. This wine shows a slightly smoky nose, and evident aromas somewhat gravelly, or pebbly in nature. Notes of cocoa powder. The tannins are fairly well integrated with a lingering finish of high toned (red) fruit for some time. This is a vintage grown in certain parts of the valley (namely eastern hillsides) that is showing very nicely 6 to 7 years after.
In the mid 1970's they made a wine from a special vineyard block; this wine had very unique flavors and was aging in a Cask titled #23 – which is how this wine got its name. The Estate Tasting includes a pour of the latest vintage of the Cask 23. This is their premium Cabernet and is only made during select years in which the fruit is of the highest quality. It is their most age worthy wine and if cellared properly will be drinking great in 10 to 20 years. The 2010 vintage shows dark in the glass – it has an elegant nose, somewhat perfumy (violets, a bit floral) with both red and black fruit aromas showing. This is their largest structured wine – showing red currant and black cherry flavors with a broad based big finish – that is somewhat leathery and chewy. This wine has good acidity, structure and fruit to ensure it should age quite well.
A wine cave is also located on site (38,000 square feet); note the interesting "pendulum" hanging inside the cave which is supposed to symbolize the "aging of wine" (shown on a tour). All tours are by appointment and do tend to fill up fast especially in the busier late Spring and Summer months.
As an interesting side note – Stag's Leap Wine Cellars was founded in the same year as their nearby neighbor, Stags' Leap Winery. Both wineries are often confused for each other and it drives the hospitality folks at each winery crazy at times! In fact, both wineries went to court in 1986 over the name "Stag's Leap" and the California Supreme Court ultimately decided to award Stag's Leap Wine Cellars the apostrophe *before* the S and Stags' Leap Winery the apostrophe *after* the s! And to further complicate things, note that Stags Leap District has no apostrophe.
Several wine club options are available giving members access to limited production wines, and preferred seating on site. Several tours are also offered including the premium Fire & Water experience allows one to see and learn about the estate on a guided tour and finishes with a tasting of their estate wines paired with fresh appetizers.
While no longer involved in the ownership of the winery, in 2018 founder Warren Winiarski donated 3.3 million dollars to the University of California at Davis' library (for their continuing efforts to build a premiere collection of books from wine writers). This library already contains some 30,000 wine related books (including some rare volumes) and ancient maps dating back to 1287.
Visit: www.cask23.com for more information and to check out their wine club benefits, which is appropriately titled, "Club 23".