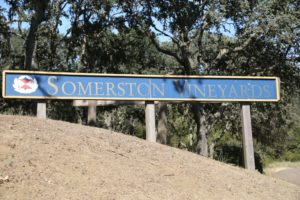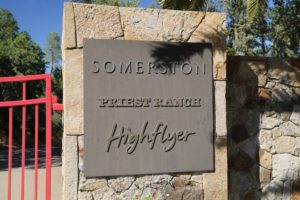 Somerston Wine Co is an impressive vineyard project still well under the radar of most visitors and locals. This property is owned by real estate developer Allan Chapman & partners – Allan's family traces their business roots back to 1854 in England operating clipper ships and then later cargo ships but have since diversified their business interests – Somerston. The vineyards are located in eastern Napa County in the hills ranging in elevation from about 850 up to 2400 feet. We initially visited about 18 months after this project's inception and at the time major vineyard restoration and replanting was underway. The entire property is huge and combines the 1000 acre Lynch Valley Ranch with the 600+ acre Priest Vineyard. A range of hills separates the two valleys.
As of the time of our latest update the total vineyard acreage is about 215 acres. As a new winery with this much planted acreage, they are certainly not using all the fruit for themselves. Several well known Napa wineries have been purchasing fruit including Viader, Pahlmeyer, Orin Swift and Duckhorn among several others; this is a testament to the excellent quality of fruit coming out of these vineyards. Their primary vineyard manager lives on site and grew up in the area and has been managing the vineyards for a number of years. The original grape vines on site date from the 1970's and much of the vineyards are planted to Bordeaux and Rhone varietals.
Craig Becker is the winemaker and founding member; his first wine making jobs in the Napa Valley were working for Robert Mondavi followed by Spring Mountain Vineyards. Today he focuses on consulting for a number of other premium clients many of which concentrate on producing wines from hillside grown fruit.
Three distinct labels are produced under the primary Somerston brand; Somerston which features premium wines, usually from single vineyard sources, Priest Ranch which features red wines only, available at a mid price point (this is a resurrected label as we were shown a 1976 vintage with the same name – different winery), and lastly Highflyer which are wines made from vineyards throughout California. Highflyer was originally Craig's personal label (with a partner), called Michael Austin but is now part of Somerston. Craig is a pilot and has taken a number of trips in his private plane to other California vineyards from Santa Barbara to Lodi. He always spots the vineyards from the air, hence the clever name of the label. The artwork is often whimsical and may change from vintage to vintage.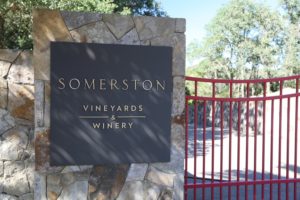 Because there are various Rhone varietals grown on site- a number of producers who enjoy producing wines from these particular varietals purchase fruit from this vineyard. There are not many premium Rhone-style wines coming from the Napa Valley. We tried the 2005 Highflyer "bad habit" sourced from the Priest Ranch. The label creatively depicts a nuns hat being removed from her head. This is an intriguing blend you won't often find in the Napa wine scene including Petite Sirah, Syrah and a touch of Grenache. It is a very dark wine (unfiltered) – the varietal characteristics of Petite Sirah are in part the reason for its dark color.
Grenache is a nice addition as it helps smooth out the tannins on the finish. This is a wine rich in aroma with pretty dark chocolate aromas on the nose and a bit of leather. It is oh so juicy (robust in texture) with mouth watering flavors that fill your entire palate and then some. A mix of blackberry and black licorice leads to a well structured finish.
For a change of pace try the 2005 Clements Hills Viognier. This is sourced from Lodi – not all of Lodi is flat – this AVA features rolling hills between 90 feet and 400 feet in elevation. The wine is unfiltered, sees no malolactic fermentation and was aged in neutral oak. The nose is floral with hints of pineapple and citrus blossom. It is crisp with lively acidity and pleasing tangerine, apricot and caramel flavors show on the palate. The finish is viscous and clean with just a trace of mineralities. As with Craig's other wines this one is very well balanced.
Visits to the ranch are strictly by appointment – they prefer the appointments to be made no later then 2 weeks prior to your visit although if you find yourself on a shorter leash, it doesn't hurt to call directly for availability (note: they are closed for tastings and tours on Sunday). Allow about 90 minutes for a tour and tasting. Special tastings can also be requested including pairings with chocolate or charcuterie plates. In addition, through a catering partnership with a premiere restaurant, Somerston also offers lunch experiences.
A visit here is a unique opportunity to see an "older" Napa with no crowds, no noise, no traffic, no huge wineries – in summary, a very relaxing scenic place to visit and taste wine. A pond is located on site featuring a peninsula that leads to a sit down area overlooking the surrounding hills. Think Jade Lake at Chateau Montelena but without the red bridges and visitors. Plans are in place for caves which will open up with great views of the pond. In addition, the existing building has undergone major renovation and is now a state-of-the art winery and tasting facility.
For more information, to schedule an appointment or to join one of their wine clubs, visit: www.somerstonwineco.com and also: www.priestranchwines.com
Note: Somerston/Priest Ranch also maintains a tasting room in the south part of the town of Yountville – open to the public without needing an appointment. This tasting room is located almost across from Hotel Villagio – parking is usually available on Main Street in front of or near the tasting room (although note, they do maintain their own small parking lot behind the tasting room).