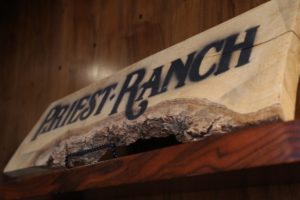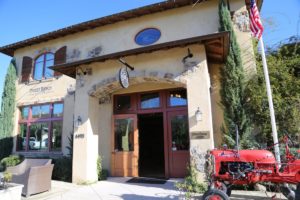 Priest Ranch Wines is located in Yountville, directly across from Hotel Villagio. This spacious newer "tasting center" blends sophistication with "ranch" ruggedness. Walk into the tasting room and be greeted by a large thick oak table. This piece of wood is from their ranch in the hills of eastern Napa County. Wood from the ranch was used throughout the inside of the building including the floor.
You know its a cold year when the fire is roaring in their fireplaces and buckets of rain are cascading outside at the end of May. Nothing like getting completely soaked by parking directly across the street and dashing for cover as fast as one can. They do have a small parking lot in the back of the building. Nevertheless, regardless of whether the fireplace is roaring – the tasting room is warm and inviting which says as much for the very hospitable and down to earth staff as it does for the actual layout.
Several experiences are offered for visitors – aside from their standard walk-in tastings including the Food & Wine Pairing experience, all other experiences are available by appointment only including for their private group tastings (minimum of 6 people required). Many tastings are at the large oak table or alternatively held in their relaxing plush seats in a side room. Their tasting menus are held together by an actual vine cutting – nice touch there!
A very unique offering is the Bacon & Wine Experience pairing five wines with five different cuts of bacon – this offering changes seasonally depending on current releases. Also chocolate lovers take note – they offer a Chocolate and Wine Pairing. And Priest Ranch produces some fairly unique for the Napa Valley wines including Grenache Blanc and a Brut Rosé of Syrah.
While the focus of the tasting room is on Priest Ranch wines, several other labels are produced including Somerston and Highflyer wines. The focus of Highflyer wines is on small productions from vineyards in select locations throughout California. Winemaker Craig Becker is a pilot and has chosen vineyard spots from the air in the past, not to mention using a plane makes visiting these remote vineyards sometimes easier. He sources fruit from a number of locations in California including the central coast. This allows Highflyer to produce wines from areas best suited to growing particular varietals. Only fruit from single vineyard family owned properties are used in this label.
The 2008 Highflyer Pinot Noir was sourced from the "Doctor's Vineyard" in in the Santa Lucia Highlands. This wine is like drinking candy or velvet (if one could drink velvet). The bouquet has nice notes of perfume – elegant fruit aromas including raspberry and candied fruit invite one to try the wine. The wine is soft on the palate, rounded and packed with delicate flavors including raspberry, and cherry. The finish is clean and very quick.
The 2008 Somerston Sauvignon Blanc is decidedly tropical on the bouquet with rich and expressive aromatics including honeysuckle and pineapple. This is a crisp clean version of this varietal with some roundness on the mouth feel. This is probably due to the fact that this wine saw some oak during its aging. The finish is clean and lively with some nice zest. This is a higher alcohol Sauvignon Blanc, clocking in at 14 percent.
The 2007 Somerston Petite Sirah is a dark inky wine, which is common with this varietal. The nose is intriguing, notes of plum and dark liqueur show. Surprisingly the attack on the palate is soft and light but a lusciousness shows up about mid palate and the finish is actually very well structured with meaty integrated tannins. This is a luscious wine, but not too rich. There are flavors of dark ripe blackberry and black cherry with just a hint of mocha.
Wines from all three labels are typically 100% varietal.
Their vineyard property and estate is referred to as "The Ranch". It is more then 1600 acres with about 215 planted to vine. While Somerston as a wine label is a newer entity, the ranch sold fruit for the past 30 years to renowned vintners such as Heidi Barrett and David Ramey and to well-regarded Napa wineries including Caymus and Viader. A variety of options are available at "the ranch" including wine tasting, hiking, biking, gardens, a teaching kitchen and a natural soda spring. Hiking and mountain biking can be organized directly through Somerston or through Napa Valley Adventure Tours.
For more information or to join one of their membership clubs, visit: www.priestranchwines.com