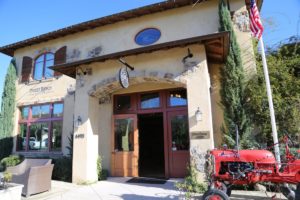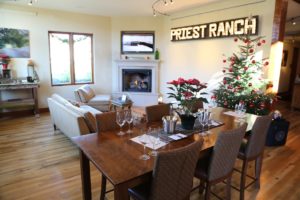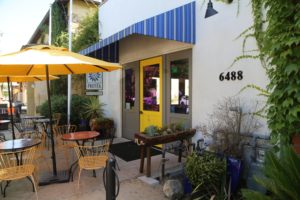 Priest Ranch Wines is located in Yountville, directly across from Hotel Villagio. This spacious "tasting center" blends sophistication with "ranch" ruggedness. Walk into the tasting room and be greeted by a large thick oak table. This piece of wood is from their ranch in the hills of eastern Napa County. Wood from the ranch was used throughout the inside of the building including the floor.
Parking is curbside, on either side of Washington Street – Priest Ranch also has a small parking lot in the back of the building. Nevertheless, regardless of whether the fireplace is roaring – the tasting room is warm and inviting which says as much for the very hospitable and down to earth staff as it does for the actual layout.
Several experiences are offered for visitors – aside from their standard walk-in tastings including the Food & Wine Pairing experience, all other experiences are available by appointment only including for their private group tastings (minimum of 6 people required). Many tastings are at the large oak table or alternatively held in their relaxing plush seats in a side room. Their tasting menus are held together by an actual vine cutting – nice touch there.
A very unique offering is the Bacon & Wine Experience pairing five wines with five different cuts of bacon – this offering changes seasonally depending on current releases. Also chocolate lovers take note – they offer a Chocolate and Wine Pairing. And Priest Ranch produces some fairly unique for the Napa Valley wines including Grenache Blanc and a Brut Rosé of Syrah.
Background
Priest Ranch was named after Joshua James Priest who came to California seeking his fortune during the gold rush in 1849. Twenty years later he settled in this part of the Napa Valley (called Soda Valley) by purchasing 638 acres. This land was originally part of the 8,000+ acre Rancho Catacula land grant, owned by Joseph Chiles (namesake of the Chiles Valley AVA). Joshua used parts of the property for agriculture and running livestock. The first grape vines on Priest Ranch were planted in 1972 and the first vines on the original Elder Valley Ranch were planted in the 1940s. None of these original plantings still exist.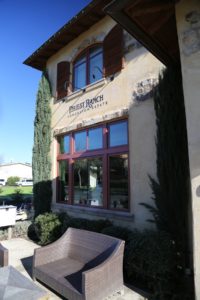 The building that houses the tasting room (and Protea Restaurant next door) along with the ranch is owned by Allan Chapman and his wife Kathleen. Allan works in telecommunications and is a real estate developer – while searching in the Napa Valley for a place to build homes he discovered the 660 acre Priest Ranch and purchased the property in 2004. About 1.5 years later, he discovered one of his neighbors was selling a sizable adjoining parcel, the 955 acre Elder Valley Ranch also known as the Lynch Valley Ranch. Allan and Kathleen purchased this property and combined the two ranches – today known as the Somerston Ranch.
The ranch sold fruit for the past 35+ years to renowned vintners including David Ramey and to well-regarded Napa wineries Caymus and Viader.
Allan's family traces their business roots back to 1854 in England operating clipper ships and then later merchant/cargo ships and in 1968 diversified their business interests into real estate and property development. By 1975 the company was no longer in the business of shipping. The company is the Somerston Group and Allan is their Executive Director. A subsidiary of Somerston Group is Walnut Creek based Cambay Group (established in 1990) – which has overseen numerous real estate development projects including the epic in scope River Islands at Lathrop project, a planned community south of Stockton, Windemere in San Ramon and several other small projects in the Sacramento area.
Winemaker
Craig Becker is the winemaker and a founding partner; he began his career in the Napa Valley by working for Robert Mondavi Winery in 1996 followed by Spring Mountain Vineyards where he was promoted to winemaker at age 23. In 2003 he decided to focus on consulting and today makes wine for a handful of clients. Craig's focus is on hillside grown single-vineyard produced wines striving to showcase the particular vineyard site or block as well as the varietal characteristics of the wine.
Select Wines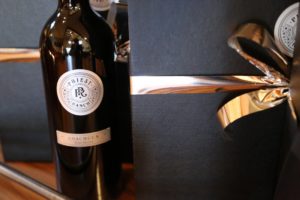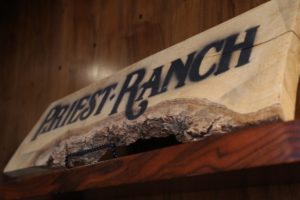 While the focus of the tasting room is on Priest Ranch wines wines from their other brand, Somerston can also be tasted here.
Highflyer (while no longer produced) was Craig's own wine brand and was made from vineyards throughout California. Highflyer was originally a label in another wine brand called Michael Austin, a partnership between Craig and his friend Patrick McNeil. The name is a result of Craig being a licensed pilot; he would often fly in his private plane to select California vineyards ranging from Santa Barbara to Lodi.
The 2008 Highflyer Pinot Noir was sourced from the "Doctor's Vineyard" in in the Santa Lucia Highlands. This wine is like drinking candy or velvet (if one could drink velvet). The bouquet has nice notes of perfume – elegant fruit aromas including raspberry and candied fruit invite one to try the wine. The wine is soft on the palate, rounded and packed with delicate flavors including raspberry, and cherry. The finish is clean and very quick.
The 2008 Somerston Sauvignon Blanc is decidedly tropical on the bouquet with rich and expressive aromatics including honeysuckle and pineapple. This is a crisp clean version of this varietal with some roundness on the mouth feel. This is probably due to the fact that this wine saw some oak during its aging. The finish is clean and lively with some nice zest. This is a higher alcohol Sauvignon Blanc, clocking in at 14 percent.
The 2007 Somerston Petite Sirah is a dark inky wine, which is common with this varietal. The nose is intriguing, notes of plum and dark liqueur show. Surprisingly the attack on the palate is soft and light but a lusciousness shows up about mid palate and the finish is actually very well structured with meaty integrated tannins. This is a luscious wine, but not too rich. There are flavors of dark ripe blackberry and black cherry with just a hint of mocha.
For more information or to join one of their membership clubs, visit: www.priestranchwines.com