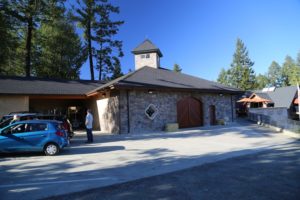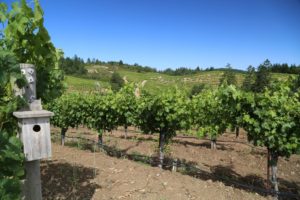 Schweiger Vineyards produced their first harvest in 1984 although their original 8 acres was purchased by Fred Schweiger in 1961 when he was 19 years of age. Prior to making wine themselves they sold their grapes to other high end wineries and winemakers, however today much of the fruit from their 35 acre estate is kept for their own wines.
Spring Mountain is often above the fog and in the summer can be noticeably warmer than the valley floor. Unique microclimates and terroir make this an ideal growing region, especially for Cabernet Sauvignon, as a result, the majority of the vineyards are planted to this variety. This winery is owned by Fred & Sally Schweiger, both of whom grew up in San Francisco. This is truly a family affair as their son Andrew is the winemaker and Fred handles the vineyard management and overview. Their daughter is also involved in national sales and distribution.
Andy has a long history of working at premium Napa wineries and also makes wine on site for several boutique wineries. We've tried several of the wines from the boutique producers that he makes wine for; your not going to find a bad Andy Schweiger crafted wine! Fred originally owned a construction company but when interest rates hit all time highs in the late 1970's he pulled his construction crew out of construction and put them to work clearing his land for vineyards.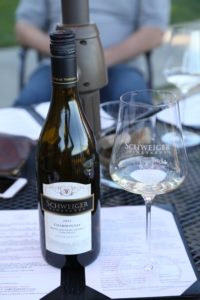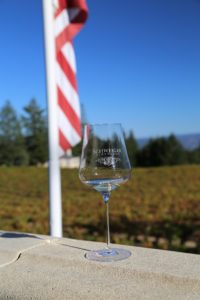 Schweiger produces a variety of wines from their hillside vineyards (the actual winery is situated at 2000 feet). Unlike a number of the Spring Mountain wineries that share driveways, Schweiger has their own driveway just down from the Napa/Sonoma County line. They will buzz you in at the gate once you arrive (allow about 15 minutes to drive up the hill from the town of St. Helena).
A visit will include a taste outside, a brief overview and tour of the actual winery facility (designed by Fred) and end with a tasting in their modern tasting room with both a deck and patio overlooking Fred and Sally's home in the distance as well as their rolling vineyards. Note the photographs inside the tasting room taken with San Francisco 49er players or ownership. The Schweiger's were one of 49 wineries selected to be poured at Levi's Stadium in Santa Clara.
They produce two white wines; a Chardonnay and a Sauvignon Blanc and are one of the few wineries in the Spring Mountain district to grow Chardonnay grapes on site. We tried the 2006 Schweiger Vineyards Sauvignon Blanc which consistently has been sourced from a specific vineyard in Kenwood (Sonoma County). This is a crisp clean wine with lively acidity that undergoes no malolactic fermentation. On the palate, it has notes of pear, apricot and some tropical nuances.
Their Cabernet Sauvignon, Dedication (red blend) and the Merlot all are five years old prior to being released. This is a great thing for the consumer – as most wineries release their wines much younger.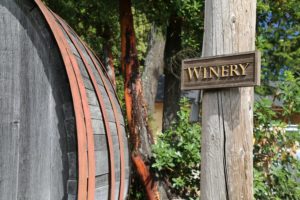 The 2004 Schweiger Vineyards Merlot is a good example of Spring Mountain grown fruit. Don't like Merlot's…try this one, maybe you will change your mind. It is a fruit forward, juicy wine with nice blackberry and black cherry components. The finish is very long.
Their Cabernet Sauvignons will age extremely well and have good acidity and well structured tannins. The Cabernet Sauvignon wines we tried have pleasant bouquets and later vintages may have a small amount of Merlot blended in which helps soften and smooth out the mouth feel. The 2010 Schweiger Vineyards Cabernet Sauvignon shows a sweet note on the bouquet – with plum and dusty blackberry (aromatically balanced if you will). A jam-like blackberry quality shows on the palate (but not really jammy) – the mouth feel is soft and pleasant with lingering well integrated tannins.
Their "Dedication" is also very popular and is a red varietal blend of typically Cabernet Sauvignon, Merlot, Cabernet Franc, & Malbec. It is soft and elegant. This Bordeaux styled blend is made in extremely small quantities and is always dedicated to a family member. On the bouquet the 2010 shows blueberry, cedar notes and hints of vanilla and baking spices. The wine is plush on the palate yet anchored by long lasting earthy tannins.
Be sure to try their Port-style wine which is typically made in very small quantities from their estate Cabernet Sauvignon grapes, usually less than 10 barrels. It is a Solera style, non vintage port and the "number" will change every time they release a new bottling. This Cabernet Port is one of the finest of its kind we have tasted in the Napa Valley. It was originally fortified with brandy made from their grapes by their neighbor Domain Charbay but today they source high quality spirits from Germain-Robin.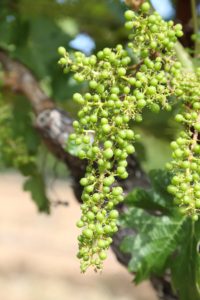 Their latest Port-style wine at the time of this update was their 12th release of this wine. It shows a sweet component on the nose – dried rose petals, a hint of sage with blueberry and red cherry. It is a delicious wine, packed with layers of flavor.
Several other wines are produced in small amounts and are only available through their wine club. Many of their wines are 100% varietal with just a few exceptions. You can find their wines locally at a variety of Napa Valley restaurants. Schweiger also can create customized labels for private-label wines. For more information or to join their wine club, visit: www.schweigervineyards.com
Winery/Grounds

Vineyards