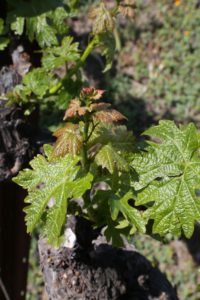 Rowland Cellars was founded by Gerald Rowland with his first vintage dating from 1991. Gerry is one of those rare vintners in the valley who manages the wine from vineyard to bottle to consumer. Rather than just purchasing grapes from growers, he actually manages the vineyards he sources fruit from, makes the wine, as well as handles the majority of his marketing and sales. He also got into the business locally rather early on as there have literally been hundreds of producers in Napa since the early 1990's. Rowland Cellars produces between 8,000 to 10,000 cases a year, not a small task for a one person winery.
Gerry currently manages two distinct labels, Ramspect (his family name) which are Napa Valley wines and Cenay (single vineyard wines – his wife's family name). Ramspeck was the first label introduced in 1991. If you are looking for length of time between when a family first produced wine and when their successive generations restarted the label, the Ramspect label probably has one of the longest "gaps" in the world. When Gerry restarted his family label in 1991 it was 454 years since his ancestors released their first wine in Germany and distributed it in parts of Europe under the Ramspect label (in 1537). As Gerry says, "With a family tradition beginning four and a half centuries ago, it adds a little extra weight on your shoulders to do it right." I'll say.
Winemaking and grape growing have certainly been in his family for many years. His father grew grapes in Australia's Barrossa Valley and Gerald earned his viticulture and enology degree in Australia. Coming to Napa in 1987 he initially worked at Stags' Leap Winery and then furthered his studies at UC Davis. He spent a number of years working with hillside grown vineyards at Chappellet Winery and today focuses on his own labels as well as consults for several other producers.
Rowland's wines tend to come from from the Southern part of the Napa Valley including from parts of the Carneros, Oak Knoll, Coombsville and Atlas Peak appellations. He typically works with smaller privately owned vineyards.
As Gerry says, a hallmark of his wine is the "delicious factor, rather than the wow factor". In that regards his wine making style is more old world in focus although he certainly combines new world wine making techniques. His wines are generally in the mid 13% alcohol range. Today you don't find that many wines from Napa in this range. These are not "score grabber" wines but rather are balanced affordable wines meant to be enjoyed with food.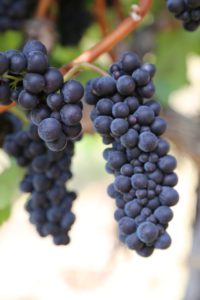 We tried the 2007 Pinot noir under the Ramspeck label. This is a Pinot noir that has some very nice weight both in its structure and also on the finish yet retains an elegant feel, especially for such a young wine. Because this was a lower yield year in the valley and the berries were generally smaller the fruit had a lower juice to skin ratio. This is clearly evident in the darker color (for a Pinot noir) of this vintage. The bouquet is well layered, with floral characteristics including notes of dried rose petals as well as aromas of raspberry and graphite. Because the pH is not high it does not retain lots of oak and or vanilla characteristics. Concentrated flavors of red cherry and blueberry show well on the palate and there is just a hint of oak towards the very long and pleasing finish.
The Cenay label really allows Rowland to showcase individual vineyards and how their unique terroir differences can influence the wine. These wines are made in an old world style to showcase varietal flavors and characteristics that are often lost in the showier, "riper" wines. The Blue Tooth Vineyard (not to be confused with another Napa Vineyard called Blue Print) is located in the Oak Knoll district and is owned by a dentist who says, "Great Napa Valley Cabernet Sauvignon should stain your teeth blue!" So with that in mind, one would almost expect this wine to be fairly dark in the glass, and it is. The 2006 vintage is 78% Cabernet Sauvignon and 22% Merlot (both from the same vineyard). This wine has a bouquet of baking spices and dark fruit followed by a palate that shows flavors of plum, dark chocolate and black cherry. The finish is balanced and slightly dusty with a medium tannin structure.
The 2006 RB 90 is sourced from a vineyard in the heart of Rutherford. RB 90 is sometimes mistaken for a Robert Parker score but RB stands for for Rutherford Bench, a part of the Rutherford appellation that has deep well drained soils composed of a good portion of gravel. You might think this is going to be a "big" wine just from the weight of the bottle – yes it is a normal 750ml bottle but it feels like twice the weight. This is the premium wine from the Cenay label and the 2006 is 100% Cabernet Sauvignon. This is a big wine, but its well structured and balanced which is why it is so drinkable young. Wonderful berry and mocha aromas rise from the glass leading to a palate full of red cherry and plum flavors. The finish is firm with chewy tannins and just a bit of smokiness lingers after you swallow.
Every cork under the Cenay label is also printed with "Carpe Caelum" which means "seize the heavens.
Gerry also makes a Cabernet Sauvignon and a Merlot (a newer addition) under the Ramspeck label.
Rowland Cellars does not sell direct to consumer – rather they have a number of distribution channels in various states including California, New York and a number of Southern states. Locally in the valley, you can find their wines at a number of wine shops including Backroom Wines in Napa and the small supermarket, CalMart in Calistoga. Visit: www.rowlandcellars.com