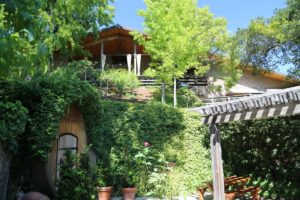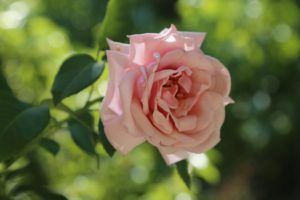 Rombauer Winery is a real nice find; it is located about 1/4 mile off of Silverado Trail on the east side of Napa Valley in the small pine covered hills that are found in this area. Look for the large American flag flying along the Silverado Trail which marks their entrance. An expansive view of the Napa Valley can be seen from the deck of the tasting room looking west.
A small parking lot coupled with crowds can produce an insane experience on the weekends. This is a situation where the winery has small tasting facilities (looks and feels like its right out of the 1980's as Rombauer has opted for little tasting room upgrades in number of years) but an unbelievable almost cult like following from around the USA (both reasons explain the crowds at times).
We have visited a number of times – the latest was a Tuesday in late winter and we got lucky as we were there just in between visitors as the pourer said that it was busy all day! During busy weekends parking may be by valet only.
For a more personal tasting experience, we recommend getting here early, just before they open – make it your first stop. Most current releases are typically available for tasting. They also have a variety of what are called Proprietor wines and "specialty" wines and sometimes they have some of these wines open for additional tasting. If you have a chance try their late harvest "Joy" Sauvignon Blanc. This is a rich viscous dessert wine that is not made every year. It is only produced when the conditions allow for natural botrytis to occur which is an ugly grey mold that forms on the grapes in part due to moisture and rainy conditions.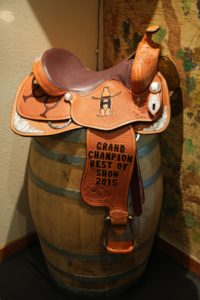 Looking for buttery oak and fruit driven Chardonnays? Look no further than Rombauer. In fact when those in the wine industry want to present a wine as an example of this style, Rombauer is nearly always the winery of choice mentioned. Their Chardonnay from the Carneros growing region has quite a following. Predominately American Oak is used during the aging of this wine. It is a rich buttery Chardonnay with creamy characteristics and notes of toasted oak on the palate. It has a great nose with tropical fruit aromas and hints of citrus and pear.
They also produce a delightful Late Harvest Chardonnay from fruit from the same vineyard. Unlike almost all Napa wineries Rombauer pours their big reds first followed by the Chardonnay and their Zinfandel which are much more fruit driven wines. One of the Zinfandels we tried is a huge fruit explosion full of very jam like characteristics. Try strawberry, raspberry and blackberry jam all rolled up into one wine. There is so much fruit in this wine that your palate is often tricked into thinking it is somewhat sweet but in actuality the residual sugar is less than 1%!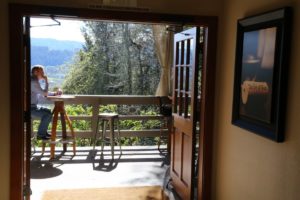 The owner Koerner Rombauer is a former airline pilot who is well connected with celebrities. Signed celebrity photos line the walls of the tasting room including Barbara Streisand, famed pilot Chuck Yeager, and the late coach Bill Walsh.
Koerner's aunt is the well-known Joy of Cooking, author Irma Rombauer. Koerner also keeps a one of a kind classic car collection and perhaps someday these can be put on public display. Today Koerner's children are actively involved in the business side of the winery operations. Almost a mile of caverns have been built into the hills. Call for an appointment to take the tour.
Another highlight of a visit here (especially in April and May) are their gardens. Near the entrance to the winery is a short path that leads down the side of their hillside – during Spring a number of beautiful flowers are in bloom.
Visit: www.rombauervineyards.com