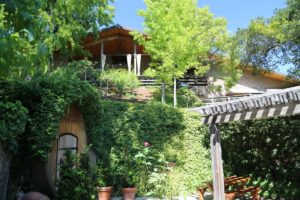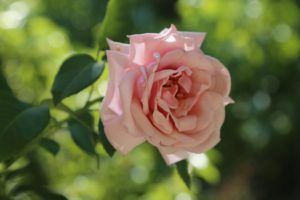 Rombauer Winery is a real nice find; the winery is located about 1/4 mile off of Silverado Trail on the east side of Napa Valley in the small pine covered hills that are found in this area. Look for the large American flag flying along the Silverado Trail which marks their entrance. An expansive view of the Napa Valley can be seen from the deck of the tasting room looking west.
Despite changing to an appointment only policy after years of welcoming walk-ins, a small parking lot coupled with a tiny tasting room and numerous visitors can still produce a busy experience, especially on the weekends. The hospitality center is fairly small and looks and feels like a tasting room from an older era; unlike numerous areas tasting rooms that try to stay contemporary, Rombauer has opted to keep an 'old school' feel to the space. Its this kind of consistency and similarities that their customers come to know and expect during visits and to some extent parallels the same type of consistency in their wines. Their Chardonnay and to a lesser extent, the Zinfandel have a remarkable almost cult like following from clients around the USA.
Founders, Koerner and Joan Rombauer (Joan died in 2002 and Koerner in 2018) moved to the Napa Valley in 1972 and after renting for a short while purchased a home on the same property as where the winery is now located (in fact Koerner lived on the property until his death). Joan worked at Stag's Leap Wine Cellars for 12 years ultimately becoming their National Sales Director. Koerner was a former airline pilot for Braniff International Airways (along with other pilots, he was laid off prior to the company's bankruptcy in 1982). Incidentally, Koerner's aunt is the well-known Joy of Cooking, author Irma Rombauer.
The Rombauers' first venture into the world of wine was as partners in Conn Creek Winery in Rutherford in 1976. The Rombauer's sold their interest in 1980 – the same year they produced the first vintage of Rombauer wine (a 1980 Cabernet Sauvignon from the Stags Leap District). Several historical items are of interest from that vintage – this first Rombauer wine was produced at Shafer Vineyards and also at the Rombauer home (their four-car garage was bonded as a commercial winery). In fact there are actually two wineries on the Rombauer property – the original garage winery and the current modern day production facility.
Some of the early vintages of Rombauer were bottled at Stag's Leap Wine Cellars. Bob Levy was Rombauer's founding winemaker (later known for his work at Harlan Estate and BOND). He oversaw the construction of the winery in 1982 – the construction began in June of that year with plans to handle the harvest later that year (today that would never happen in the valley with permitting – everything moves slower). Remarkably they were able to process the first harvest at the winery although they did not yet have power and literally had to drag a large generator onto the property.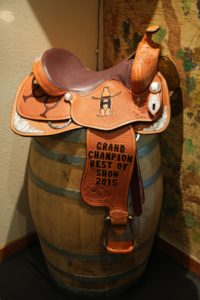 From 1982 (once the winery was built) until 2008, Rombauer was well known in the local wine industry as being a premium custom crush facility – with a number of now prominent brands making wine here. Encouraged by Koerner, the spirit of the wine making here was one of camaraderie with numerous winemakers working together. Well known Napa wineries that either made their first wines here or at some point in their history made wine here include: Dominus, Neyers Cellars, Spottswoode, Duckhorn, Merryvale, Corison, and Etude among others.
Another interesting historical footnote involves Koerner and Rich Frank, the former Disney executive who now owns Frank Family Winery. In 1993 Koerner partnered with Rich to purchase the old Kornell Champagne Cellars on Larkmead Lane (home of the original Larkmead Winery). They named their new venture Frank-Rombauer (and made several vintages with this name) but it soon became clear, that this name was causing confusion among consumers with the already well established Rombauer Winery. The name was changed to Frank Family and by 2007 Koener sold all of his shares and is no longer involved with Frank Family Winery.
The Rombauer family also keeps a one of a kind classic car collection – perhaps someday these can be put on public display.
The first Rombauer owned vineyard was 7 acres of Zinfandel purchased in 1988. This vineyard can be seen along the bottom their driveway on the right hand side as you drive up to the winery. They named this block Joan's Vineyard – while still planted to Zinfandel, some of the vines have been grafted over to Petite Sirah. And in the ensuing years, Rombauer has purchased numerous other vineyards in Napa and beyond; today they own about 600 total acres. They farm all of their vineyards in house (rather then hiring an outside vineyard management company).
The 2nd and 3rd generation are actively involved in various aspects of Rombauer including Koerner's children Koerner (or as he is called, KR – to differentiate from his father) and his sister, Sheana.
Despite their first ever vintage being a Cabernet Sauvignon, Rombauer is most associated with Chardonnay and Zinfandel. When it comes to Chardonnay Rombauer is one of the most talked about wineries in the Napa Valley. The reason is the style they have historically produced from this varietal – often associated with being buttery, creamy and displaying often not so subtle influences of oak. And they helped popularize the jammy, ripe, slightly sweet fruit forward style of Zinfandel.
Their wine making philosophy focuses on making wines that are approachable in their youth and are available at a reasonable price point.
For the most personal tasting experience, we recommend arriving in the early morning – make Rombauer your first stop before it gets crowded later in the day. Most current releases are typically available for tasting. Sometimes bottles of more limited production Proprietor and Specialty wines will also be open and available for tastings.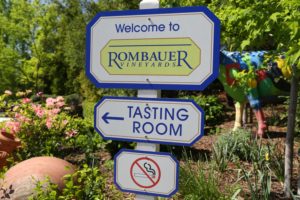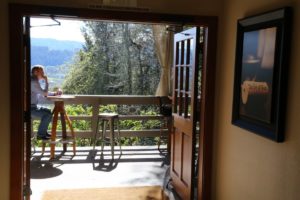 For an even more intimate experience, reserve the Joy of Wine Experience. This approximately 90 minute experience makes you feel like a VIP – groups are limited to a maximum of 8 people and are led into the 26,000 square foot caves (one of the larger wine caves in all of Napa) by a wine host – where some of their wine making is explained including how they barrel ferment their most premium wines. This is followed by a quick visit to the production part of the winery and culminates with a tasting in the tiny VIP room located up stairs from the main tasting room.
Your host will walk you through a number of very limited premium wines that are only sold at the winery. This is a unique opportunity to discuss these rare wines with your host and other guests. During our latest experience of this particular tour, we found the host extremely knowledgeable and engaging with the guests.
The Proprietor Chardonnay is only made during excellent vintages – based on their historical production of this wine, it is produced once every four years on average. The 2016 Proprietor Chardonnay is quite golden in color – shows notes of pineapple, toasted oak including a wood spice nuance and shows some tropical floral notes including honeysuckle and jasmine. Rich, creamy and well-layered on the palate also reveals a slight sweetness across the palate along with subtle hints of vanilla on the finish.
The Le Meilleur du Chai – translated from French to English means "the best of the cellar". It is created from approximately only 8 barrels each year – the wine making team makes their final selections while blind tasting through numerous barrel samples. The 2012 Le Meilleur du Chai Shows a sweetness of fruit on the bouquet, a perceptible smoky quality, hints of brown chocolate and an herbal note including nuances of sage. Offers darker fruit aromatics rather then red fruit. Shows flavors of black cherry and a spiciness on the finish including white pepper. Very nice feel and texture to the integrated tannins.
The 2014 Stice Lane Cabernet Sauvignon initially shows nuances of dust on the bouquet, with chocolate and wood spice. As the wine breathes becomes more open in its fruit aromatics – showing aromas of blackberry and blueberry. Is quite balanced for a young wine at the time of our tasting – shows a hint of cedar box notes on the finish. Nicely integrated tannins.
The 2015 Proprietor Zinfandel shows an intriguing bouquet including aromas of rhubarb, cranberry and cracked black pepper. Reveals bright fruit aromatics and bright and lively fruit flavors. A thread of berry fruit flavors form the core of this wine including hints of blackberry jam and dessert spices. Balanced with a sweetness of fruit – certainly a crowd-pleaser among those who enjoy a fruit forward wine of this varietal.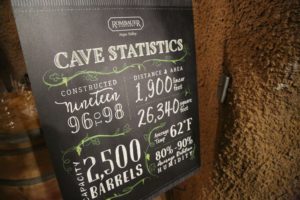 Dessert wine lovers take note of the late harvest "Joy" Sauvignon Blanc. This wine is made from Chardonnay grapes grown in the southern cooler part of the Napa Valley (the Carneros District). These grapes hang on the vines much longer then a normal Chardonnay – and for about a week sprinklers are turned on for a short while every morning to help induce the growth of botrytis, an ugly grey mold that forms on the grapes in part due to the moisture.
The 2015 Joy, Late Harvest Chardonnay is golden amber in the glass. Reveals sweet aromatics including honeysuckle, apricot, honey and baking spice. Rich and sweet on the palate feels silky and somewhat creamy showing flavors of apricot and nuances of vanilla. Barrel fermented and aged entirely in American oak barrels.
During select visits we have noticed that sometimes Rombauer pours their bigger red wines before their Chardonnay and or Zinfandel. You know when you have tried one of Rombauer's classic Zinfandel's – with very ripe fruit and jam-like characteristics. Try strawberry, raspberry and blackberry jam all rolled up into one wine. Some of the Zinfandel's we have tried are so rich that your palate may be tricked into thinking it is sweet but in actuality the residual sugar is less than 1%.
Another highlight of a visit here (especially in April and May) are their gardens. Several short stone paths near the entrance to the hospitality center lead down the side of the nearby hillside – during Spring a number of beautiful flowers are in bloom. And guests may bring a picnic lunch and enjoy their food at one of a number of picnic tables on site.
Rombauer offers a variety of wine clubs ranging from varietal specific to their Classic club which includes current release wines and more limited production releases. Production continues to grow – as of our latest update they produce around 300,000 cases annually.
In 2019 Rombauer purchased the Renwood Winery in Plymouth (Amador County). Included with the sale was 20 acres of vineyards, the winery and the tasting room. The sale did not include the Renwood Winery brand. We will visit this tasting room in the next year or two and will update this review accordingly. The tasting room is supposed to open by April or May 2019 and feature some Rombauer wines.
For more information, to make an appointment or to join their visit: www.rombauervineyards.com
Winery

Cave

Estate/Gardens

Hospitality

Rombauer Amador County Winery
Photographs coming by 2021.