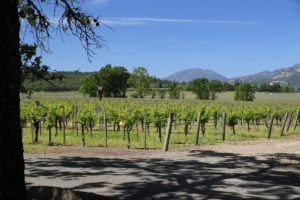 Roberts+Rogers was founded by Roger Louer and his partner Robert Young. We first came across this label at a Howell Mountain Appellation tasting and then followed up later with Roger. He was one of the original founding partners of Calistoga Cellars and comes from an agricultural background in Ohio where his family grew corn and soybeans. He has lived in the Napa area and been involved in the local wine industry for a number of years. Besides Calistoga Cellars and Roberts & Rogers, he also manages his sizeable "home vineyard" – in which he sells the fruit to area wineries.
The almost 18 acre vineyard used for Roberts + Rogers is located on the slopes of Howell Mountain and is primarily planted to Cabernet Sauvignon. This vineyard is in prime Howell Mountain terroir. Nearby historical winery neighbors include La Jota and Liparita had its start in the area. Just down the road is long time Napa veteran WH Smith's winery. Roberts + Rogers have a very long term lease with this vineyard which ensures the fruit quality remains consistent which is not a bad thing at all for consumers of high end single vineyard Napa Cabernets.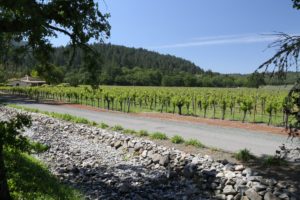 The Cabernet Sauvignon vineyard itself is planted to several varietals which can be used for blending including small amounts of Cabernet Franc and Merlot. The vines grow on white chalky volcanic tuffa type soil which brings its own unique characteristics to the wine. The elevation alone ensures they don't see much fog which effectively increases the ripening window and growing season. In addition, they maintain a very low yield per acre (usually around 2 tons) ensuring they are using only the highest quality, richest concentrated fruit. The first vintage was released in 2004. It saw 24 months on oak, 60% of which was new French Oak and the remaining was slightly used oak.
This vintage has great color and is dark crimson. The bouquet is initially very earthy with aromas of dust, crushed rock and mineralities. As the nose opens up wisps of cedar box aromas, blackberry and chocolate come to the forefront. There is nice black cherry on the palate with a very long finish touched by nuances of vanilla. This wine has good structure, is well balanced with tannins that anchor well yet are delicate. This is not a light bodied Cabernet Sauvignon! This wine will pair well with big meats, thick sauces and anything barbequed.
The best way to acquire the wine is via their mailing list or their website as production is quite limited. Visit: www.robertsandrogers.com
Photos below of the Howell Mountain vineyard producing fruit for the Roberts + Rogers wine. Photos above of Roger's other St Helena vineyard.

NOTE: this review has been identified as needing a major update.