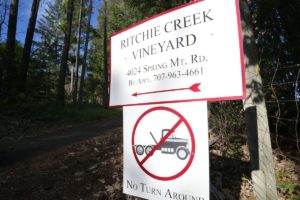 Ritchie Creek Vineyard is one of the oldest and seemingly most isolated wineries in the Spring Mountain District. There are in fact a number of wineries in the immediate vicinity – but much of their property is heavily wooded and you don't sense there are any winery neighbors during a visit here. Their 8 acres of vineyards are located at about 2000 feet; sometimes in the winter they receive snow. The vineyards are planted in soils that are extremely thin and rocky and as a result stresses the vines more than say the valley floor grown fruit. This produces rich concentrated flavors as well as much lower yields. Combine that with the age of some of their vines (over 30 years) and the yields become small indeed.
Pete Minor, formerly a dentist from Berkley began making wine in his garage. Looking for remote hillside land, he purchased this 50 acre hillside property in 1966. Part of the reason he purchased this particular property is that it backs right up against the Bothe State Park – which will remain undeveloped. He started planting grapes on site in the late 1960's; this is a time when there were less than 30 wineries in all of Napa Valley. The first vintage is from 1974.
Pete and his wife Maggie are still owners. Production has dropped off as they are well up in years and and Pete is no longer making the wine. Their son, Andre – who grew up on the property and assisted his father in the winery as well as in the vineyard – has returned after a number of years away at school to continue managing the vineyard and making the wine.
Their driveway off of the top of Spring Mountain Road is a shared driveway for other area wineries & residences & contains a number of forks in the road; stick to the forks that contain the signs for their address (4024) and their name. The actual winery is located below their residence down a very narrow somewhat overgrown gravel and dirt road. There is parking for 1 or maybe 2 cars and the turn around is somewhat tight. Their production is very low and due to their location they are only setup for very small groups and serious wine enthusiasts.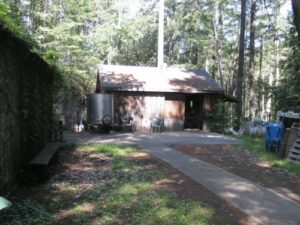 All tastings are by appointment only and note that they may not offer tastings in the winter or summer (spring and fall are better times to get hold of the owners Pete & his wife Maggie) and or it depends on their son, Andre's schedule. If Pete is around, this is a rare tasting where you get to meet with one of the long time winemakers in the valley. Tasting is at the small winery that Pete built and you are surrounded by native vegetation, many chirping birds and tall fir trees; you are in a forest! The natural vegetation of the nearby State Park only adds to the peacefulness of this area. The actual Ritchie Creek starts on their property and flows all the way down to the Napa Valley floor.
When we first visited we sat down at a table next to the actual winery with Pete and tasted his 2004 Cabernet Sauvignon. This wine is blended with Merlot, is all estate grown and is very well balanced. Like their other wines, the Cabernet is refreshingly kept at more traditional alcohol levels – in this case in the mid 13% range.
Ritchie Creek also makes a robust Pinot Noir; this is not the elegant Pinot Noirs that you might often find in the Russian River Valley, or Sonoma Coast of neighboring Sonoma. Rather this is a mountain grown Pinot – with structure, spices – and deeper darker berry fruit flavor. We challenge you to name other Spring Mountain wineries growing Pinot Noir (we know of at least 3 others)!
Here is one varietal you will probably not find in Napa outside of this winery: Blaufrankisch which is native to Austria. Ritchie Creek only has a few rows of this varietal and as a result the case production is extremely limited. The winery does have some older vintages of Cabernet Sauvignon for sale. Visit: www.ritchiecreek.com