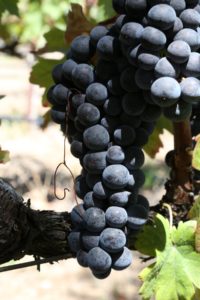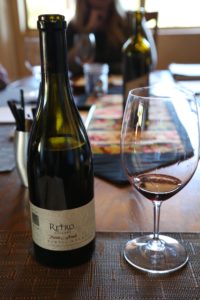 Retro Cellars is owned by the husband wife team of Mike and Kara Dunn. Perhaps you recognize the last name – Mike's father Randy is a winemaking and vineyard pioneer on Howell Mountain. Mike is currently cellar master at Dunn Vineyards and makes the Retro wines here. Both Mike and Kara have been involved in the wine industry for many years. Kara works with several wineries in regards to their sales and marketing including running this part of the business for Retro Cellars. She is the daughter of notable Napa vintner Robert Pecota. Mike grew up in the cellar, is the winemaker and also helps manages the vineyards. This is truly a family run affair and even their son had a hand in the business; he designed the artwork for their label.
Mike is a man of many talents – he used to run a bicycle shop selling both road and mountain bikes and still remains involved in the biking industry. He also is a member of a local Rock band called The Last Resort.
This is a unique opportunity to try wine from a very small producer who focuses exclusively on a single Petite Sirah wine each year. As of the time of this review, this wine comes from the Park Muscatine vineyard on Dunn's own property on Howell Mountain. This 3+ acre vineyard was planted well over 60 years ago and the yields are extremely low – try 1/2 ton to a ton per acre. Normally vintners would pull out these vines but Retro has been able to save some of the vines by carefully nurturing new suckers to grow and eventually produce when the main part of the vine has died. In addition, they replant new vines as necessary. The vineyard is located at an elevation of about 1800 feet.
Recently we had a chance to walk the vineyard and we can see why the yields are low. Some of the vines hardly have any fruit set – some vines have just a few clusters. The vines have no trellising, the spacing is quite wide as was favorable during the years when it was originally planted. The soils are reddish and very rocky; this is good terroir for growing these types of grapes. For many years the fruit from this vineyard was sold to notable Napa wineries such as Stag's Leap Winery, La Jota and Elyse. Fortunately Mike was able to convince his father to let him use the grapes and Retro released their first commercial vintage in 2003.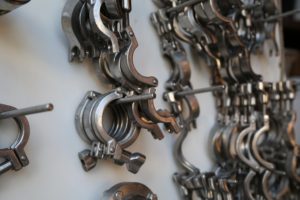 We tried the 2004 – you know this wine is going to have some structure just by looking at it. It is seriously dark and then take a whiff of the nose. It is seriously big! Rich aromas of dark chocolate mingle with blackberry and hints of smoke. The palate is juicy, spicy and dense with tons of fruit. There are notes of leather, graphite, tobacco and nice blackberry nuances on the mid palate. The tannins are gripping and chalky with a finish that lingers for quite some time. This wine is a meant for a big juicy steak.
The 2005 which at the time of our tasting was almost released has even more fruit than the 2004 vintage. Unfortunately it will be difficult to find as only 125 cases were made. As expected this wine is just as dark as the earlier vintage. Earthy aromas lead to a rich core of blueberry and blackberry on the palate with great acidity and again big structure on the finish. It will be very interesting to see how these wines age and evolve over time.
The 2009 Retro Old Vine Petite Sirah is 13.2% alcohol. This wine boasts mouth filling juiciness with layers of flavor and is perfect proof that there are other vine factors that go into making a complex wine other than hang-time and extremely high brix levels. The bouquet shows sweet dessert spices with both muddled black and red cherry aromas leading to a palate that features chewy tannins that linger for some time.
As you can see, Retro is the perfect name for this wine and vineyard – a retrospective if you will which taken as its literal definition is "looking or directed backward". The name is a tribute to their family as well as a throwback to earlier days of winemaking in California. Methods that used to be common in the wine industry but are no longer common are still "in vogue" at Retro Cellars; head pruned vineyards, managing the vineyards yourself (we've seen statistics that up to 80% of Napa's vineyards are under the management of vineyard management companies), make the wine yourself and never pick when the sugars are too high.
As a result Mike's wines are in the 13% alcohol range, similar or lower to the alcohol levels of the Dunn Vineyard wines – however Retro's wines are never lowered in alcohol by winemaker means.
Looking for additional fruit and to increase production, Mike planted another acre nearby (appropriately titled Los Abuelos) – using bud wood from the parent vineyard. Their total production is merely several hundred cases with very select distribution in just a handful of states. Locally you can find the wine at Backroom Wines in the city of Napa. Visit: www.retrocellars.com